Samsung Galaxy S Duos Preview
4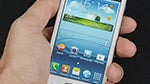 Samsung is anything but a stranger to dual-SIM cell phones. In 2007, it was the first well-known manufacturer to release such a handset – the
SGH-D880 Duos
, which paved the way for a long list of successors to follow. Fast forward five years into the future and the company's dual-SIM lineup now includes both smartphones and feature phones, with the
Samsung Galaxy S Duos
being the latest Android-powered addition to the party.
As the name suggests, the Galaxy S Duos is an Android device. In fact, it is the most capable dual-SIM handset that the company has ever unveiled; it has what it takes to step into the mid-range smartphone category, unlike previous Duos cell phones, which were clearly leaning towards the budget-friendly side of things.. Inside it hums a 1GHz processor, 4-inch WVGA display graces its front, and a 5-megapixel camera has been slapped on its back. But in reality, is the smartphone any good? Well, we cannot be entirely sure as the unit we are previewing today is just a prototype, but let us take a close look at it anyway and see what the
Samsung Galaxy S
Duos is shaping up to be.
Design:
Plastic, lots and lots of plastic – that is what the Samsung Galaxy S Duos is made out of, and our fingers can easily sense the smartphone's predominant cheapo feel. In all honesty, we aren't surprised as it has been a while since Samsung launched a non-plasticky smartphone for the last time. But on the other hand, the device actually looks quite good, mostly thanks to the milky-white paint job it has been treated to. After all, white phones tend to stand out in the sea of black, conservative slabs. Moreover, the matte finish on its back cover may be plain and boring, but it is virtually immune to visible fingerprints.

You can compare the Samsung Galaxy S Duos with many other phones using our Size Visualization Tool.
The buttons
have been arranged in a manner quite typical for Samsung smartphones – with a 2-button volume rocker on the left, a lock key on the right, physical home button underneath the screen, and two capacitive keys for the "Menu" and "Back" functions. Overall, we find them well-positioned and easy to reach.
If you are one of those people who prefer using a smartphone with a single hand, then you'd be happy with the Samsung Galaxy S Duos. Our thumbs have no troubles reaching the top edge of its screen or the furthest icon on the bottom row in the app drawer.
Display:
Considering the smartphone class that the Samsung Galaxy S Duos belongs to, a
4-inch screen
with a resolution of 480 by 800 pixels is quite sufficient. At 233ppi, individual pixels are not that easy to spot, and small text can be read without having to zoom in much. It is capable of delivering accurate colors that do not get distorted too much when viewed at an angle.
Recommended Stories