Samsung Galaxy M Pro Preview
18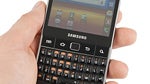 Introduction:
The
Samsung Galaxy M Pro
seems to illustrate very well the different categories in Samsung's new way of titling its smartphones. "M" should stand for "Mid-tier", a level above the entry "Y", and indeed, when compared to the
Galaxy Y Pro
, the Galaxy M Pro is taller, wider, and better looking. It also sports beefed up processor and rear camera, as well as adds a front-facing one. The screen resolution is higher than in the Y Pro at the same size, leading to better pixel density.
Are these upgrades enough to justify a price point in the higher bracket, or are they just granular improvements that don't bring along much differentiation? Read on our impressions from the prototype unit to find out...
Design:
We immediately have to say that the larger size of the Samsung Galaxy M Pro, compared to the Y Pro, is resonating with our big hands. The added width and length don't make the handset feel much bigger, since it is also thinner than the Y Pro, while carrying the same light weight, but they make it much more comfortable for typing.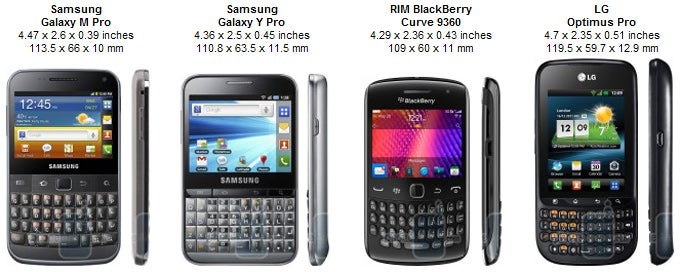 You can compare the Samsung Galaxy M Pro with many other phones using our
Size Visualization Tool
.
While our thumbs were hitting two or three keys at once looking for the right letter before, on the Samsung Galaxy M Pro, with its spacing between the larger chiclet-style domed buttons, we felt right at home firing away messages. The
keyboard
's layout is plain and standard, which is a welcome thing, since everything is right where you expect it to be.
The
2.6" touchscreen display
is capable of displaying more colors than the one on the Galaxy Y Pro, and is also with higher 480x320 pixels of resolution, increasing pixel density, and thus making text and website details appear more distinct and easily readable.
The 5MP camera on the
back
is now being accompanied by an LED flash, and the back cover is partially made of brushed metal, which, coupled with the two-tone chassis, make for a distinguished enough outer shell, which is easy to handle. Moreover, the physical navigational buttons and optical pad below the display are a comforting tribute to the days when we actually felt when we were pressing on something to induce an action.
Samsung Galaxy M Pro 360-degrees View:
Recommended Stories