Samsung Galaxy Core Advance Preview
8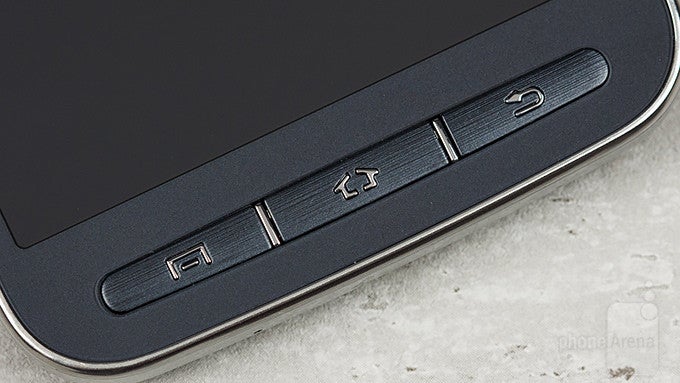 Introduction
Samsung announced the
Galaxy Core
smartphone back in May of 2013, and now, about 8 months later, we have our hands on the
Samsung Galaxy Core Advance
. Given the obvious naming similarities between the two, one might instantly assume that the latter is an upgraded model based on the former, but that's not exactly the case, as it turns out. In fact, from a hardware perspective, the Core Advance is hardly any better than the Galaxy Core. Confused yet? Well, allow us to clarify things a bit. Actually, Samsung is marketing the Galaxy Core Advance as a phone for those who are less comfortable with touchscreens, not as a direct successor to the Galaxy Core. Nevertheless, it is still a fully functional Android device that will let you browse the web, take photos, and play Angry Birds. Let's check it out!
Design
Solid and robust, but not something you'll be showing off with.
Yup, it's a Samsung smartphone alright – a device exhibiting many of the typical design characteristics associated with the company's recent mid-range phones. These include its curvy corners, plasticky construction, and faux-metal trim around the sides. But there is also a number of things that set this phone apart. Its plastic back cover has been treated to a soft touch finish, which provides slightly more grip than those glossy finishes we often see on Samsung's phones. Besides, this type of surface doesn't attract much of that annoying finger smudge. Overall, the handset is heavy, chunky, and clearly built with a utilitarian approach. It is not meant to be a fashion accessory for one to show off with, but it feels solid and durable when held.
As we mentioned above, the Samsung Galaxy Core Advance has been designed for people who aren't comfortable with touch-based controls, which is most likely why we find no capacitive buttons anywhere on the phone. Instead, there are three physical Android navigation keys with good tactile feedback below the screen. Being slightly raised makes them easy to operate even with gloves on. On the left side of the phone is placed the volume rocker, which works fine, although it probably could have been exposed better. Things get a bit more interesting on the right side of the device. There we find the power key along with a camera button (not of the 2-stage type) and, surprisingly, an extra key dedicated to launching the phone's voice recorder.
Display
Spacious with its size of 4.7 inches, but pixel count is disappointing.
4.7 inches of display real estate is what the Samsung Galaxy Core Advance has to offer, which makes it neither too difficult to wield, nor too small to be enjoyed. Its resolution of 480 by 800 pixels, however, is pretty underwhelming. Of course, a PPI figure of 199 pixels per inch is still regarded as passable given the phone's class. Just don't expect this screen to be able to reproduce those fine details in images and text.
The display panel is of the TFT variety and it looks good enough to be fit for a rather entry-level phone like the Galaxy Core Advance. Its touch-sensitive surface should detect user input even through a pair of gloves, which is a nice perk to have. When placed under broad daylight, the phone is still more than usable thanks to the display's high brightness output. Just get used to setting the brightness level manually since the phone can't do that for you.