Samsung Galaxy Ace Review
58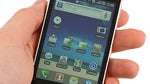 This is a global GSM phone. It can beused with
T-Mobile
USA and
AT&T, but
without 3G.

Introduction: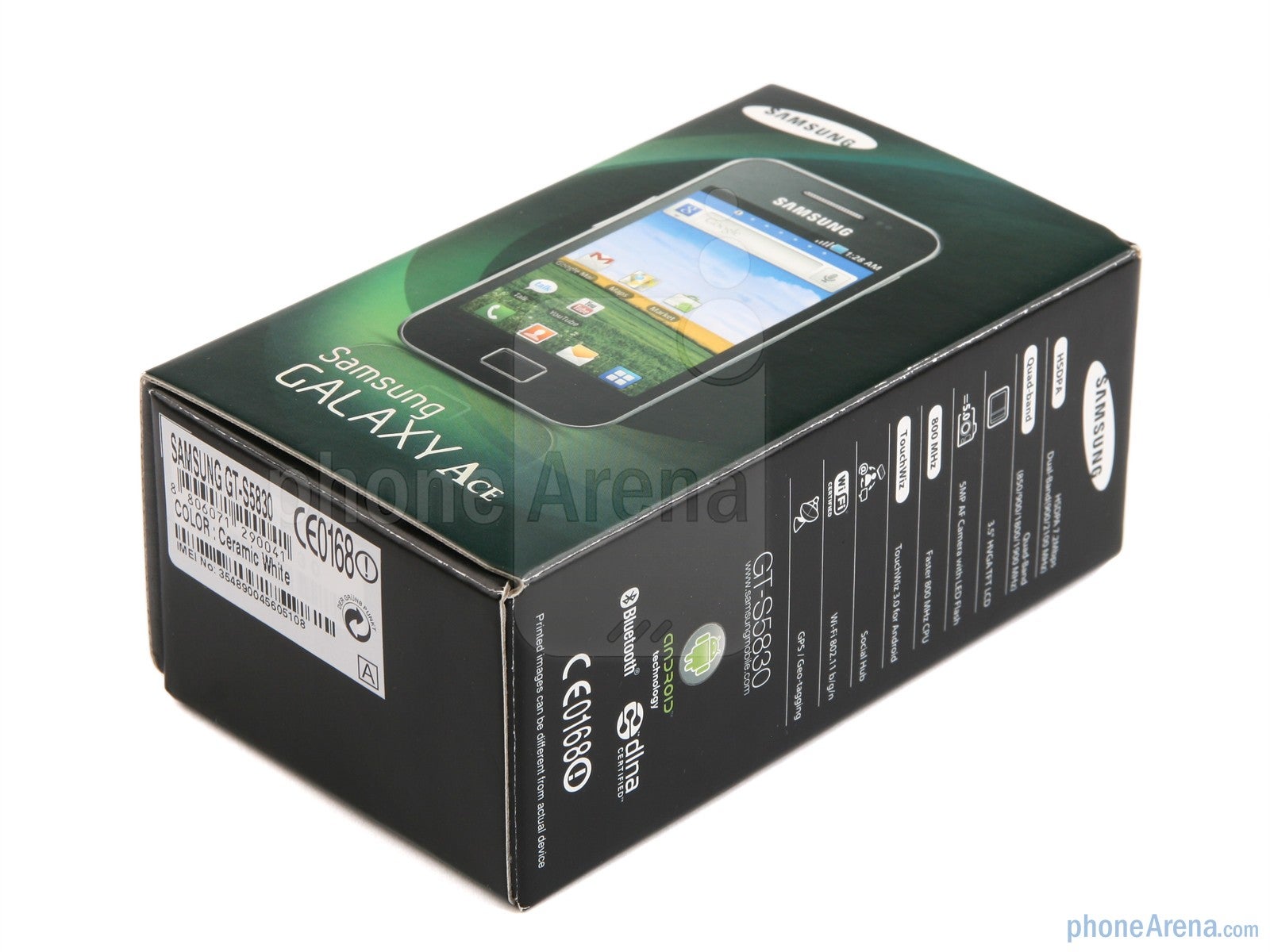 If Samsung was hiding a secret card up its sleeve, one with ambition to trump mid-range Android smartphones with a smart combination of price and features, the
Samsung Galaxy Ace
would be our first guess. Rather than shooting for the stars it offers the almost complete Android experience in a relatively affordable package at a retail price of around $350. Hard facts speak of an 800MHz Qualcomm chipset and 278MB of RAM under the hood here. Samsung throwed in a 5-megapixel shooter and a conveniently located microSD card slot on the side, all in a handset with a 3.5-inch screen, looking somewhat similar to the iPhone 4. Will this be enough for its market success? Read on to find out.
Design:
Design is what differentiates a company in the already packed Android smartphone space, but the Galaxy Ace delivers a body with a subtle yet noticeable similarity to Apple's iPhone 4. The phone comes with an equally sized
3.5-inch
TFT screen with a resolution of 320 x 480 pixels. Response to tapping and flicking is excellent, but in direct sunlight the screen is barely legible. Samsung skipped on the oleophobic coating, but hey – looking at the price we see no surprise here, right? To continue the list of similarities, the bezel around the screen almost matches the one on the iPhone 4 in terms of size, but the single large physical key on the bottom is what really jogs you into linking the Ace with Apple's iPhone. Finally, one capacitive button on each of the sides of the physical home key rounds up the fascia of the handset. The Galaxy Ace comes in two versions – a black and a white one.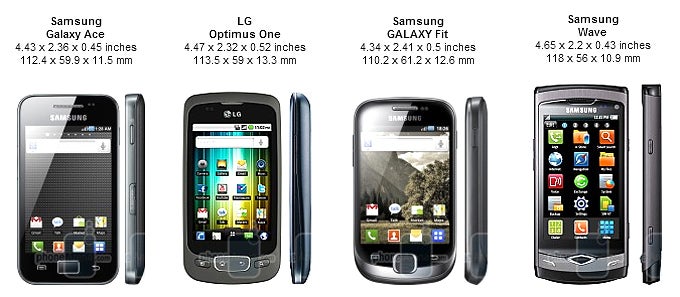 You can compare the Samsung Galaxy Ace with many other phones using our
Size Visualization Tool
.
On the side, a silver chromed plastic line adds to the iPhone look of the phone. It holds the volume rocker
on the left
, the hot swappable microSD card slot located in the middle of
the right side
(up to 32GB of expandable memory) and accompanied by the lock key above it. O
n top
you have a sliding door for the microUSB charging/syncing slot and 3.5 standard headset jack.
The back holds the
5-megapixel
auto-focus camera which works in concert with LED flash. The only other thing you'll find on the back is the speakerphone.
While the Ace's glossy plastic has a nice solid feel, it is indeed a fingerprint magnet. Overall, the striking similarity with Apple's iPhone is what could make this phone attractive from a design standpoint. But it's only the looks, not the feel that you could try to emulate with such a handset, right?
Samsung Galaxy Ace 360-degree View: