Samsung Galaxy A9 (2016) Review
42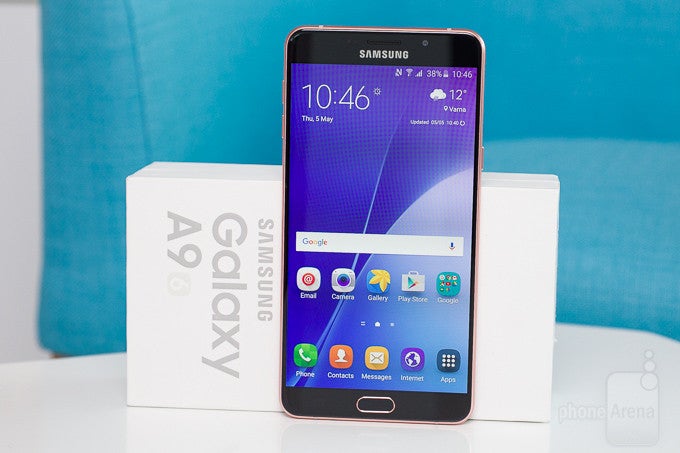 Update

: You can now read our Galaxy A9 (2018) review!

Introduction
Samsung's 2016 A-series is truly something. Retaining the slightly less-rounded rectangular shape of the 2015 A-series (compared to the flagship S-series), the new handsets have adopted a more gracious, sophisticated glass design. What's more, Samsung has added some additional size variations to choose from, the biggest of which being the
Galaxy A9
– a 6" behemoth that impresses with both size and posture.
At a price ranging from $450 to $500, the Galaxy A9 is easier to acquire than Samsung's top-shelf
Galaxy S7 edge
, yet most consumers will probably have a difficult time finding the spots where the corner-cutting has been done. If you happen to love large... no, HUGE screens, this may be the phablet you've always wanted.
Design
Some say, with a somewhat negative connotation, that metal has become the new plastic when it comes to phone design. If you happen to second this view, then I'd assume you are going to like the Galaxy A9, with its elegant glass exterior. Yes, it'll be easier to crack; yes, it'll attract more fingerprints, but it sure as hell looks and feels fancy!
The design of the Samsung Galaxy A9 is among its main selling points: you can get it in three different colors: white, gold and 'pink gold', with the latter two having a black front. All three options are quite attractive. The metal side frame is colored appropriately for the three variations, and I'm pleased to say the company has excercised enough care so as to smooth out all the edges, making for a phone that feels genuinely good in the hand.
'Solid' and 'substantial' are two words I would definitely use to describe the Galaxy A9. The phone doesn't feel flimsy or plasticky like the
Xiaomi Mi5
, for example, but nice and solid – it makes you feel confident that it's not going to fall apart easily. And then, having in mind the imposing dimensions and scale-tipping weight of 7.05 oz (200 g), the A9 sure is substantial enough – so much so that it easily outweighs other big and heavy handsets like the
iPhone 6s Plus
(6.77 oz | 192 g) and the
Galaxy Note 5
(6.03 oz | 171 g). However, considering there's a massive, 6" display mounted on the Galaxy A9, such figures are definitely to be expected.
Also worthy of note: as it's become the norm for recent higher-end Samsung handsets, the buttons (home, volume, power) are all clicky and easy to press, with a nicely defined tacticle feedback.
The Galaxy A9, being a higher-tier handset, comes with a fingerprint scanner built into its home button, just like the S7 or Note 5. The scanner also works in a similar fashion: it's mostly quick and responsive, though its accuracy tends to go south the more careless the user becomes with their finger positioning.
One feature the Galaxy A9 does lack, compared to Samsung's 2016 flagships, the
S7
and S7 edge, is water-resistance. This is one area where we can say a corner has been cut in order to keep the price of the phone more accessible.
Display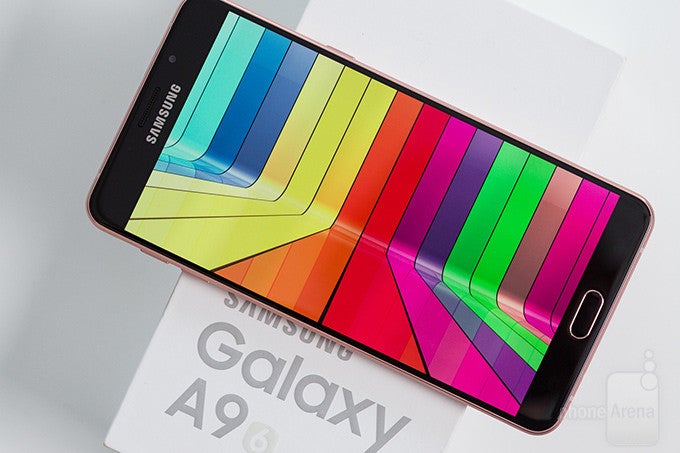 The 6" panel is another centerpiece of the A9. If you're interested in this phone, you're obviously interested in gigantic displays. Samsung has equipped the Galaxy A9 with a decent, though not particularly fancy AMOLED panel. The 1080 x 1920 px resolution delivers a pixel density of 367 ppi, which is more than sufficient.
There are the usual ultra-saturated screen modes like 'Adaptive' and 'AMOLED', but if it's reasonably balanced colors you're after, activating 'Basic' mode will engage a color profile that is more true-to-life. There is a slight tendency towards blue/green with this screen, and while this is mostly tolerable, colors happen to appear a bit subdued overall, especially at lower brightness levels. This is definitely not the liveliest display panel out there.
Still, it's not really that bad, especially when we consider its lovely brightness levels: going up, it can reach 560 nits, which is enough to allow for comfortable outdoor viewing, while when we turn the lights off and hit the sheets, its minimum brightness of 1 nit will make sure that our eyes aren't irritated in any way while viewing it.
Display measurements and quality