Samsung Fascinate vs Motorola DROID X
28

Introduction: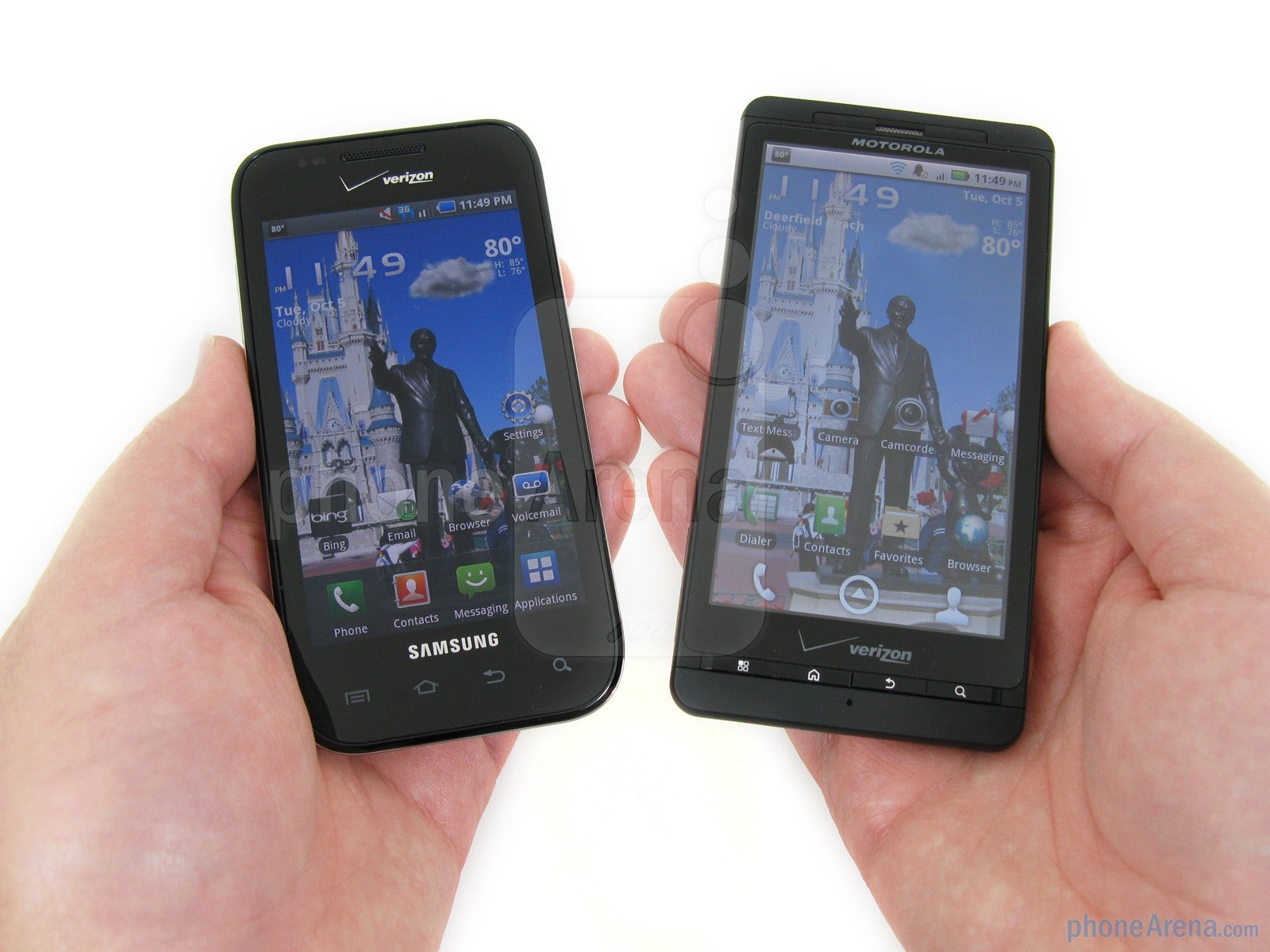 There's no question about it, the Motorola DROID X has been one of the hottest Android phones for Verizon this summer, but a few weeks ago the Samsung Fascinate hit the stores and turned the heat up even more. Both of these Android devices are the top-tier on Verizon's smartphone line-up and come in at $199.99 (after rebate with 2 year contract). However, there are some clear differences between them, which we are going to take a look at, such as their displays, performance, form and feel. If you want even more in-depth information, be sure to check out our full reviews of the
Motorola DROID X
and
Samsung Fascinate
.
Design:
Let's face it. Selecting a phone often comes down to which one you think looks best as a personal preference. To that extent, the Samsung Fascinate has a more streamlined appearance and looks a bit more glamorous, but that's where we start to have issues, as its plastic construction is a fingerprint magnet and always feels slippery in your hands. Conversely, the Motorola DROID X might not win any fashion awards, but it feels more durable with its metal construction and the soft-touch coating on the back provides a nice grip. The Fascinate is also slightly smaller, about 0.10" less in height, and also doesn't have the "camera hump" that is found on the DROID X. Because of this, it fits better in smaller hands and in slim pockets.
One key difference between these two devices are the displays, as the Samsung Fascinate uses a 4" Super AMOLED screen with 480x800 resolution, while the Motorola DROID X comes with a larger 4.3" TFT LCD screen with 480x854 resolution. There's no denying the fact that the Super AMOLED screen on the Fascinate shows images and videos with greater color saturation and contrast, but for reading text (such as small text in web pages), we found the TFT display on the DROID X to have better fine detail without text looking jagged. That being said, viewing images and videos on the DROID X is by no means bad, but colors just don't have the "pop" to them that you get with the Fascinate.
Even though most of the phone's operations will be carried out by using the capacitive touchscreen, you still have four function buttons at the bottom, and here we prefer the physical buttons used by the Motorola DROID X as you have to press them down to get a response. The Samsung Fascinate has touch buttons, which can accidentally be pressed at any time by the slightest touch, so you have to be more careful about where you place your fingers. Both phones also have the standard volume rocker, power/lock button, 3.5mm headset jack, and microUSB port on the sides, but the DROID X adds a micro HDMI port so the phone can plug into an HDTV for viewing pictures and videos.
Motorola DROID X 360 Degrees View: Samsung Fascinate 360 Degrees View: