OnePlus Buds Pro review: these settled quite well!
1
We may earn a commission if you make a purchase from the links on this page.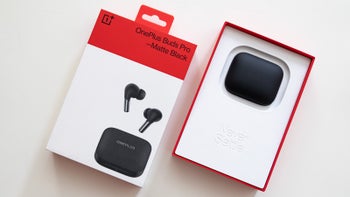 The wireless earphone market is truly saturated nowadays — you've got all the options, from super-cheap, no-name brands that deliver iffy sound and quality to super-premium buds that sound phenomenally but also cost a pretty penny.
What is a company to do if they want to stand out? Well, have a good design for both the buds and the case, have a great sound, and make them as accessible as you can in the price department.
OnePlus has proven that it is quite good at striking this balance time and again. Yes, contemporary OnePlus phones are not cheap "flagship killers" — but they often have great design, good specs, and a very competitive price in their respective segment.
The OnePlus Buds Pro, however, may have missed the mark by just a couple of inches. Yes, they do look nice, their sound is tight, punchy, detailed, and clear, and I do enjoy them. Their noise canceling is OK, not an absolute killer, and the case is nice and compact but feels a bit cheap-ish.
In general — good headphones. But here's where they might suffer — they cost $149.99. That's $100 cheaper than the AirPods Pro's MSRP, but let's be real, AirPods Pros are in a perpetual "deal" state of being marked down to $190. And then, there's the Samsung Galaxy Buds 2, which were recently announced, and cost $149.99 themselves.
No, I am not saying the OnePlus Buds Pro are not worth the money. On the contrary — if you have decided to drop $150 on this particular set of earbuds, I think you will be happy with your purchase. But, I can't say they have anything specific going for them that sets them apart from the competition — the big-name, super-popular, instantly-recognizable competition.
OnePlus Buds Pro price and release date
The OnePlus Buds Pro launched on the 19th of August and quickly became out of stock. We don't know when there will be fresh stock, so if you really want a set, you might have to subscribe to the notification option on OnePlus' website. Links below:
OnePlus Buds Pro design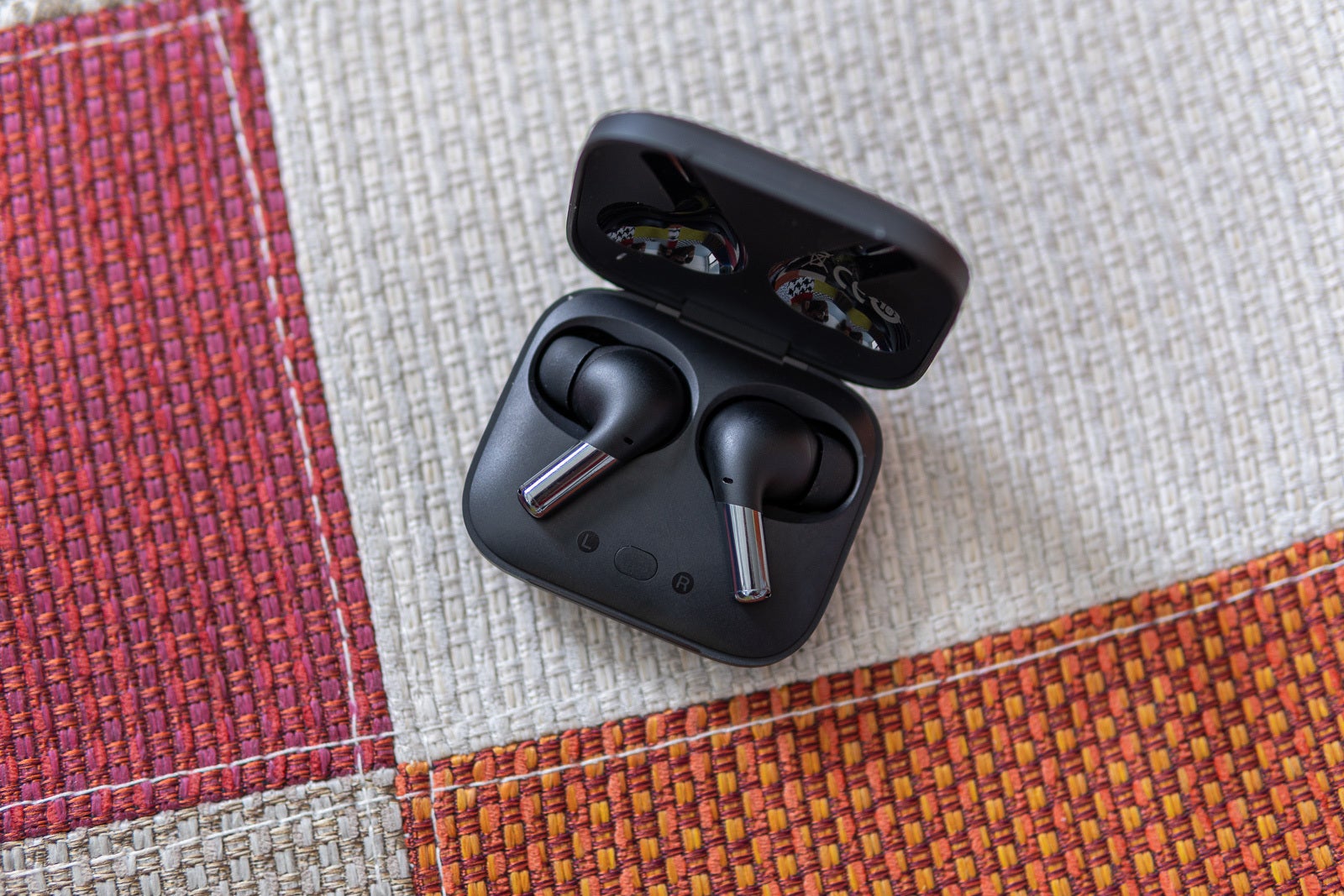 The OnePlus Buds Pro come in two flavors — you get either glossy white, which is the typical earbud finish nowadays, or a soft matte black model. Here, we have the black buds, and they are pretty cool — both to the touch and to look at.
The microphone stems are short-ish, and covered in metal, giving you that duo-tone look that I quite like. These also double as your controls for the earphones — a quick squeeze on a stem can play and pause your music, holding toggles pass-through mode for the sound, and double- or triple-squeezes control the playlist.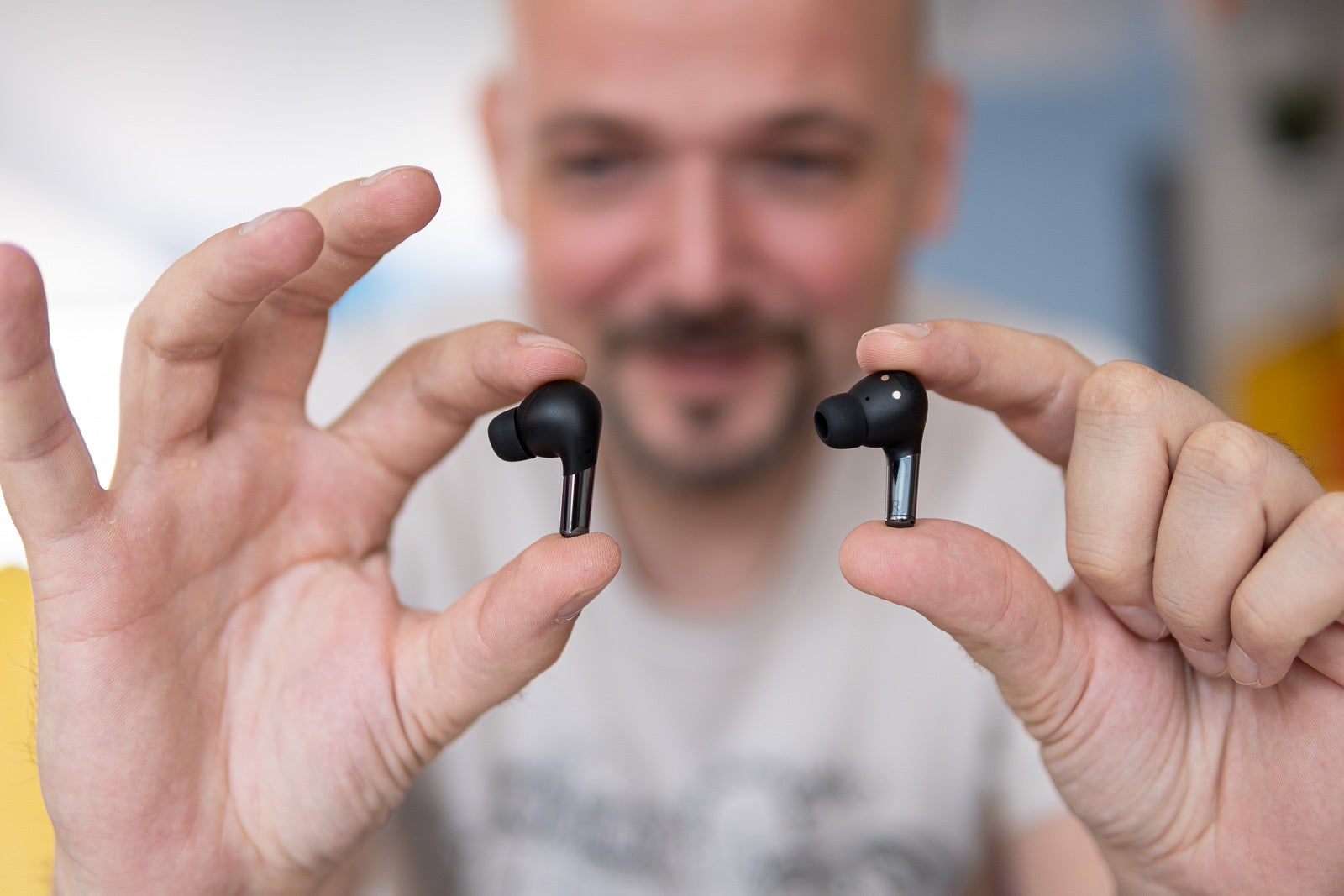 The buds' shape is on the small side, but they do have a bit of a "hump" on the inside, which allows you to push and rotate a bud against your ear concha to hold it in place.
The case itself is OK — it's flat and horizontal, unlike other popular earbuds which go with the vertical placement. The plastic feels cheap-ish and the lid doesn't click when you open or close it — it's a soft mechanism that does the job, but just doesn't feel satisfying.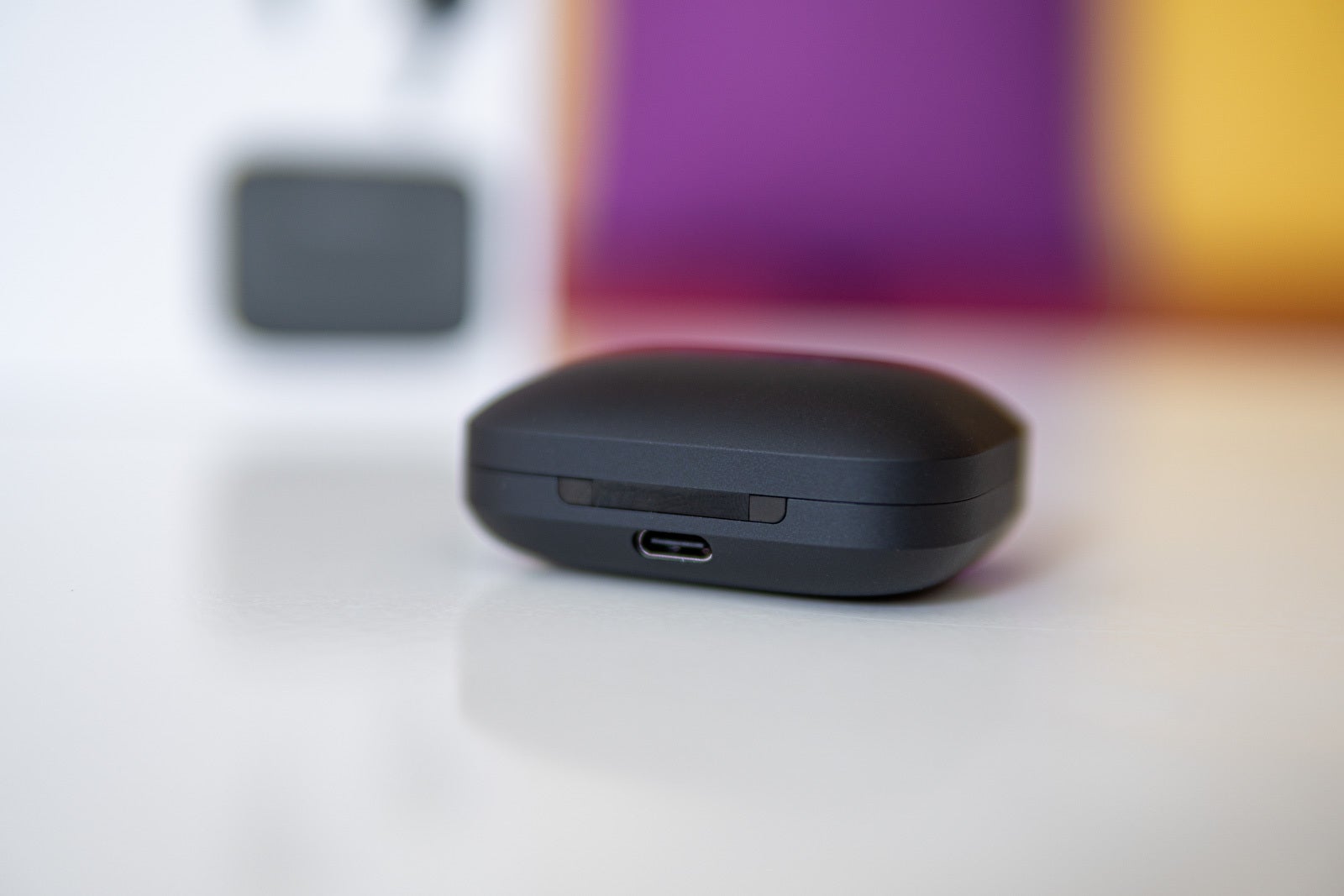 As you might expect, you get three different tip sizes for the buds out of the box — small, medium, and large — aimed at accommodating a wide variety of ear shapes and types.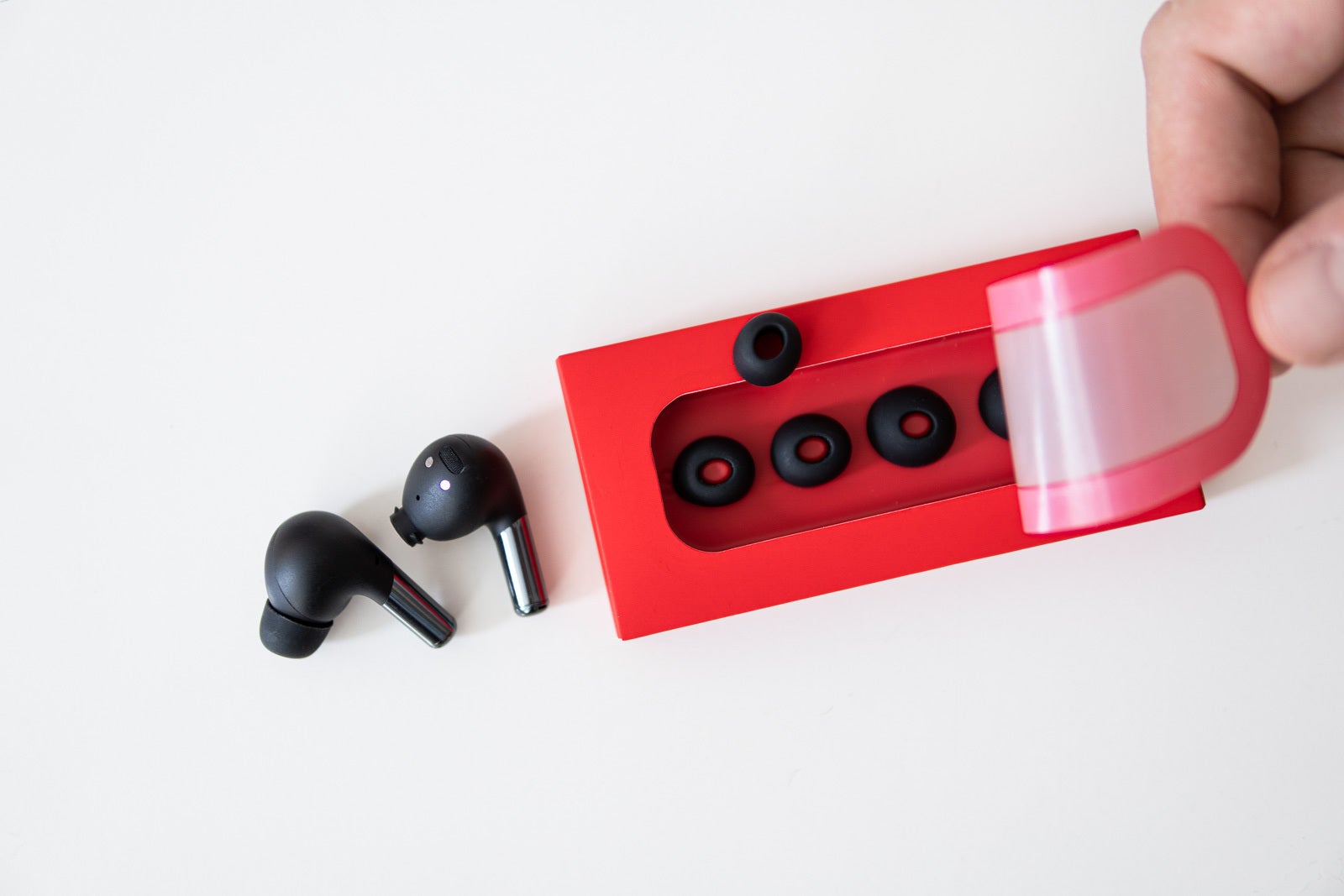 OnePlus Buds Pro sound
Out of the box, the OnePlus Buds Pro sound pretty great. The bass is tight and punchy, but not overwhelming or annoying. The mids are quite clear and the highs are crisp, without being hissy or aggressive.
Can you tune them? Not really. There is an app that gives you some extra controls and also downloads firmware updates — don't bother looking for it, you won't guess the name. Here it is — it's called HeyMelody and it's available for
Android
and
iOS
.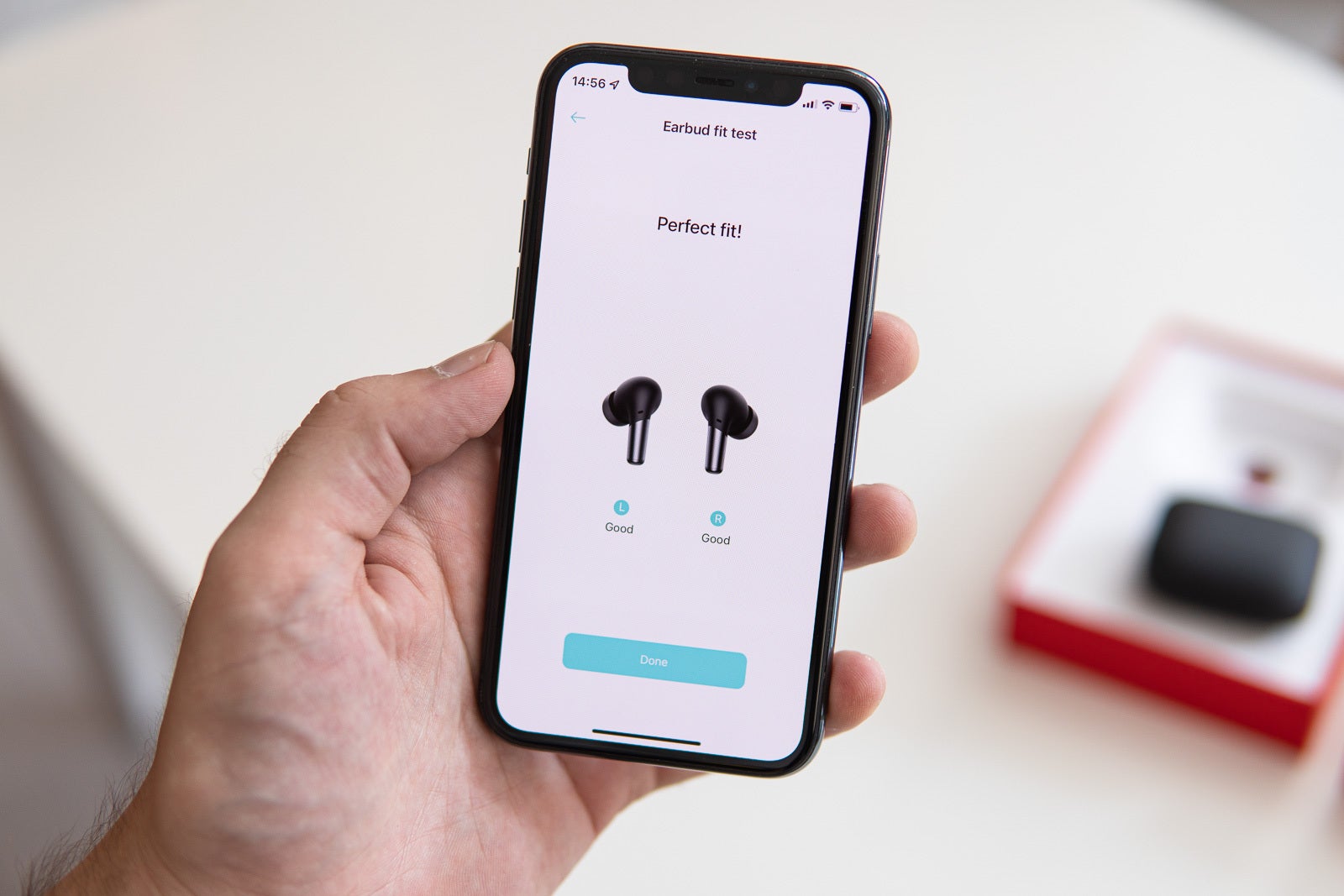 So, within the HeyMelody app, you can control the amount of noise cancellation, turn it off or go in Transparency mode.
About that noise cancellation strength — you've got 3 steps. Noise cancellation, Smart, and Max. The first one is your standard, run-of-the-mill hum remover that we've come to expect. The Max version is supposed to be more of that, but I only noticed a very small difference. The OnePlus Buds' fit and seal and the basic noise cancellation did a great job from the get-go. It's not the best I've heard on earbuds, but once you start playing music through them, you can say bye-bye to outside noises.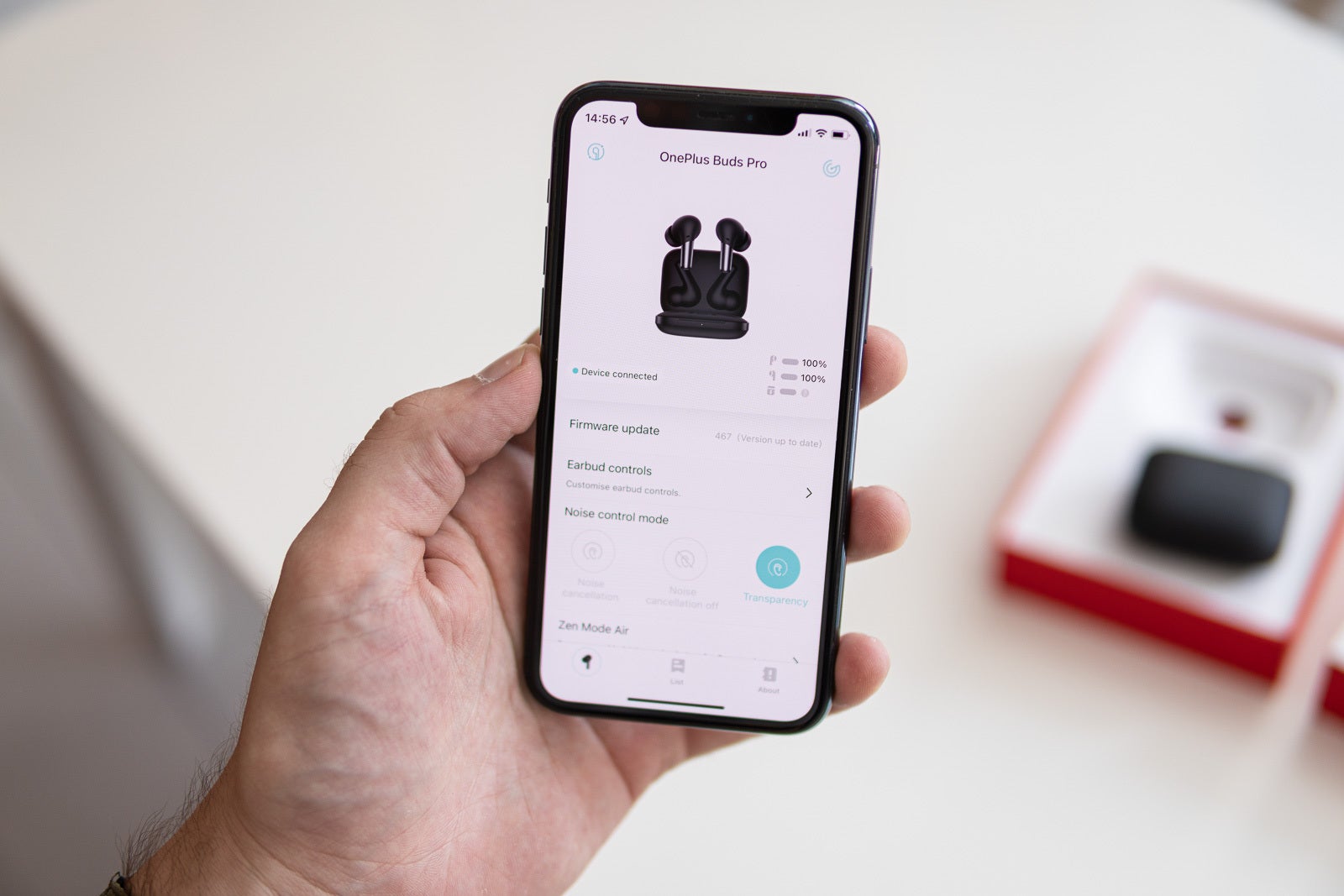 If you leave the slider in Smart mode, the earbuds will automatically swap between the normal and max variants of noise cancellation, based on ambient loudness around you.
Why does that matter? Well, let's explore the effect that noise cancellation has on your sound. Going from "off" to the basic "noise cancellation" scoops the mids just a bit, since the earphones' speakers are now busy masking outside sounds. When you set it to max noise cancellation, you lose some bass frequencies from your music, since the driver is busy double-timing it to cancel the brooming and vrooming of the outside world.
My recommendation — set it on basic and forget about it.
The transparency mode is one of the higher-quality ones I've heard on earbuds. It's not crisp, but it's very detailed and gives you a very good representation of the left-right stereo field. In other words, you will know which side the train is coming from.
The AirPods of OnePlus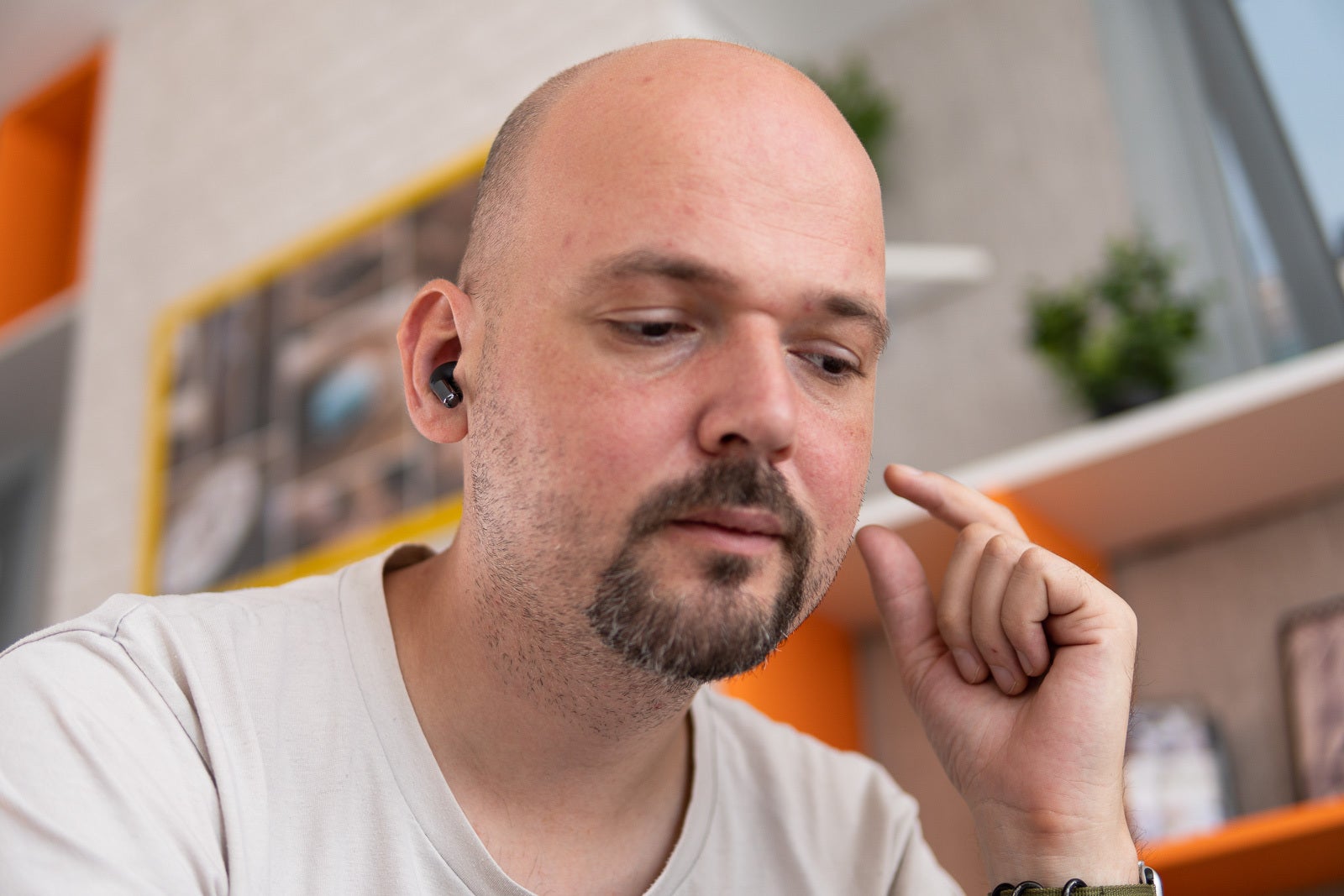 The OnePlus Buds Pro work with any Bluetooth-capable device out there, but have a few features exclusive to OnePlus smartphone users.
For one — a quick connect, where you get a bubble prompt popup immediately after opening the case for the first time (OxygenOS 11 and up).
Then, there's Dolby Atmos support — apparently, it too is limited to only working with OnePlus smartphones (OnePlus 7 and up). We tested this with Apple Music on iOS 15 Beta and we can confirm — not only did we not get Dolby Atmos, when we tried to activate it the stereo field tightened to an almost mono experience.
And there's a ProGaming mode, which ensures low latency over the wireless connection (94 ms) — again, exclusive to OnePlus phones with OxygenOS 11 and up.
The Buds Pro settings are baked into OxygenOS, too, meaning you don't need to download HeyMelody on the side.
Is there an EQ setting for the OnePlus Buds Pro?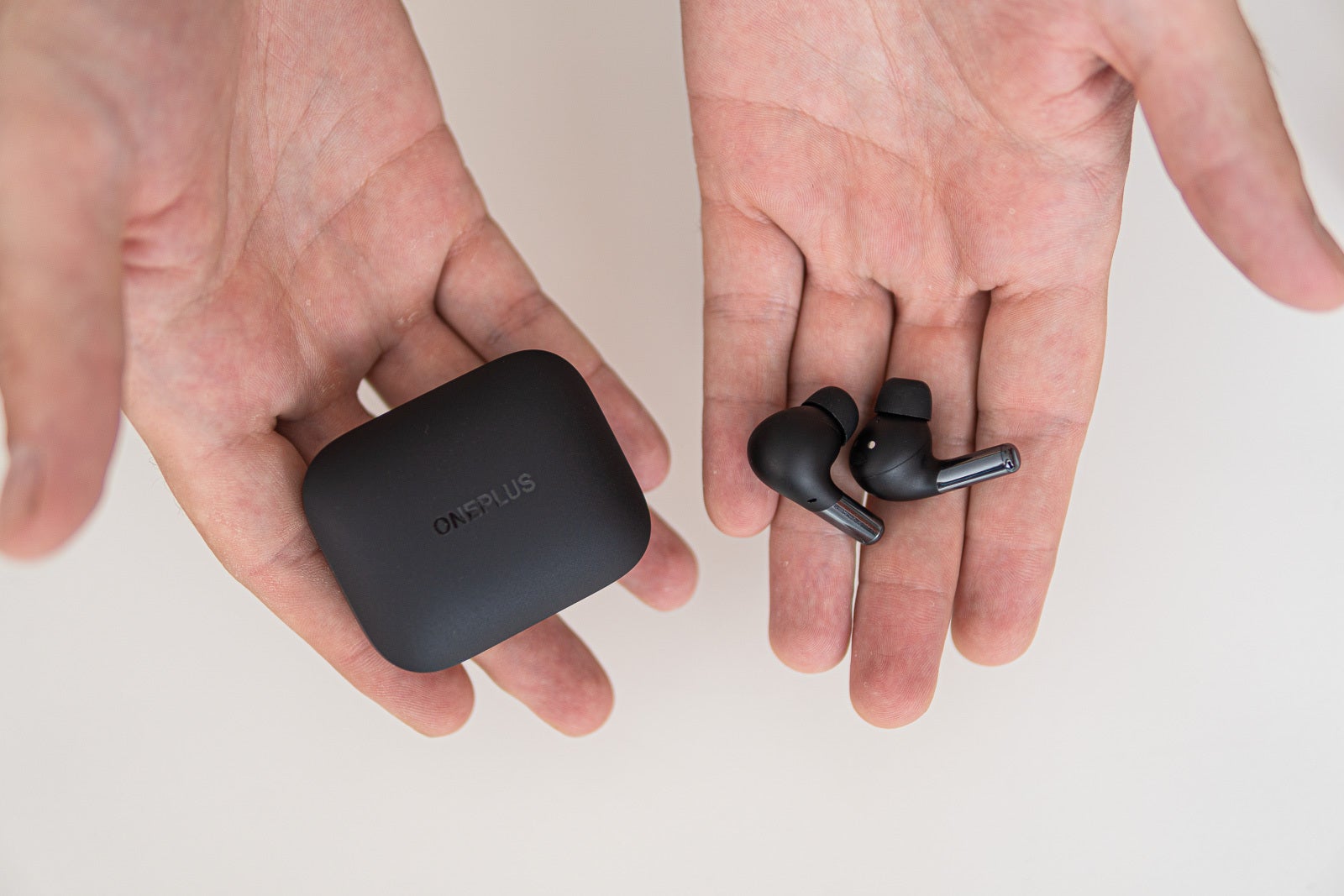 No, no there isn't. What you do get inside the HeyMelody app is a sound personalization suite, which tests your hearing and fine-tunes the earbuds' EQ to your needs. Well, to the needs that OnePlus thinks you have — why didn't we get a custom EQ, again?
To be fair, I found very little need to tinker with the Buds Pro — as previously stated, their sound is clear, detailed, and punchy enough for my tastes. The custom profile that the app made for my hearing gently enhanced the sound, so I confidently left it on and enjoyed it.
Here's a tip — if you really miss the EQ, you can hack the sound profiler by "lying" to it and telling it you don't hear specific frequencies. Then, the sound profile will boost them. I'm not going to lie and say it's an ideal solution. But I have fun lying to machinery — it makes me feel like SkyNet may never really happen (just kidding — Google is SkyNet).
There's also an option to test the earbud fit — if you are unsure whether the earbud tips you've chosen provide a proper seal for your ears, run this test and the earphones will try to determine that for you.
What is Zen Mode Air?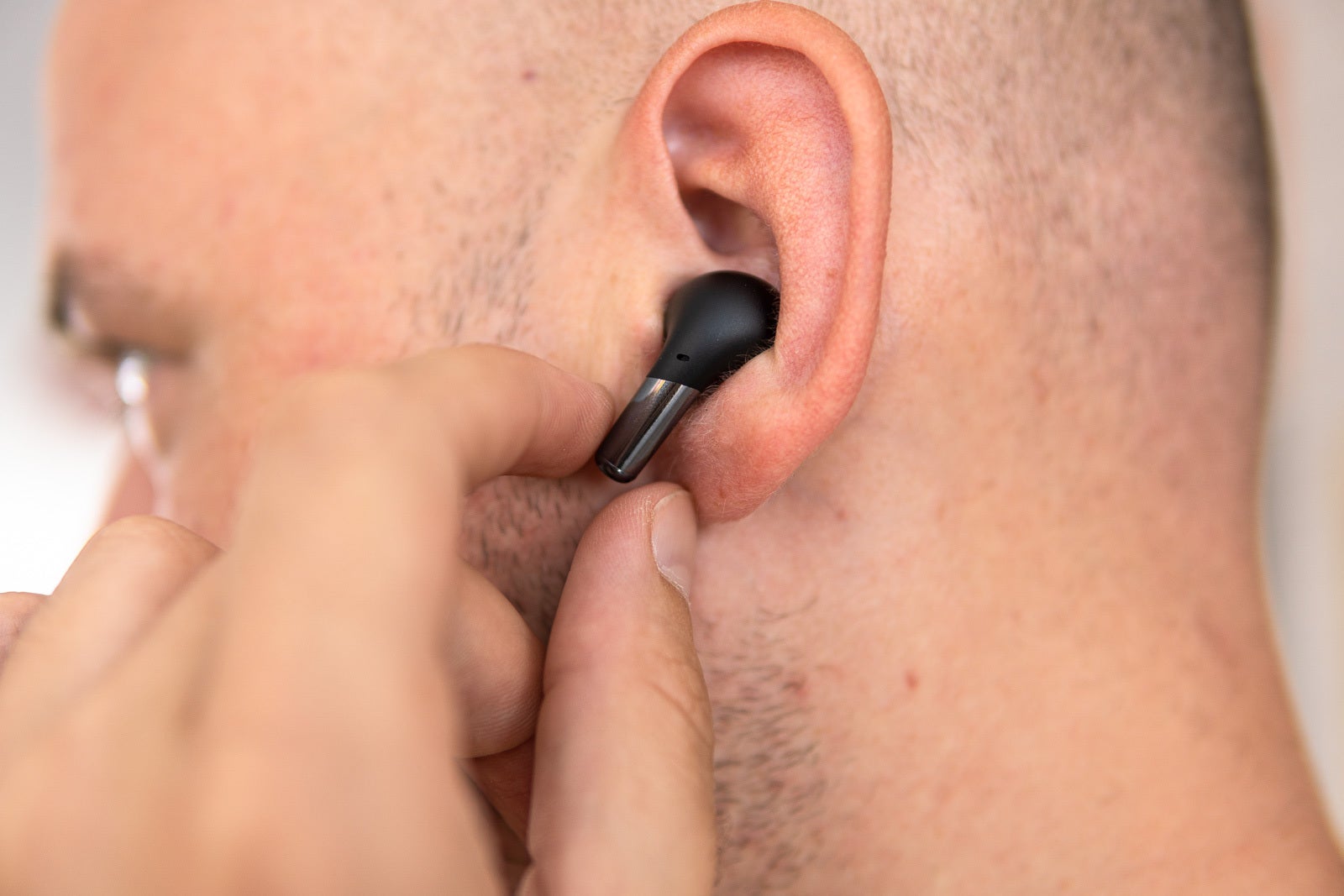 Lastly, the HeyMelody app holds a Zen Mode Air menu, which basically plays ambient sounds for relaxation or meditation through the OnePlus Buds Pro. It's bad.
It's cited as a selling point, but really — the selection of sounds is limited, they are short and repetitive, and there's a clip when they loop (oops, sorry about your meditation there). You can look for relaxing ambience anywhere, from Spotify to YouTube, or special apps designed for it, like Calm or Headspace. I guess it's nice that Zen Mode Air saves the sounds directly on the earbuds, so you don't need a phone to stream them, but that's about it.
OnePlus Buds Pro battery life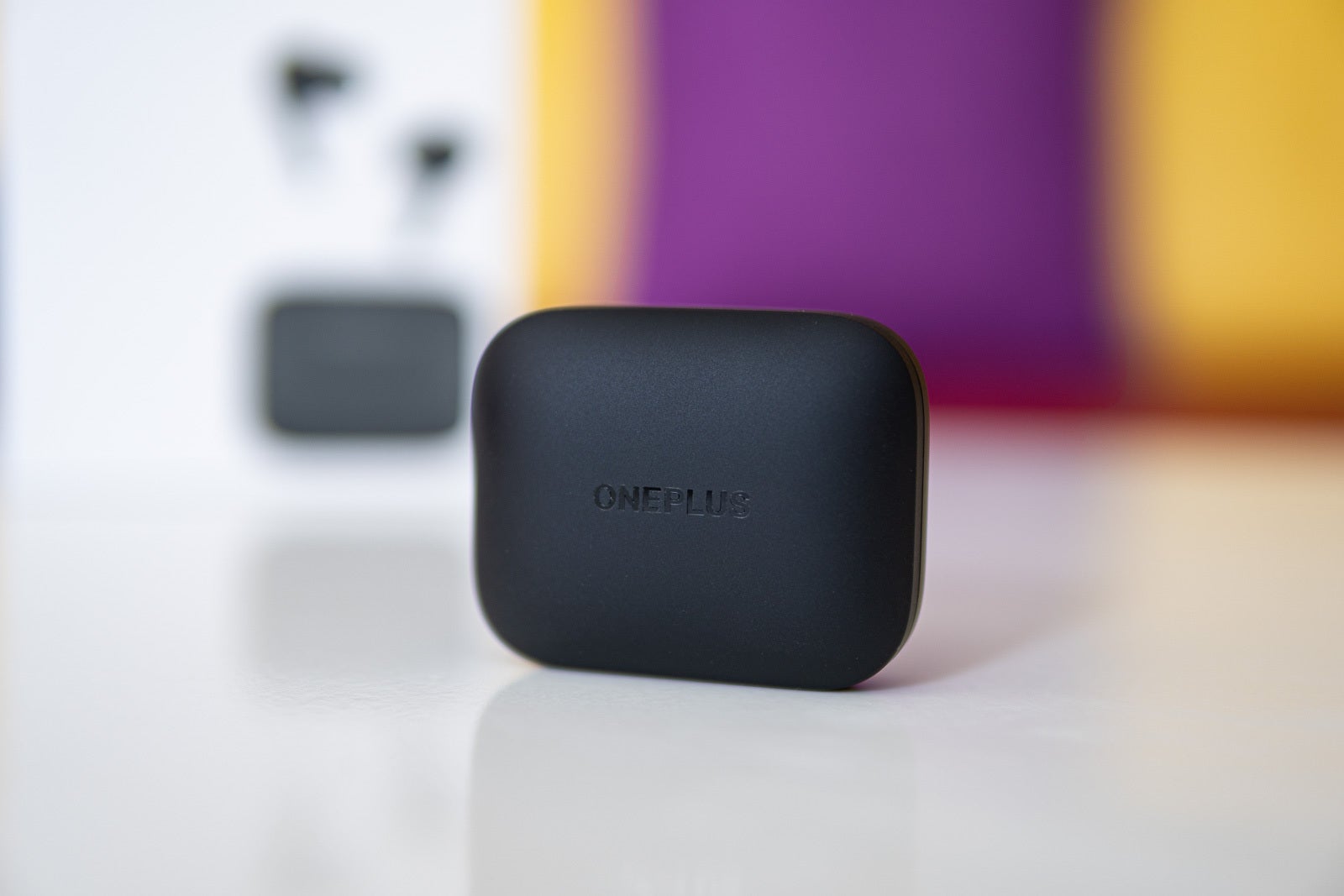 The OnePlus Buds Pro have a cited battery life of 7 hours for the buds and 31 extra hours from the charging case. If you turn noise cancellation on, then it's 5 hours on the buds, plus 23 hours with the case. In other words — a lot of playtime.
The charging case supports its own version of Warp Charge — you can get 10 hours of playtime after 10 minutes of charging. It's also compatible with Qi wireless chargers.
That was a lot of numbers, how's real life use? Perfectly fine. I never ran out of juice — with so much battery life in both the buds and the case, I could sporadically charge them here and there and never feel threatened by a red LED light.