OPPO R7 Plus Review
51

Introduction
Oppo's R7 series of smartphones is the Chinese manufacturer's strategic force for conquering the mid-range category, where devices aim to offer quality design and satisfactory performance at a more affordable price point compared to brand-name flagship smartphones. The
Oppo R7 Plus
is most certainly an example of this trend in motion with its large display, metal construction and modern-day hardware powering it. But does it have what it takes to justify its, admittedly, considerable price tag of $500 unlocked? We'll have a try at answering that by putting the phablet through its paces!
Package includes:
Oppo R7 Plus
SIM ejector tool
Information guides
Clear silicone protection case
Earbuds
Charging and data microUSB cable
VOOC Charger
Design
Not messing with the good stuff, Oppo oversized the delightful looks of its R series handsets.
The Oppo R7 Plus is a plus-sized smartphone for serious phablet lovers only – for ones that wouldn't mind carrying a 6-inch screen behemoth out and about. Still, its dimensions of 6.22 x 3.23 x 0.31 inches (158 x 82 x 7.75 mm) are pretty reasonable for such a literal heavyweight – the R7 Plus weighs 6.8 oz (192 g), feeling solid and definitely heavy! Also of note is that Oppo managed a very good screen-to-body ratio of nearly 77%, successfully eliminating much of the unwanted fluff around the R7 Plus' screen.
The Oppo R7 Plus is also a good-looking and tightly constructed smartphone. It is rectangular, with rounded corners for a better grip, and its sides are decorated with chamfered grooves. The body is fashioned out of a magnesium-aluminum alloy that's supposedly undergone 48 polishing processes. Yet, plastic still plays part in the formula, for there are two plastic bands on the back where the antennas are positioned. Meanwhile, the display is covered in shapely Arc Edge 2.5D glass, which is a fancy way of saying that the glass is contoured along the smartphone's edges for an elegant "flowing" effect.
Aside from the camera, the R7 Plus has a fingerprint scanner on its back, along with a single loudspeaker. The scanner is shaped as a rounded rectangle. Reaching for it feels easy and natural with the index finger, but the fingerprint recognition isn't as immediate as we hoped. Getting it to accurately respond upon the first try is really a question of touching the sensor at the precise right spot. Sometimes it takes us two to three tries to unlock the device, so we have to rate the scanner as average and not entirely reliable. Then again, perhaps a software update could improve its performance?
While it may not have the iPhone 6's precise contours or the
HTC One M9
's hand-polished sheen, the R7 Plus certainly has its charm and has been built with attention to detail. But excellence in appearance isn't always a sign of practicality. Thankfully, the gripes we have with Oppo's phablet are hardly deal-breaking. Firstly, the R7 Plus is completely flat and doesn't lend itself to your hand quite like other big smartphones, such as the
LG G4
, do. Also, the volume buttons (set to the left) are stiff and shallow, although they do give out a nice click.
The Oppo R7 Plus is a dual-SIM smartphone with a catch. The SIM card tray houses either two Nano SIM cards or one Nano SIM card and one microSD card simultaneously. Now, there are more refined designs out there – the dual-SIM
Sony Xperia Z3+
can fit two Nano SIM cards and a microSD card on a single tray thanks to Sony's clever engineering. Hopefully, Oppo and others in the business will catch up to that.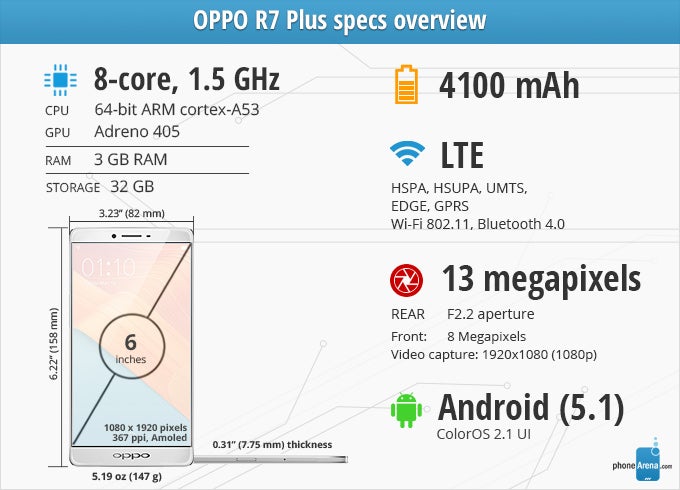 Display
A display that gets the job done, though not a very true-to-life one.
The Oppo R7 Plus flaunts a 6-inch 1080x1920 resolution Super AMOLED display with a pixel density of 367 pixels per inch. This makes for a crisp image, although not as crisp as what you'd see on a Quad-HD resolution screen of similar size. We can easily tell you this is a display that gets the job done, but there are many areas where we were hoping to see better performance out of it.
The display's color temperature measures at 8149 Kelvin, which is quite cold. This results in a blueish tint that isn't distracting, but stands in the way of natural color reproduction. The average gamma value of 2.14 indicates that the grayscale brightness is rather accurate, but the unwanted blueish hue observed when displaying shades of grey is noticeable.
The maximum brightness level we measured was 329 nits, which is workable, but not entirely sufficient for comfortable use under bright sunlight. Also, the glass cover on the R7 Plus is quite reflective. On the other hand, we measured a minimum brightness level of 4 nits, which is adequate for bedtime reading. Mind you, the R7 Plus has a built-in feature for reducing the overly stimulating blue light emitted by its display.
As for color balance, our test results show that the green and cyan shades, in particular, are rather overblown. The white point drifts into blue, red is under-represented, and green is far from the reference values. This isn't a deal-breaker, though, for the color balance is still tolerable. The image isn't washed out or overly dynamic.
Still, the Oppo R7's panel does exhibit a fair bit of brightness drop and color distortion when viewed at a 45-degree angle, typical of AMOLED screens. But the image still holds up well compared to the average IPS LCD screen. You can trust it to remain clear and visible under all but the most extreme viewing angles.
Display measurements and quality
Recommended Stories