Nubia Red Magic 7 review: It will blow you away!
6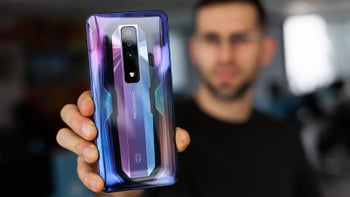 The Nubia Red Magic 7 is the latest gaming smartphone from the ZTE subsidiary, and it's great! I tried to insert a healthy pun in the title, pointing toward the phone's active cooling system, so don't take it too literally.
Apart from that, the phone's really good - it has a big and bright OLED panel with a whopping 165Hz refresh rate, the latest Snapdragon 8 Gen 1 chipset (which is so much better when it's properly cooled), a surprisingly good camera system, amazingly fast charging, big battery, lots of customization options, and last but not least, a great price tag.
There are some caveats to all this, and they mostly concern the fact that it's a gaming smartphone. The Red Magic 7 comes with LEDs, aggressive coloring scheme, it's chunky, and the Red Magic OS 5.0 has an idiosyncratic feel to it. Like a mix between a Murakami novel and a hard-core cyberpunk thriller.
Before we get into more detail about this exciting device, I feel I have to address the whole "gaming smartphone" situation first.
Pros and cons of gaming smartphones
I'm a hardcore console gamer. At least I was back in the day. When I was a teenager I blew all my highschool savings to buy a PlayStation (the original one), and it was one of the first units in my country. That's a weird flex you may think but I feel I need to show that I'm not impartial to the gaming culture.
Cooling
Gaming phones are not slaves to the latest fashion trends in the smartphone world. They follow their own rules (involving LED lights and aggressive looks) but the design is focused around performance, and cooling is a big part of it.
If you opt for a gaming phone you'll get the absolute maximum from the hardware and face much fewer thermal throttling issues in the process.
Battery and charging
Another point stemming from the same root - gaming phones are big and chunky, like a Japanese mech, rather than a Japanese lingerie model (if we want to continue with the bizarre analogies), and being big and chunky allows for huge batteries to be tucked inside.
Now, if you ask me, battery life and fast charging are the two most important quality of life features in any smartphone whatsoever, so gaming phones tick that boxes easily. And to tie that pro to the previous one, better cooling allows for faster chagrin (as is the case with the Nubia Red Magic 7).
Fast screens
What is a fast screen, exactly? Yes, your run-of-the-mill iPhone 13 Pro Max or Galaxy S22 Ultra can do 120Hz but gaming phones are optimized for the least amount of touchscreen latency and you can feel it. Plus, these devices take the refresh rate race to its extremes, offering numbers such as 165Hz and 240Hz.
Customization
Most gaming phones allow you to tweek far more settings than your normal flagship phone. You can control the screen touch sampling rate, refresh rate, the CPU speeds, even set temperature limits and overclock the thing in some cases.
And having the options at hand and not needing them is far better than vice versa.
Price
I'll go out on a limb here and say that gaming phones offer much better bang for your buck than regular flagships. Most of these phones can be found for less than $1000, and they offer so much more than slimmer and fashionable flagships that cost hundreds of dollars more.
Design
That can be a pro and a con at the same time but let's say that gaming phones do have a specific design that might not appeal to everyone. And you're also missing the trend train. Substitute the phrase "Look, I've got the latest iPhone", with "Look, I've got the latest ROG phone", and you'll see what I mean. If social status and image is that important to you, this section can be viewed as a drawback (unless you're a professional gamer).
Update cycle
While most "mainstream" models have a clear software update roadmap, many gaming phones leave things a bit shady. This is a real-world problem that's not tied to vanity or social image. It's also especially important when your phone has features like capacitive triggers, active cooling, custom OS, etc. Getting adequate support for all these custom features is vital.
So, with that lengthy introduction out of the way, let's focus on the Nubia Red Magic 7 and all of its wonderful quirks.
Back to the Nubia Red Magic 7
Design
The Red Magic 7 features a utilitarian and understated (for a gaming smartphone) design. The aircraft aluminum frame feels great in the hand, with its matt finish and nice curves. I got the Pulsar version of the phone, featuring outer space looking back glass (Gorilla Glass 5 by the way) resembling the colors of a pulsar star, according to Nubia.
The colors really pop out but if you find it too auspicious there's a toned down black version of the model (Obsidian). The camera system is placed vertically in the center, and the LED flash is triangular in shape. Pretty cool!
There's a faux cooling grill going around the back, and although I don't like such concepts, it's okay in the Red Magic 7. Plus, the real opening for the active fan (one of the three), is placed on the faux grill stripe, and there are two programmable LED lights as well. Another LED illuminates the Red Magic logo on the back.
The phone is all screen on the front, except for two symmetrical top and bottom bezels. It's a nice uninterrupted design, free of notches and hole-punch eyesores. On the left and on the right, opposite to each other, are the two main fan openings - one sucks fresh air, the other exhausts hot gas taken after cooling the SoC.
The power button is red, and there's also a volume rocker on the opposite side. There are two capacitive touch triggers placed in the corners on the right side of the frame. I'll be getting back to those in the gaming part of the review.
There's a red toggle switch on the left side of the frame but it's not your regular iPhone-like mute toggle. Instead, flipping this takes you to the dedicated Game Space portion of the Red Magic 5.0 OS.
On the bottom there's the USB-C slot, the loudspeaker grill (there's another one at the top completing a stereo speaker setup), and the SIM tray. On the top of the frame there's the now-extinct-from-flagship-phones 3.5mm audio jack.
Display
The Red Magic 7 sports a 6.8-inch OLED display with a 1080x2400 resolution, up to 165Hz refresh rate, and 720Hz touch sampling rate. On paper, all this sounds pretty impressive, and in real life it's more or less the same.
I'm normally not a fan of big phones but when it comes to gaming, the more screen estate you have, the better. Nubia says the Red Magic has a screen-to-body ratio of 91.28%, and it certainly feels that way, even more impressive when you factor in the lack of notches and cutouts in the display.
Nubia also says that this screen can do 700 nits of brightness, and I actually managed to measure 707 during my time with this phone in our lab. Now, color accuracy is a bit off - there are vast customization options under the display setting menu, including a DCI-P3 color mode but I found the most accurate colors in the Natural setting.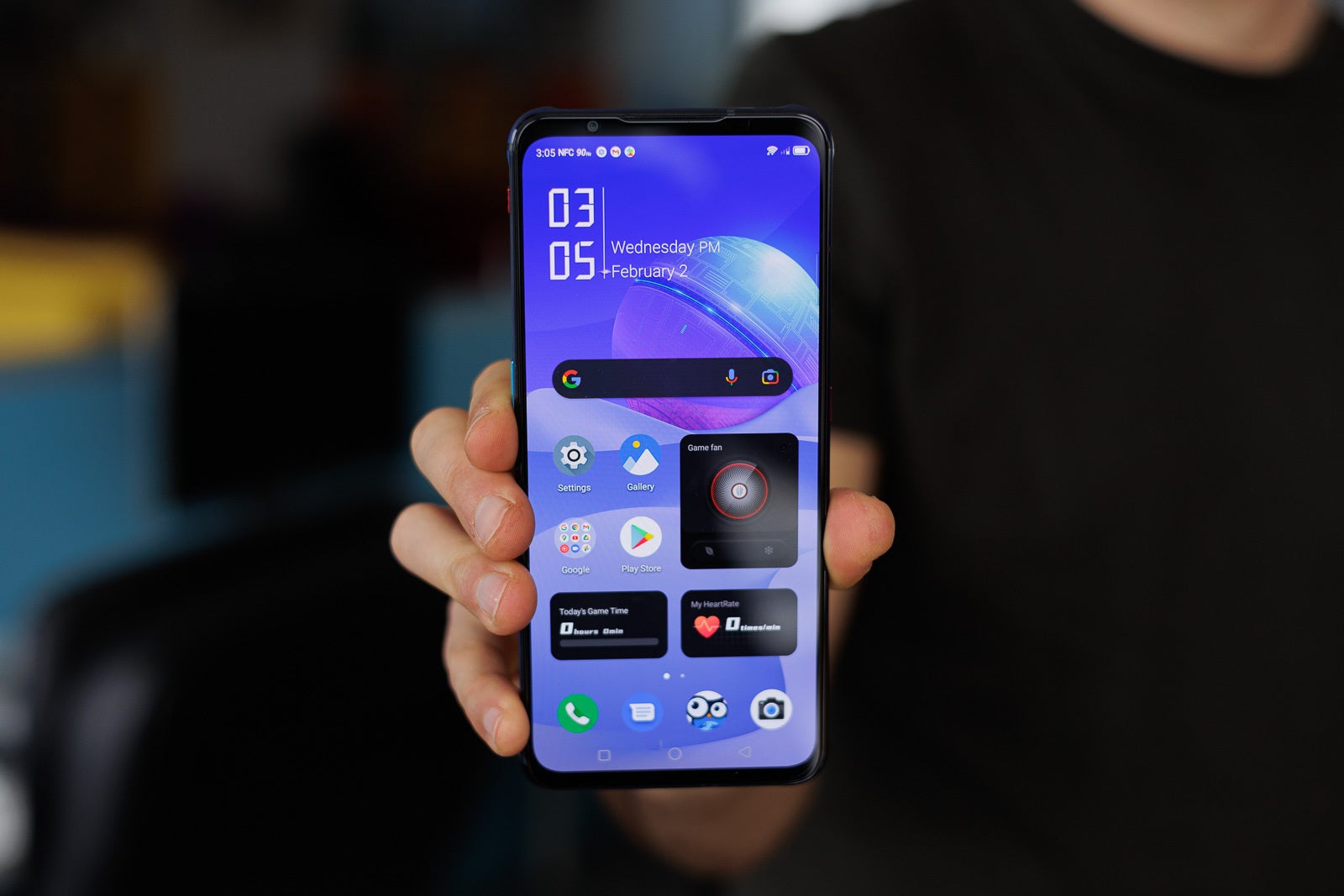 The good news is that you can adjust the color temperature to your liking, activate Night Light to cut off blue light and fall to sleep easily, or toggle the anti-flicker option if your eyes are sensitive to flickering in low light. There's a customizable Always-On mode, and system-wide Dark Mode as well.
The 165Hz refresh rate mode is certainly nice but a bit of overkill if you're not gaming competitively. For browsing, text scrolling and everything else, 120Hz should suffice. The one thing this panel lacks is the ability to dynamically switch between refresh rate modes - you can choose between 60, 90, 120, and 165Hz.
Display measurements and quality
Hardware and performance
The Nubia Red Magic 7 is one of the fastest phones that my colleagues and I have tested to date. The synthetic benchmark scores are sky-high thanks to the Snapdragon 8 Gen 1, and the sophisticated cooling system, and the real-life experience is also buttery smooth.
The Pulsar version of the Red Magic 7 comes with 16GB of RAM and 256GB of internal memory, and there are two different tiers - Obsidian and Supernova. The former sports a "modest" 12/128GB memory configuration, while the latter comes equipped with 18GB of RAM for anyone that wants to brag about their phone in front of Asus ROG Phone 5 Ultimate owners.
There's nothing much to be said here - the active cooling is no doubt the "culprit" behind the high scores in our tests, as the tiny fan launches automatically when it detects a benchmark. Speaking of cooling…
Cooling
This deserves a separate section, as there aren't many smartphones with an integrated cooling fan inside. Even the aforementioned Asus ROG 5 comes with a fan as an accessory, rather than slapping one inside the chassis.
So, is it any good? I think so, yeah. You can choose to launch the fan with every game you play, or control it manually, and there's an eco mode, and a turbo mode with a convenient home screen widget.
Don't expect miracles, though. Even though Nubia says this fan can spin up to 20,000 RPM it's rather small and it can shave off 2-3 degrees (Celsius) from your max temperature while you're gaming, and also let your battery charge a tad faster but that's it.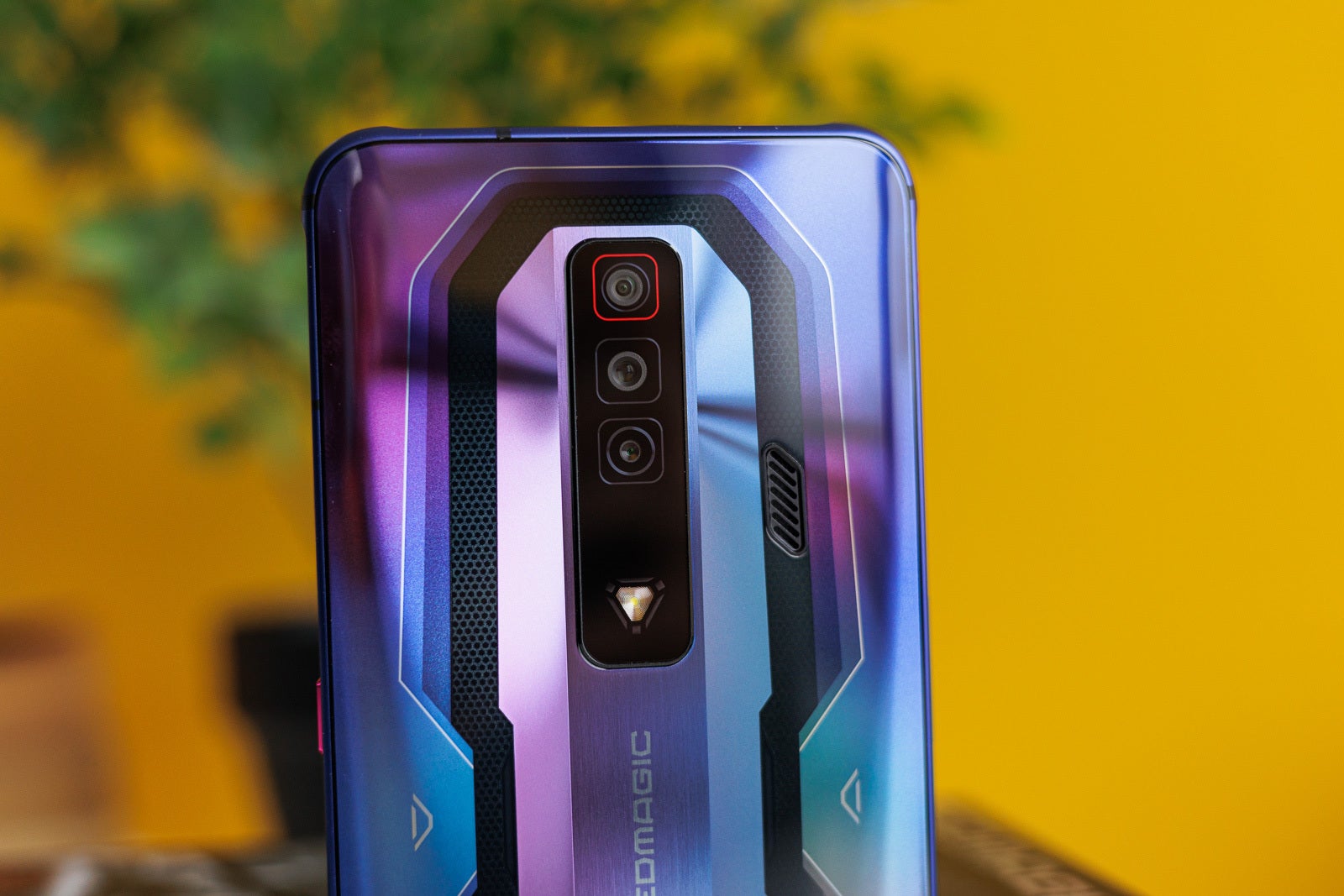 One potential drawback with the active fan solution is that you can accidentally cover the intake while gaming, and this leads to the fan starting to whine a lot in protest. One should be extra careful and keep those thumbs away from the grills.
The spinning little bugger isn't the only "cool" solution in the Red Magic 7. The phone comes with 35% more air volume in the cooling chamber and additional air duct on the back cover. Nubia has also used graphene and other space-grade materials, redesigned the vapor chamber, and made use of high thermal conductivity gel, and copper coil.
With all that being said, the phone still gets pretty hot if you push it to extremes - like playing Real Racing 3 or Genshin Impact on high-performance mode and on 165Hz with 720Hz touch sampling rate enabled.
Gaming experience
We've transitioned to the gaming experience, and it's quite good, courtesy of the capacitive triggers (aka shoulder triggers). Using those triggers for steering in RR3 made me infinitely more competitive. The same goes for battle royale games and other genres I don't usually play (racing games and Japanese RPGs lurk in my natural habitat).
The hardware toggle switch is genius in my opinion, and even though it's not a brand-new idea, using it on a gaming phone to quickly launch Game Space is really handy. You can toggle this little fella to quickly call your mom (from the basement you know, to bring you dinner), or snap a photo of your new action figure, and then toggle it back to continue headshotting more basement dwellers.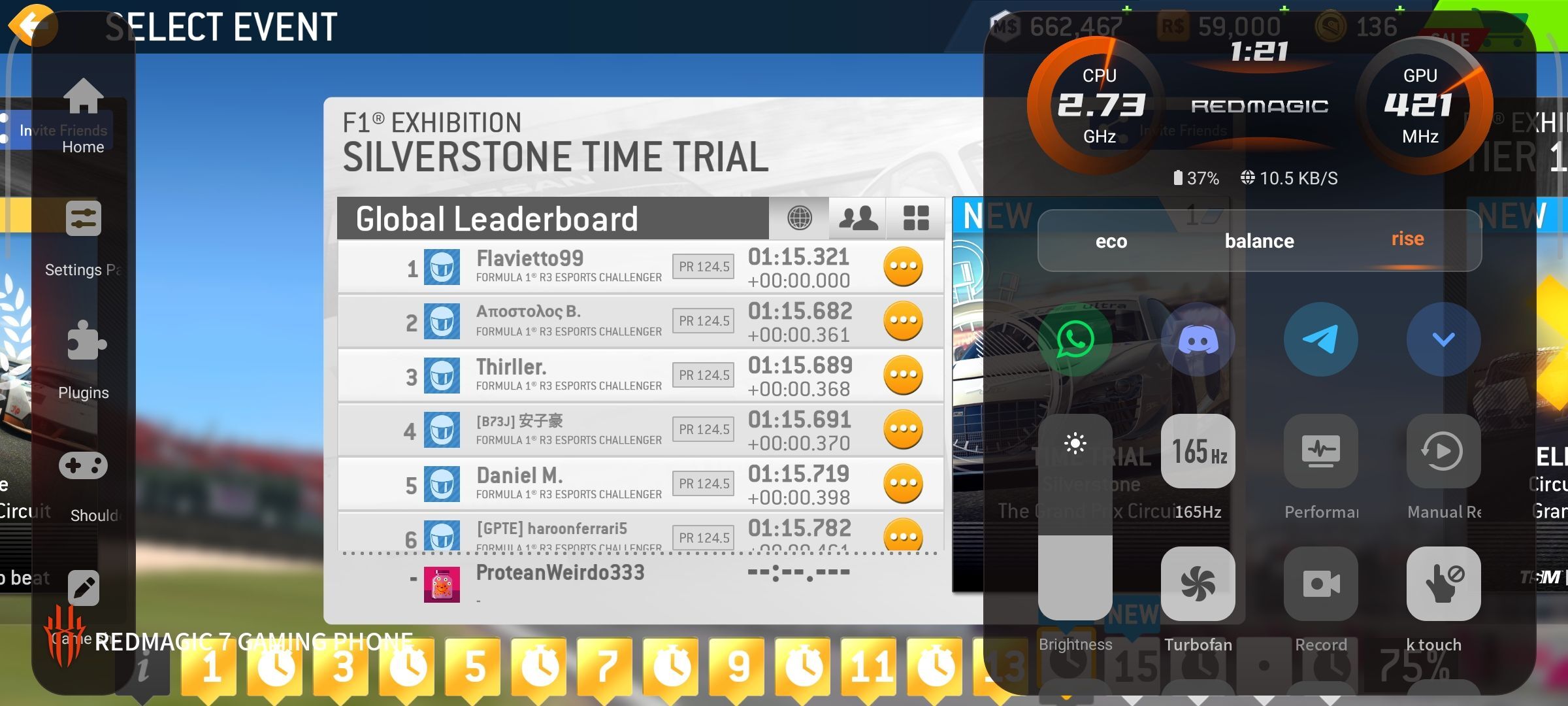 Game Space offers a ton of options
I'm joking here but it's a really convenient way of handling the gaming part, even for grown-ups that manage to hide the inner child quite successfully. There are a ton of options in the Game Space toolbox - you can control map, control, and adjust the triggers, switch between different performance modes, record videos, switch the fan on or off, block messages and calls, light up the LED zones, and even use plug-ins such as macros, aim assist, stopwatch and more.
If I want to be nitpicky, I would say that a couple of additional hardware buttons would've been nice but all in all as a gaming phone the Red Magic 7 rocks. And I mean this also in a literal sense as the vibration on the triggers is quite pleasing too.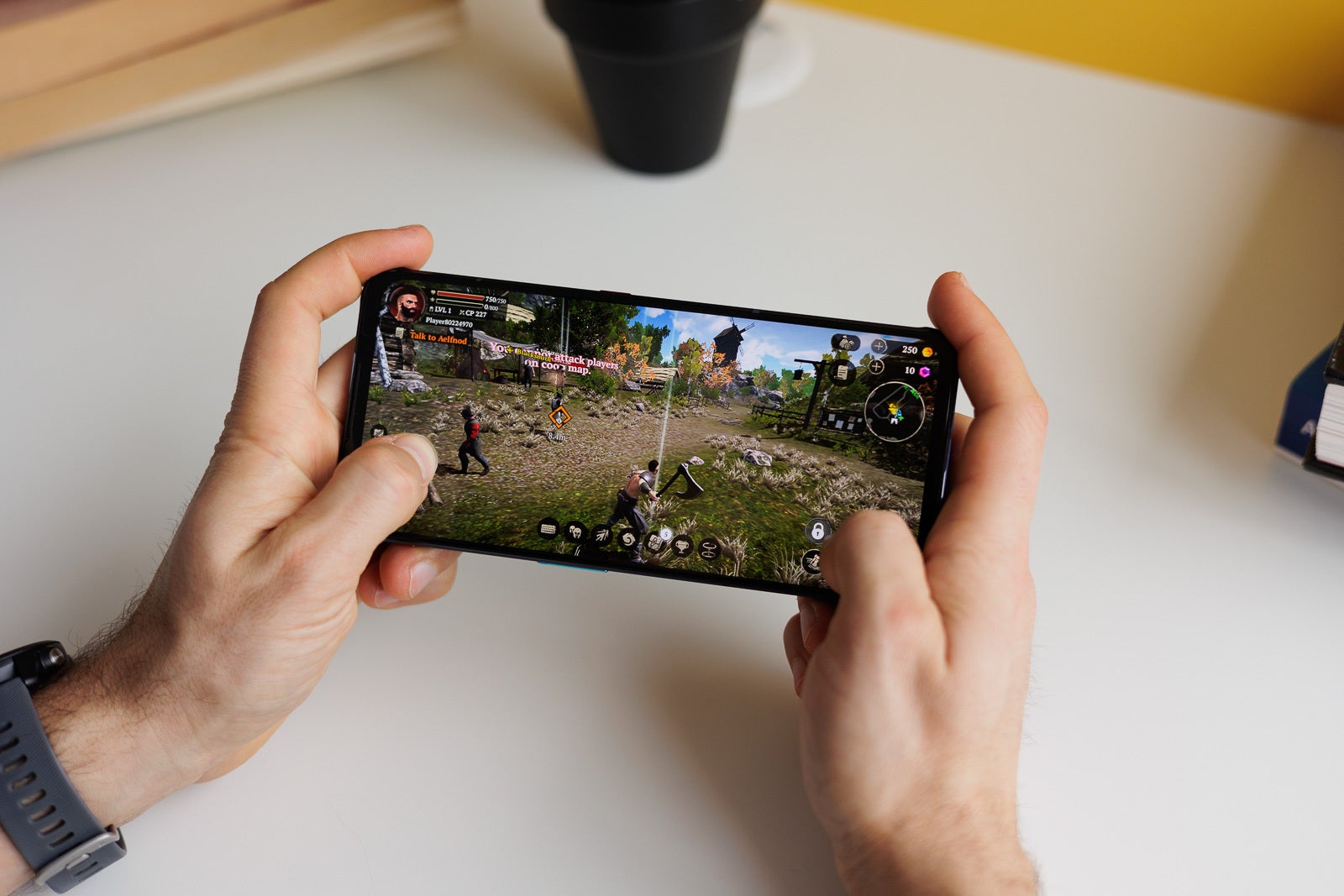 Camera and audio
Getting your camera game sorted is mandatory in today's smartphone world. If you want your phone to sell, you should make sure it can take amazing pictures. The Red Magic 7 sports a triple camera system on the back and while it won't turn iPhone and Galaxy users into sudden Nubia fans, it gets the job done.
The main 64MP camera (f/1.8, 26mm, 1/1.97", 0.7µm, PDAF) takes adequate images in good lighting conditions, and the colors are quite accurate as well. The trouble is that the ultrawide 8MP camera is lagging behind both in resolution/detail, and also in color reproduction - you can clearly see the different tonality between images taken with both cameras - the ultrawide shots are colder and less detailed.
There's a dedicated 2MP macro camera, and also a really nice implementation of the macro mode in the camera app. There's a small lens that shows you details of your macro shot. In reality, though - the result is not that great, and there are better macro cameras out there. The Red Magic 7 can zoom up to 10x but it's a digital crop and I'd prefer swapping that macro camera for a dedicated optical zoom lens. But it is what it is.
On the plus side, this phone packs so much processing power that it can shoot 8K videos. Not that you can make use of such resolution (at least for now). Image stabilization is inherently good with so much processing power and free resolution for cropping. Night mode is also present and it can yield some astonishing results if your hand is steady and conditions - suitable.
The selfie camera is nothing to write home about - it's an 8MP wide angle lens with HDR support but fixed focus. Selfie shots turned out surprisingly good, though. All in all, it's not a camera phone but you won't be embarrassed by the picture from that time your parents took you to the seaside.
There's a stereo setup on the Red Magic 7, the earpiece doubles as a loudspeaker and there's a dedicated one on the bottom. It's a standard configuration and thanks to the phone's sheer size, the sound is pretty loud and quite detailed. There is some distortion at loud volume but nothing unbearable.
Battery and charging
The Red Magic 7 features two batteries of around 2,250mAh each - a standard design in fast charging phones nowadays. The resulting capacity of 4,500mAh is solid and the fast charging is out of this world!
There's a 65W fast charging brick included in the retail box (alongside a clear case and a screen protector), and it can fully charge this big battery in 30 minutes! For comparison, your regular iPhone can charge half that capacity in twice the time at best.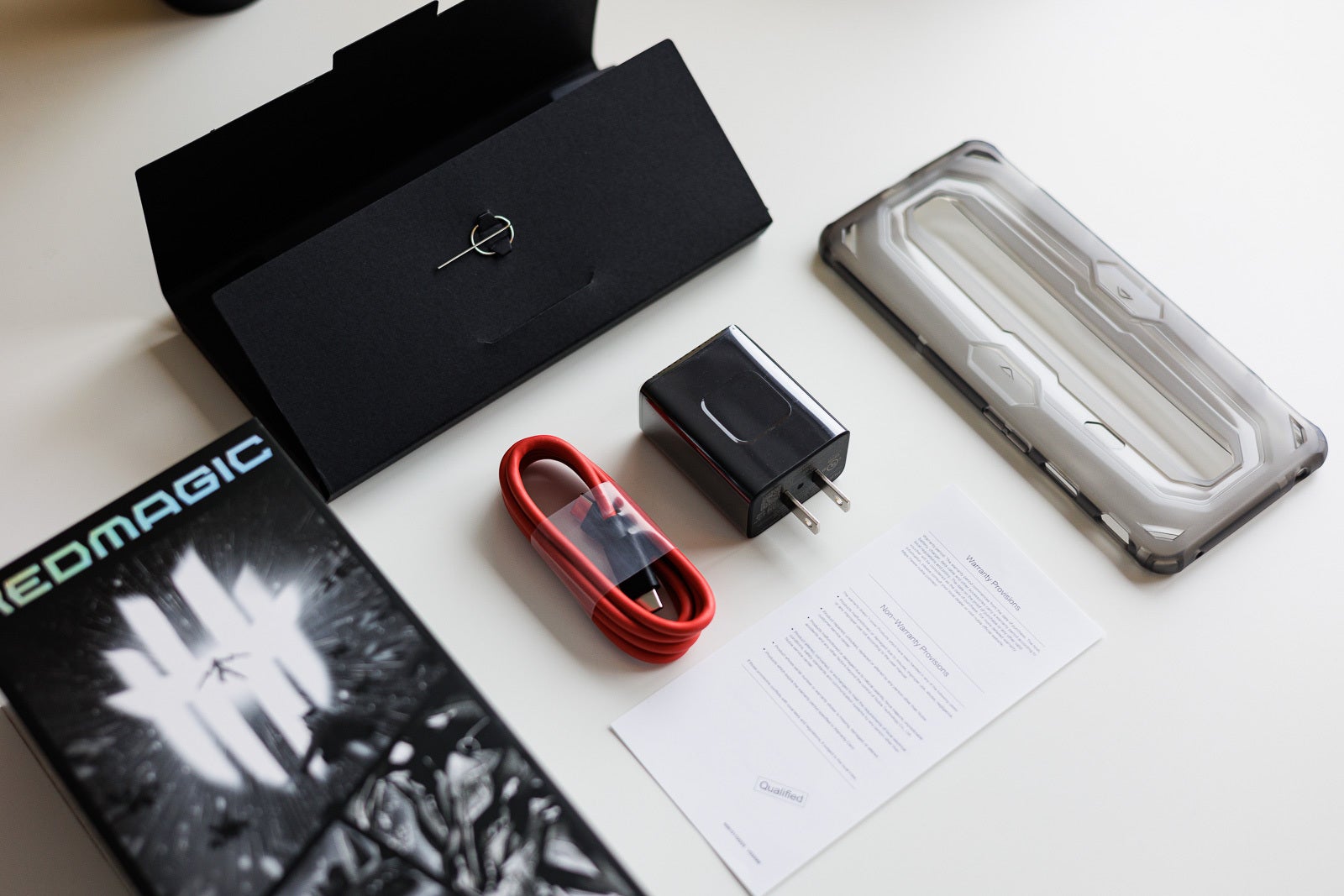 The Red Magic 7 comes with a charger, case, and preinstalled screen protector
The active air cooling helps the charging no doubt and you can literally see the battery filling up when you plug in the charger (there's a cool animation showing the charge percentage). On the flip side, there's no wireless charging, and for some people that could be a dealbreaker. For me personally, not so much. I'd take faster wired charging and a bigger battery to wireless charging any day of the week.
If you're modest with your 165Hz air cooled gaming sessions, you could get two days out of this phone with ease. Looking at our battery test results there's a clear trend - the Red Magic 7 is a battery champion at 60Hz but if you want the smoothest browsing available you should be prepared to sacrifice a few hours.
Conclusion
I highly recommend this phone for anyone who wants to go against the grain and also get the best bang for the buck. The Red Magic 7 starts at $629 for the Obsidian 12/256GB version and goes up to $799 for the Supernova (18/256GB + transparent LED fan on the back). And nowadays this is midrange money.
There are some deficiencies in the camera department, and the phone rocks certain aesthetics but it's one of the cheapest options with a Snapdragon 8 Gen 1 processor, and it runs flawlessly. Get yours while it's still hot, or else the cooling fan will inevitably do its job.