Nokia Lumia 2520 vs Microsoft Surface 2
18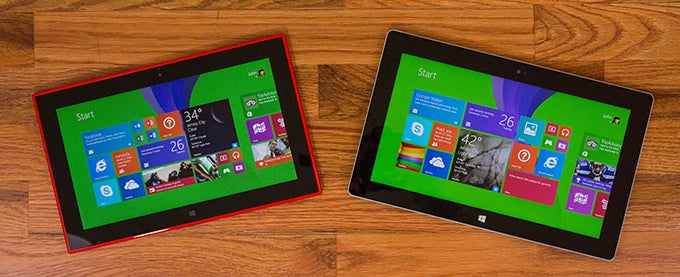 Introduction
Windows RT tablets in general are a rare bunch nowadays, so we're humbled to know that two of the best ones bring back light to the budding platform. Unlike last year, Microsoft made sure to do itself good this time around by outfitting its
Surface 2
tablet with a more modernized set of hardware to keep in good light with the competition. And with Nokia, they've astounded us by delivering one remarkable tablet in the
Lumia 2520
– more so when it's their first venture into the tablet market! They're unbelievable tablets no doubt, especially for being Windows RT tablets, but which of the two can prove that it can outmuscle the other?
Design
Gorgeous! That's what we can say about the two as we feast our eyes upon them. It's a difficult decision, but in the end, it's the flashy colors and sleek design of the Lumia 2520 that gets our attention more. Well, the Surface 2 is still one fantastic looking tablet, especially with its solid industrial design and angular cuts, but it's something we've seen before with last year's tablet. Sure, the VaporMg casing of the Surface 2 is sturdier than the polycarbonate plastic body of the Lumia 2520, but its angular cuts doesn't make for the best in-the-hand feel. Mainly because it's a refreshing take for a tablet design, we gravitate more towards Nokia's first time offering.
Showing off its versatility, we really like how the Surface 2 is armed with a full-sized USB 3.0 port, easily accessible microSD card slot, microHDMI port, and an adjustable kickstand. Quite simply, it really mimics the stuff we'd see on laptops, which is a nice gesture. In comparison, the Lumia 2520's skinny profile means it's limited in what it can offer. Rather than getting a full-sized USB port, we're instead given a microUSB 3.0 port. Yeah, it does feature a microSD slot too, but accessing it is a process in itself.
In terms of cameras, they're stuffed with some pretty good hardware for tablets. For the Lumia 2520, it's packing along a 6.7-megapixel camera rear camera with an f1.9 Zeiss lens, and a 2-megpixel front-facing one. Meanwhile, the Surface 2 has a 5-megapixel snapper in the rear, and a 3.5-megapixel one around the front.
Display
At first glance, it seems that they're packing the same sized display, but in reality, the Surface 2 has a larger one. Specifically, it's a 10.1-inch display on the Lumia 2520, and a slightly larger 10.6-incher with the Surface 2. Seeing that they both feature 1080p IPS LCD touchscreens, they deliver sharp details at every angle – so there's not one that's more profound than the other. However, the color reproduction on the Lumia 2520's display is more vibrant, producing warmer colors tones to be exact, which helps to get our attention over the cooler and subdued tones seen with the Surface 2's display. Outdoor visibility is good with both, but we do notice that the brightness output is stronger with the Lumia 2520.