Nokia Lumia 1520 vs Samsung Galaxy Note 3
92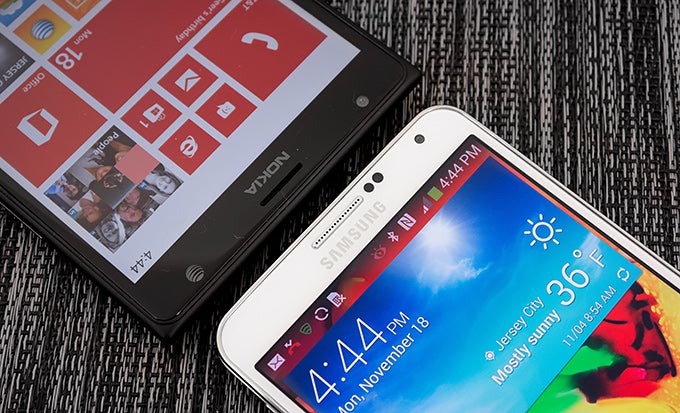 Introduction
More than ever before, this year we saw an unprecedented amount of larger than life smartphones entering the space – commonly known to many of us as "phablets." They're gargantuan devices that might overpower those with small appetites, but they serve their purpose in their own sort of unique way. Even with all of the hoopla surrounding "flagship" smartphones, these phablets of sorts have become an indelible part of the industry, as they really do super-size things.
For Android, there's no arguing that the
Samsung Galaxy Note 3
has been the most prized device, not only because it's armed with today's most cutting-edge hardware, but because Sammy is able to refine the experience by throwing in several useful features that increase its functionality. Meanwhile, Windows Phone is now finally in the mix, thanks to the recent introduction of the mighty
Nokia Lumia 1520
. Obviously, these two aren't afraid to expose their sizes, but it's a battle between the best from each respective platforms – so let's see who can come out on top!
Design
When it comes down to beauty, we really have to go with the Lumia 1520 on this one, mainly because of its stylish attitude. Throw in its tapered design and the fact that it's available in various color options, it undoubtedly all helps to catch our attention from a first glance. Although it's not as stylish, the Note 3 has more of a sophisticated appearance thanks to its faux-pas leather casing that's further accented by the stitching around its rear. For all of its worth, it just can't quite match the attractive star power of the Lumia 1520.
It might be beaten in the looks department, but the Note 3 is more comfortable to hold in the hand – a lot easier too because it's not as wide as its rival. Indeed, it's still a beefy sized thing, but it's much more forgiving when we factor in the heavier weight and pointed corners of the Lumia 1520. On the surface, they're both constructed out of plastic, but the unibody construction of the Lumia 1520 tends to feel a bit sturdier – with less creaking around the edges too.
Looking around the edges of both devices, they have several things in common – like their power buttons, volume controls, 3.5mm headset jacks, and various microphones. However, the Note 3 dishes up a few extra goodies with its package. Specifically, they include a faster microUSB 3.0 port, S-Pen, and an IR blaster that turns the phone into a universal remote. Yes, we appreciate that they both have microSD slots, but it's easier to access with the Note 3, since it's right there when we remove its rear casing – whereas with the Lumia 1520, we have to use a SIM removal tool to access it.
Grandeur is something that they prize highly, so it doesn't surprise us that it extends into their cameras as well. Much like Nokia's other recent offering, the Lumia 1520 is able to raise a few eyebrows due to its number crunching 20-megapixel PureView cameraThe Note 3's 13-megapixel auto-focus camera is still a head turner on its own.
Display
Massive is one of the many words that can best describe their displays, but we can also say that they're simply marvelous as well. Honestly, we like the two displays equally, as they have their own unique assets that make them so darn lovable. For the Lumia 1520 and its larger 6-inch 1080p IPS LCD display, we're wowed by its immense size no doubt, but it dishes up the stronger brightness output and superior outdoor visibility. On paper, its 368 ppi pixel density count might be lower than the Note 3's tally of 386 ppi, but seriously folks, it's really hard to distinguish who really has the upper hand – even with a close inspection with our eyes.
On the other hand, the Note 3's 5.7-inch 1080p Super AMOLED screen comes to life thanks in part to the overly saturated colors it produces – giving it that subtle glow to reel us in from afar. Viewing angles are actually better with it, since it maintains its clarity at all angles better than the Lumia 1520, but it tends to wash out under outdoor settings. However, there's a bit more geek tech involved with it, seeing that the screen itself is able to track either our finger, or the S-Pen stylus, as we hover them over the display.
Nokia Lumia 1520 360-Degrees View
Samsung Galaxy Note 3 360-Degrees View