Nokia Lumia 1520 vs HTC One max
30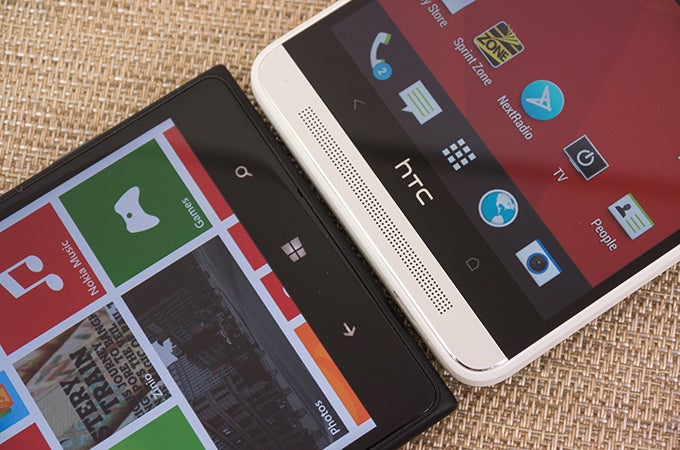 Introduction
If you haven't noticed it yet, many of today's "phablets" look eerily similar to their flagship brethren – almost to the teeth in some instances. Despite the similarities in design, these giant sized smartphones tend to get some additional love in the form of added software and/or hardware tweaks, just to give them some sort of superiority over their beloved flagship siblings. Low and behold folks, that's exactly what we see with two of the newest ones on the scene right now – the
Nokia Lumia 1520
and the
HTC One max
.
They're big, they're massive, and they're aiming to hit it big with the masses, literally. On one side of the arena, the Nokia Lumia 1520 is fresh on the scene tearing things by being the most specs heavy Windows Phone smartphone to grace the platform since its inception. And on the other end, we have the HTC One max, a maximum sized behemoth that carries HTC's beloved line into the phablet segment. Two entrants come into the arena, but one can only stand supreme in the end. Which one of these valiant competitors will rise to the occasion? Let's find out people!
Design
Now if you happen to be all about good looks, you won't be disappointed by either device – just because they have that perfect blend of having solid constructions, premium finishes, and intriguing designs that will no doubt raise a few eye brows. It's a hard decision to say the least, really, but in the end, we're going to side just a little bit more with the Lumia 1520. Indeed, they're close to one another in dimensions and weight, but there's just something much more refreshing with the tapered design of the Lumia 1520. Who knows, maybe it's simply how those tapered edges help to make it look sleeker than what it says on paper? Also, it helps that its design is slightly different from previous Lumia smartphones – whereas the One max's design replicates the One to the teeth.
However, when it comes to the in-the-hand-feel, we're going have to go with the HTC One max, mainly due to the fact that its curved rear casing makes it feel more ergonomically correct. In comparison, the Lumia 1520 is wider and has pointy corners that don't make it agreeable as we're trying to hold it with a single hand. Don't get us wrong, they're both ginormous and almost clunky at times, but we're better able to handle the One max a little more.
As we look around the edges of both smartphones, not only do we realize that they pretty much pack the same ports and buttons, but they're also positioned in the same locations as well. Specifically, they include the power buttons, volume controls, 3.5mm headset jacks, microphones, and microUSB ports. Adding value for some people, the inclusion of an IR blaster on the HTC One max means it doubles as a universal remote. And we also can't forget to mention its finger print reader too, which we can map different fingerprints to launch specific apps. Finally, they both offer expandable storage via their microSD slot – though, it's a lot more convenient to access on the One max.
Display
Big used to describe phablet screens, but in this day and age, phone manufacturers have been able to increase their sizes considerably to the point that they're within the boundaries of being tablet-like. Looking at the Nokia Lumia 1520, it's outfitted with the ever so slightly larger 6-inch 1080p IPS LCD display – giving it a pixel density count of 368 ppi. Well, it's not larger than its rival, but close enough, seeing that it's packing a 5.9-inch 1080p S-LCD 3 displays.
Naturally, they're detailed and sharp to give even the most miniscule of text plenty of clarity – even as we inspect them very closely. Regardless, we do notice that the color production is more lively looking, though still slightly off, on the HTC One max, seeing that its delivers the warmer color tones. Moreover, it offers wider viewing angles, and a stronger brightness output. Taking all of the factors into consideration, we're leaning towards the HTC One max with this one.
Recommended Stories