Nokia BH-801 Review

This is the small and stylish Nokia BH-801 which reminds us of the
BH-800
, announced a while ago. 801 is newer model but should not be considered as replacement of the 800, as it has the same capabilities and specifications but slightly bigger size and weight. Still, it fits in the class of ultra-small and stylish Bluetooth headsets.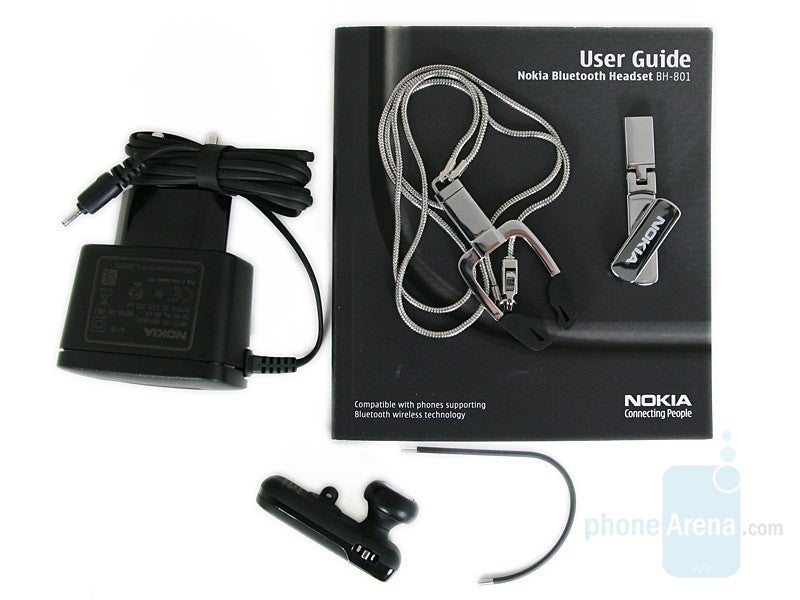 The box includes:
Nokia Bluetooth Headset BH-801
User Guide, Nokia Compact Charger AC-3
Neck strap
Belt clip

The Neck Strap is almost exactly the same as the one of the BH-800 with metal necklace with a clip to attach the headset to. For better convenience, this clip can now be detached from the necklace and attach to a belt clip which respectively to be on your belt.
Design
From first sight you can seetha the BH-801 is slightly bigger than the 800, but it still remains a small insize headset. It is elegant, but we don't like that the front side ismade of two pieces: glossy at the back and math at the front. We wouldhave preferred the whole to be glossy, although it would turn it into afingerprint magnet.
| | | | | |
| --- | --- | --- | --- | --- |
| Model | Dimension(Inches) | Dimension (mm) | Weight (oz) | Weight (Gramms) |
| Nokia BH-801 | 1.88" x 0.78" x 0.39" | 48 x 20 x 10 | 0.38 | 11 |
| NokiaBH-800 | 1.61" x 0.70" x 0.35" | 41 x 18 x 9 | 0.31 | 9 |
The three keys
are in metalliccolor and contrast to the other parts, but in the other color versionof the headset it is not so, as the whole of it is in such light color.
The three keys are respectivelymultifunctional/call button at the front, volume 3-way scroll on one ofthe sides and power key at the back. The multifunctional button isconcaved and is felt easily also thanks to the different surface. It ispressed softly and with good tactile feedback. The Volume scroll israised and is pushed easily in either of the directions in order tocontrol the volume and pushes inwards for mute. The power key is rarelyused so it is not necessary to be on easy to access place. Next to itis the service LED light.