Nokia Asha 305 Review
31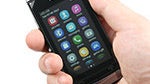 Introduction:
The Nokia Asha 305 is a touch-screen dual-SIM phone selling for a very affordable price, but as affordable as it is, the question lingers whether there is still space for feature phones as Android has pushed the envelope in budget devices and is now dangerously close in price.
The Asha 305 tries to counter that with a big surprise in the form of a brand new Series 40 interface inspired by smartphones, a 3-inch display and the big benefit of dual-SIM support, but there are a couple of things that throw it off from being a true competitor to a smartphone. Is it any good on its own, though? Read on to find out.
Design:
Design-wise, the handset is defined by its compact looks, curvy back, cheap glossy plastic and two physical buttons up front. It is a relatively thick device weighing 3.45 ounces (98 grams), but we wouldn't hold this against such a compact gadget. Still, the phone comes with a huge bezel and lots of extra space in the casing that make it much bigger than what it could be.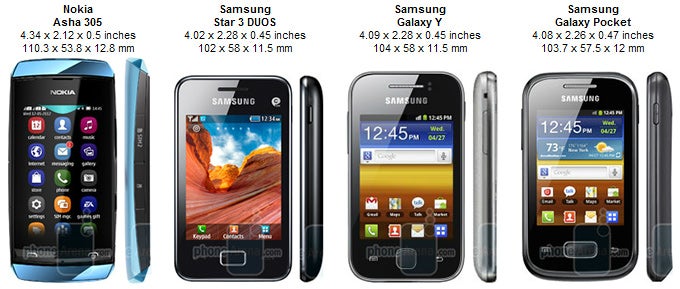 You can compare the

Nokia Asha 305

with many other phones using our Size Visualization Tool.
We found the big volume rocker and lock buttons to be practical, and the microSD and second SIM card slots are placed

on the side

so you can swap cards without rebooting the device. Neat. Interestingly, this device features both a microUSB port and the standard Nokia 2mm port for charging the device, so you can use your old Nokia charger as well. On the downside, though, the glossy front catches fingerprints very easily.
We like that you can pick between four fresh colors for the device - there is a blue, silver white, red and grey versions.
Display: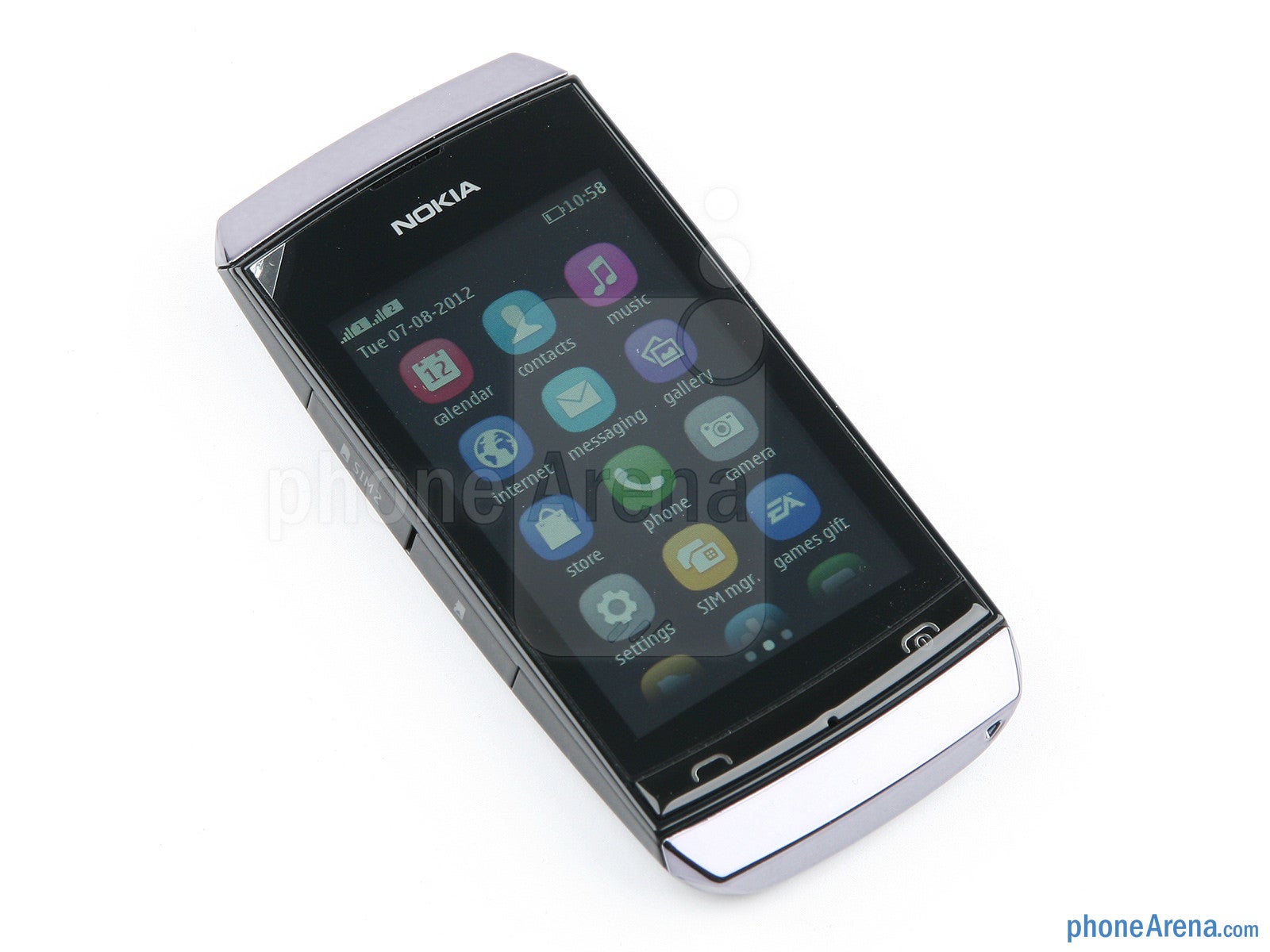 The Nokia Asha 305 features a

3-inch, 240x320-pixel resistive touchscreen

. The size is small, the resolution does not impress but those are all compromises we've come to expect from such cheap gadgets. What we are not so comfortable in this day and age is a resistive touchscreen. That's one big shortcut the handset takes and it cripples the experience noticeably as you have to get used to holding your finger longer on the screen to swipe and have things responding slower to the touch.
The Nokia Asha 305 is virtually all about the screen and that's why we feel that despite the low price of the device it deserves some criticism. Colors were bleached, viewing angles were sub-par and reflections were in the way when looking at the display outdoors. In a device that gets rid of physical controls, those cons can certainly corrupt your experience. Weirdly, we found no way to adjust the screen brightness so we were left stuck with the default setting which is not too bright.


Nokia Asha 305 360-degrees View:
Recommended Stories