Nokia Asha 210 Dual SIM Review
15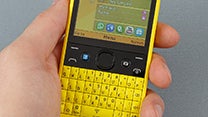 Introduction
Nokia Asha 210
is clearly targeting heavy texters and IM junkies with its physical portrait QWERTY, WiFi and WhatsApp integration deep in the contact book. It also has the Nokia Slam feature for sharing images and videos via Bluetooth without having to pair first. Will these be enough to attract the teen crowd, where the candy colors of the Asha 210 seem targeted at? Read on to find out...
In the box:
Wall charger
In-ear stereo headphones
Warranty and information leaflets
Design
Nokia Asha 210 is a rather boxy 0.46" (11.8 mm) portrait QWERTY handset which lies pretty well in the hand, and whose set of keys is pretty clicky and fast to master, unless you have larger digits that cover two or even three letters at once. The space bar doubles as an on/off Wi-Fi switch upon long press, and the symbol key on its left does the same for Bluetooth.
Besides the usual call, end and two context
keys
, navigation is done via a large home button in the middle with an eliptical trackpad around it for navigation in the menus. Nokia added two dedicated quick launch keys, too, one for your social needs that can be programmed to launch the Facebook, WhatsApp, Twitter or simply the browser, and the other for camera access. All the keys are with good tactile feedback and easy to feel and press.
The
dual SIM version
of the Asha 210 has a
hot-swap slot
on the left side that takes regular cards, and is covered with a protective flap in the same color as the phone's candy chassis, as it comes in a pink, yellow, white and blue colors. The default SIM card slot is under the battery, again a regular size, and there's a microSD slot there as well for storage expansion, stuffed with a 2 GB piece out of the box.
The
build quality
of the Nokia Asha 210 feels pretty sturdy, with no creaks or gaping crevices, even on the back where the easy to pry open back cover is snapped into place. Granted, the handset is rather thick and squarish, but the design is kinda cute and the plastic is of a pretty pleasant to hold quality for the price point.
Display
A basic 2.4" 320x240 pixels screen is what Nokia has chosen for the Asha 210, and its 169ppi density make the new Series 40 UI appear somewhat pixelated even at that small diagonal. The display is otherwise sufficiently bright, with a tad subdued colors and with decent vertical viewing angles The horizontal ones are pretty bad, though, which will keep you from prying eyes in the metro train at least.
Recommended Stories