Motorola ZINE ZN5 Review
8

This review has been updated on 23 October 2008
This is an unlocked GSM phone which can
operate in the US on AT&T and T-Mobile.
Introduction:
Now that we are firmly entrenched in the 8-megapixel era, Motorola has finally managed to release its first 5-megapixel phone, the ZINE ZN5. It comes two years later than the competition but it looks promising due to its Xenon flash, the "KODAK Imaging Technology with optimized settings for low-light environments" and the Kodak Perfect Touch software. Moreover it is touted for the quickness with which it opens and shoots pictures and the presence of the Kodak Gallery application for sharing pictures online.
ZN5 can be used globally because it is a quad-band GSM but it has no 3G support. The built-in Wi-Fi however, partially makes up for the lack of high speed cellular data.
The package includes:
• Motorola MOTOZINE ZN5
• Charger
• USB cable
• TV-out cable
• Stereo earphones ROKR
• Quick start guide
• User's manual
Design:
The ZN5's design is elegant, modern and with the typical for Motorola oblique bottom. Here, it is rubber-coated to prevent the phone from sliding and along with the rest of the materials it makes for a quality feel. Despite not being slim and light as
Sony Ericsson C902
for example, the device still feels comfortable in your pocket.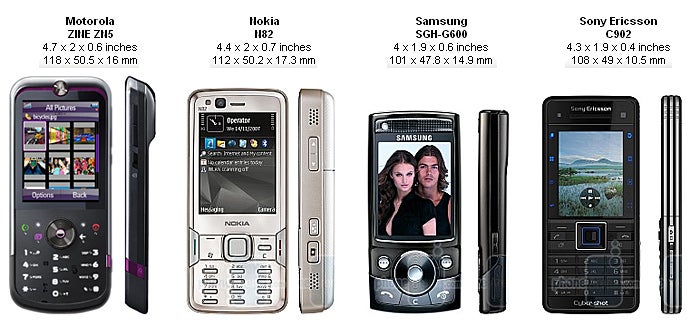 You can compare the Motorola ZINE ZN5 with many other phones using our
Size Visualization Tool
.
The
2.4"QVGA
display supports 262K colors, which look quite lively indoors. In direct sunlight they are faded but you won't have trouble reading the screen.
Similar to the
ROKR E8
, the
keyboard
changes according to the function used, but unlike the ROKR the symbols are always visible and their marking depends on the back light. All buttons are on the same flat surface and tiny "crystals", easily felt by touch, guide you to their location. Only the 5-way round pad has a well expressed relief. Overall, we are happy with all buttons on the front, but they could've had a better tactile feedback.
The
left side
houses the microUSB slot and the 3.5 mm jack, also used as a TV-out. On the
opposite side
we find the volume controls, the keyboard locking slider and the camera shutter. The last one is in the extravagant purple color and is very convenient to use.
On the back of the phone we see the
5-megapixel autofocus camera
, hidden under a manually operated lid with Kodak branding. This entire part is protruding, which provides better comfort while working with the phone. Below it are the Xenon flash and the bright lamp, intended to assist with focusing in darker environments.