Motorola TITANIUM Review
2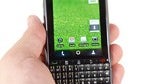 Introduction:
The
i1
was introduced by Motorola and Sprint last year to much fanfare with Mike Rowe pimping the rough and tumble Android device with Nextel Direct Connect (DC.) It was a good enough device, but plagued by an out of date version of Android and laggy performance. Motorola is back with the follow-up, the TITANIUM. The successor brings a portrait QWERTY keyboard to the table, but specs remain otherwise similar. Features include a 5-megapixel camera, 3.1" display and Military Spec 810G for dust, shock, vibration, low pressure, solar radiation, high temperature and low temperature (but not water, as the i1 was.) It has a newer version of Android, but at 2.1 is still two versions behind the latest build out of Mountain View. Included with the
Motorola TITANIUM
you'll get a microUSB cable and AC charger, 2GB microSD card and stereo headset.
Design:
The Motorola TITANIUM resembles the
XPRT
closely, but Motorola hasn't completely copied the design. For starters, the four capacitive buttons of the XPRT are now three physical ones, as well as physical send and end keys. We don't like this move because they are now very thin and hard to press, and the send and end keys are redundant to onscreen controls. While the
keyboard
looks very similar, it feels very different. It is mushier, and we often found it couldn't keep up with us resulting in missed key strokes. It became quite frustrating; as we became more aware of the problem we became more aware that we were indeed pressing the keys and that the TITANIUM wasn't recognizing all of them.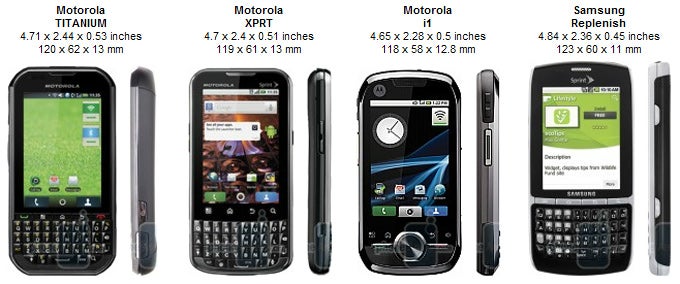 You can compare the Motorola TITANIUM with many other phones using our
Size Visualization Tool
.
Outside of the keyboard the TITANIUM feels very well put together. The soft touch
battery door
makes for a solid grip in the hand, and the
3.1" 320x480 capacitive display
is plenty responsive. The display is average for a device like this; it is usable in most lighting conditions but will be hard to see in bright, direct light and the quality of the display overall wont wow you. Some of the side buttons (camera on the right, lock and speaker on the top) are a bit hard to find by touch but the PTT key and volume rocker stand out well enough. All of them are easy to press and give a good click.
The TITANIUM fits comfortably in the hand and feels good against the face. Like the i1, the TITANIUM feels extremely well built as is evidenced by its Military Spec 810G rating. We do question the lack of water resistance of the TITANIUM , but otherwise it is another example of Motorola's renewed commitment to quality hardware.
Motorola TITANIUM 360-degrees View: