Motorola RAZR i Review
27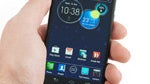 The
Motorola RAZR i
may not be the first Android smartphone worthy of bearing the "Intel inside" logo, but it is the first to come from one of the big boys on the smartphone market. Are you getting the feeling that you've seen this handset somewhere already? Don't be surprised as the RAZR i has adopted the visual features of its Snapdragon-powered cousin – the Motorola
DROID RAZR M
, which we recently reviewed, starting with the impressively slim bezel and going all the way down to the
KEVLAR
-made layer of armor on its back.
But under the hood, it is a totally different story. The Motorola RAZR i is
powered by a single-core Intel Atom
chip ticking at the once-unthinkable 2GHz. But is the seemingly high figure something we should be impressed with? Would the performance of Intel's mobile chip be up to par with what multi-core ARM-based handsets are capable of delivering? These are the burning questions we are eager to find the answers to, so join us as we give the Motorola RAZR i a thorough review treatment.
The box contains:
Wall charger
microUSB cable
Wired stereo headset
SIM card and microSD card retrieval tool
Quick start guide and safety information
Just like us, you'll probably have a hard time believing that a smartphone so compact and easy to handle packs a screen of such size. Although the Motorola RAZR i is approximately as wide and tall as the
iPhone 5
, it comes with a respectable
4.3-inch display
– quite an engineering feat, we must admit. Yet dimensions like these aren't witchcraft. It is just that the bezel surrounding the handset's screen is extremely slim, which shaves quite a few millimeters off its width. Don't be fooled, however, as slim does not necessarily equal fragile – the inner frame around the display is made out of
aircraft grade aluminum
for exceptional rigidity, although the outer frame is just plain old plastic.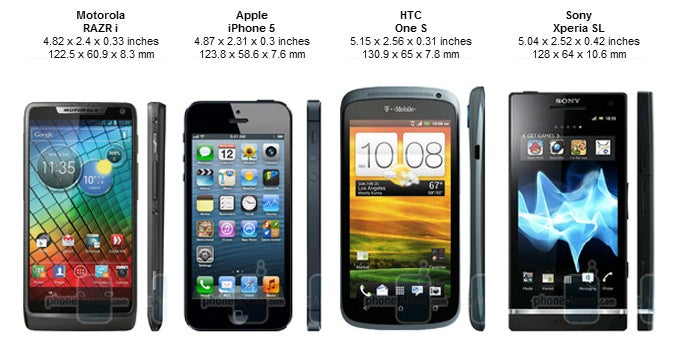 You can compare the Motorola RAZR i with many other phones using our Size Visualization Tool.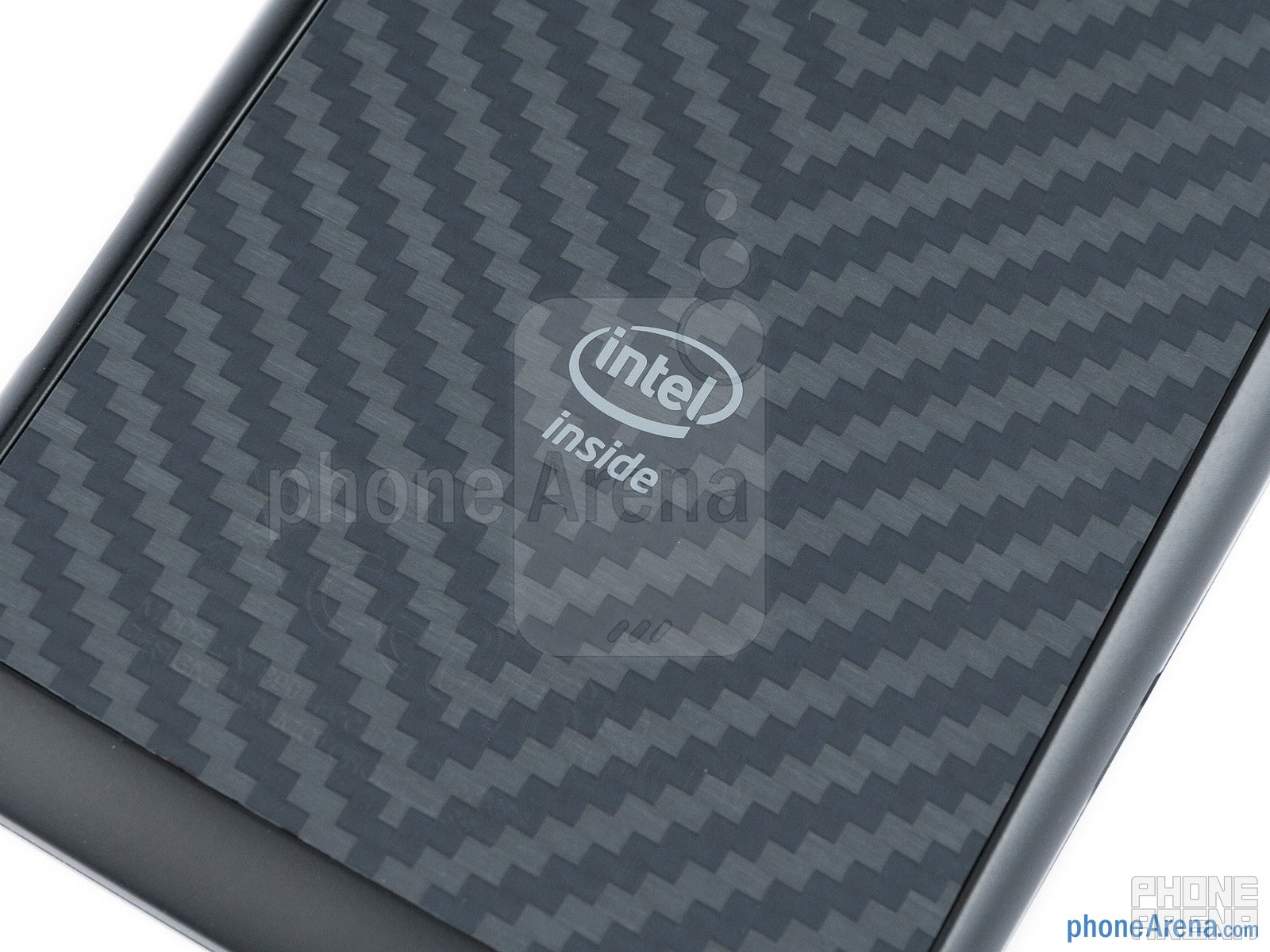 The KEVLAR back of the RAZR i
From an aesthetic standpoint, the smartphone isn't going to win any beauty awards, but it has an appeal of its own – an appeal that the geeky by nature would probably appreciate. Just like all the other members of the RAZR family, the Motorola RAZR i sports the typical KEVLAR back, which looks quite fancy, although it is quite prone to collecting finger smudge. The entire handset has been
treated with a special coating that repels water droplets
, so one can use it on a drizzly day without worrying about water damage.
All of the RAZR i's physical buttons are located on its right side – a metal-made lock key on top, with a 2-button volume rocker beneath it and a single-stage dedicated camera shutter. We are happy to say that all of them are well pronounced, which makes them very easy to operate. On the left side resides the microUSB port for battery charging and connecting the device to a computer. Right next to it are the slots for microSD and Micro-SIM cards, protected by a flap cover.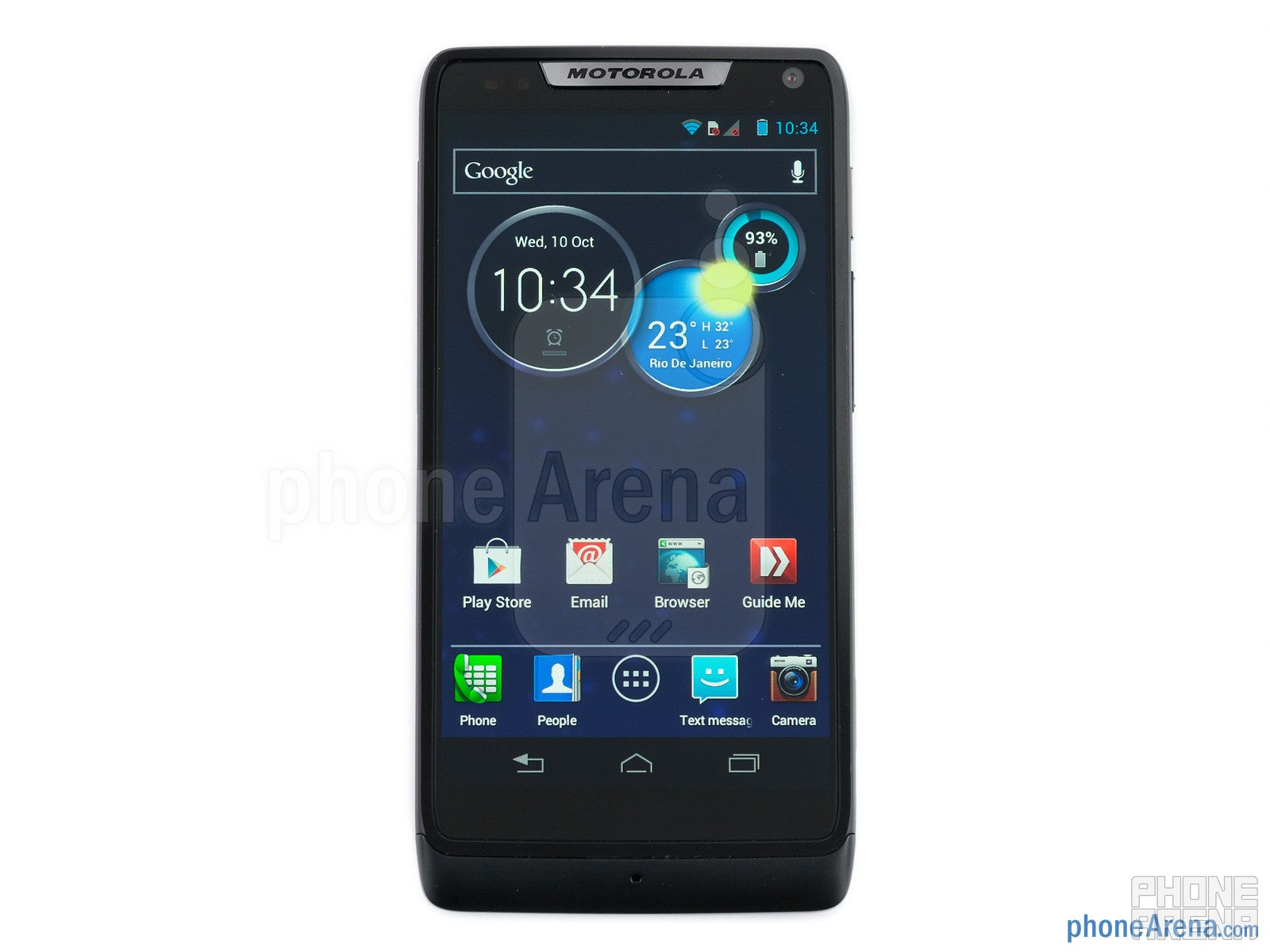 Without a doubt, the most interesting thing about the screen on the Motorola RAZR i is the bezel around it, or the near absence thereof, to be more specific. Having a frame as thin as this just looks so cool! But other than that, we are dealing with a typical AMOLED panel, along with its strengths and weaknesses. For starters, the
4.3-inch Super AMOLED
Advanced display on the Motorola RAZR i has a resolution of 540 by 960 pixels (qHD). That seems more than acceptable on paper, but in reality, a certain amount of pixelation is present in text and detailed graphics throughout the interface since a PenTile pixel arrangement is in use and the pixel density is average at 256 ppi. When watching photos or videos, that does not bother us much, but when reading text or browsing the web, for example, it is annoying to see that letters are so fuzzy.
Then there's the color representation. If you're a fan of bright, punchy colors, then you'll surely like the RAZR i's display, but to us some hues appear eye-burningly bright, and there is no way of adjusting their intensity manually. There's no denying, however, that the deep blacks and wide viewing angles delivered by the screen are a considerable advantage. Outdoor visibility is okay – thanks to the low amount of glare, the handset is still mostly usable even when the sun is shining at its screen.
Motorola RAZR i 360-Degrees View:
Recommended Stories