Motorola PRO+ Review
3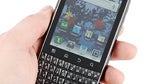 Introduction:
As extensive as it is, the Android landscape does not offer many smartphones that boast the portrait QWERTY form factor. Fortunately, every once in a while, we do get introduced to such a BlackBerry look-alike, and the
Motorola PRO+
is the latest handset to join the party.
As its name suggests, the Motorola PRO+ is a smartphone meant to suit the needs of business professionals, which is why its front is occupied by a full QWERTY keyboard. However, those who have an aversion for on-screen virtual keyboards might also be interested in it.
The package contains:
Wall charger
microUSB cable
Wired headset
Getting started guide
Design:
The Motorola PRO+ fits nicely in the hand thanks to its curved bottom side and rounded edges. Its weight is also commendable as it tips the scales at 113 grams. With a waistline of 11.65 millimeters, the smartphone is indeed on the thick side, yet it does not feel bulky or uncomfortable to carry around in any way.
Even though it is constructed out of plastic, it does not feel cheap or poorly built. Adding extra character to its look is the neat wave pattern that its back cover exhibits. Besides, the back side scores extra points for its soft touch finish, which both adds extra grip and keeps dust and fingerprints away.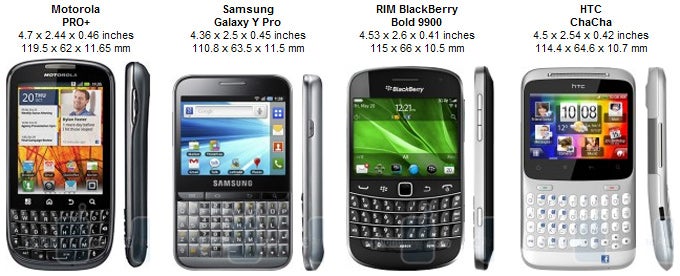 You can compare the Motorola PRO+ with many other phones using our
Size Visualization Tool
.
What shines in the smartphone's front is a
3.1-inch display
with a resolution of 480 by 640 pixels. And it shines very bright indeed, which makes it easily usable on a sunny day. It represents colors quite naturally and offers some deep black tones. But what we really like about the display is how sharp and detailed everything looks thanks to its respectable 258ppi pixel density. The only downside is that anything more than a slight tilt to the side is enough to make colors look washed out.
Underneath the display we find a set of four
Android buttons
, and we are happy to see that they are quite responsive to the touch. We are also pleased with the well-shaped volume rocker, which you can find with your thumb even when blindfolded.
The portrait
QWERTY keyboard
on the Motorola PRO+ feels awkward to use at first, but, of course, you get the hang of it eventually. After using the smartphone for a couple of days, we were able to type fairly quickly and accurately on it, so we think that business users will like it too. The keyboard's only major drawback is that it is inconvenient to use with a single hand due to the way the keys are shaped.
To wrap things up, the Motorola PRO+ is comfortable to use, its keyboard serves its purpose well, and its display is pleasing to the eye. On the other hand, it lacks visual appeal, so don't pick this one up if you have a taste for shiny things.
Motorola PRO+ 360-degrees View: