Hands on with the Motorola Photon 4G
55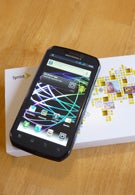 getting one of their premium devices to market
, they are right on time with the Photon 4G for Sprint. The latest and greatest out of Schaumburg has a top of the line spec sheet, including a dual core Tegra 2 processor, 4.3" qHD display, 16GB of internal memory, 8 megapixel camera and a handy kickstand. It is also the first Android and 4G world phone available from Sprint.
The Motorola Photon 4G manages to feel good in the hands despite its large stature. It is almost identical in size to the
HTC EVO 3D
, and the build quality is great. The soft touch battery door gives you confidence when holding the phone and the kickstand is a nice feature that we miss on the EVO 3D. The Photon 4G packs a dual-core 1GHz processor which is quite speedy, but we did notice just the slightest lag in our initial time with the phone. You have to take benchmarks for what they are, but the Photon 4G scored an amazing 2700+ on the Quadrant Standard test. With dual cameras, 1080p capabilities and a beautiful display the Photon 4G should be a multimedia powerhouse.
So far we like the photon, and it is definitely a contender for the best device in Sprint's lineup right now. We'll put the phone through its paces, including testing the claimed 10hours of talk time and see how it comes out.
Stay tuned for our full review soon!