Motorola Moto G42 review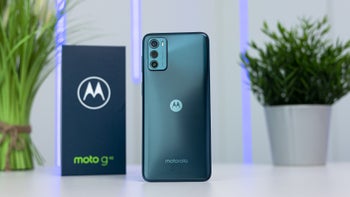 Motorola Moto G42
Intro
Yet another couple of Moto G series phones were released by
Motorola
recently — the Moto G62 5G and The Moto G42. We are here to talk about arguably the better one from this duo, which is the G42.
Why is it better you ask? Well, without revealing too much about the device, it simply has a more sound overall package for the price of around £220 in the UK, or €210 in the EU. In other words, the corners that were cut to achieve an affordable price tag were the right ones, focusing most of the attention on a few specs that go along together perfectly.
But enough beating around the corner, let's take a look at yet another Motorola budget phone and see what came out of the cooking pot this time around.
What's new about the device
Snapdragon 680 (6nm)
50 MP main camera
16 MP front-facing camera
Moto G42
Unboxing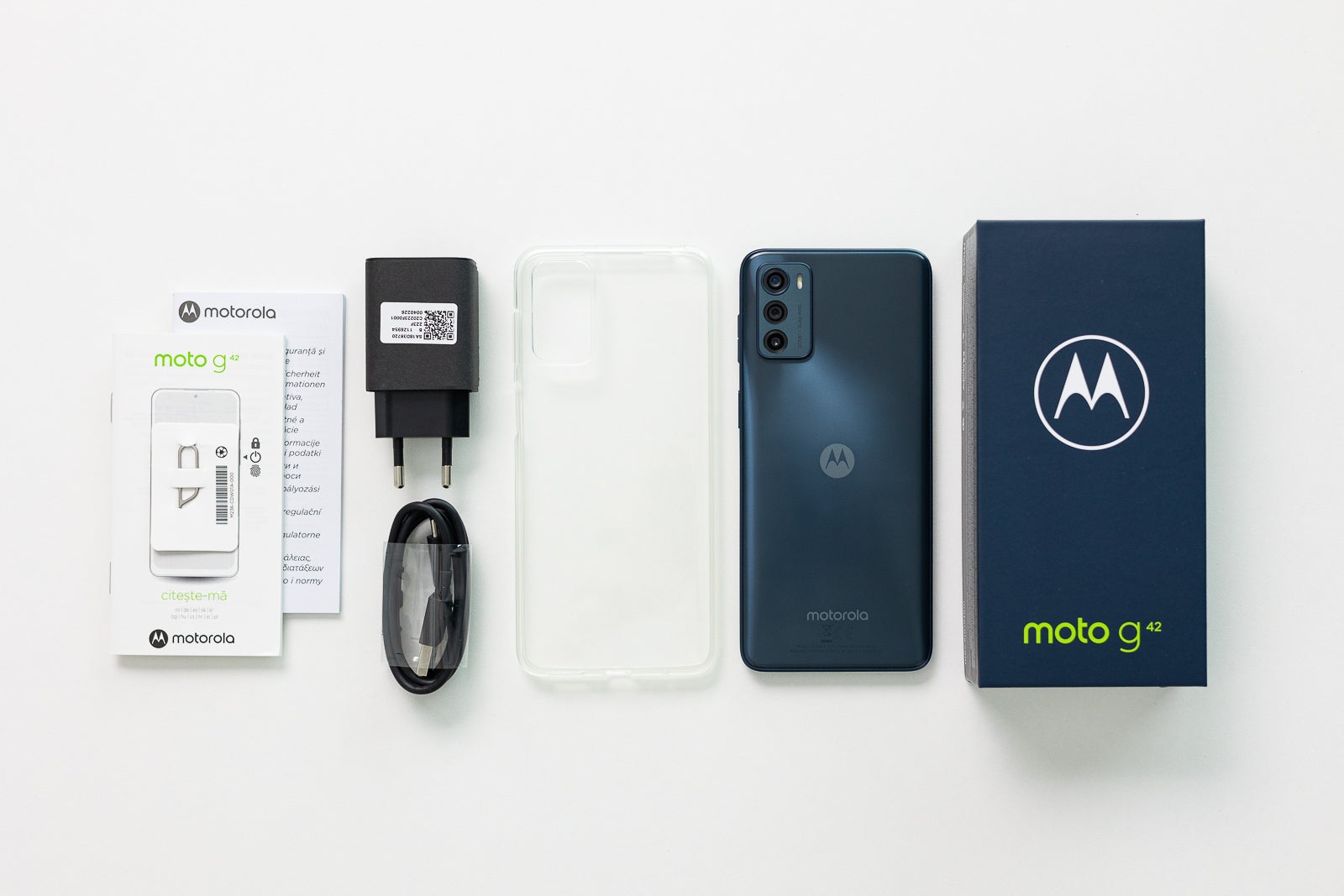 (Image credit - PhoneArena) This is everything inside the Moto G42 box.
Inside the Moto G42 box you will find the phone itself, but also an included transparent case of decent quality, as well as a 20W charging brick and USB-C cable. You would be wrong to expect an included screen protector, however, as Motorola has decided that would be too much here.
Moto G42
Specs


Obviously, the strongest selling point for the Moto G42 is the fact that it delivers an OLED display, which is quite the rarity in the affordable price range. Making it an even sweeter package are the two surprisingly great stereo speakers and the support for Dolby Atmos.
Specs
Motorola Moto G42
Size and Weight
160.61 x 73.47 x 8.26 mm, 175.5g
Display
6.4" AMOLED
Processor
Qualcomm Snapdragon 680 4G SM6225
RAM
4GB / 6GB
Storage
64GB / 128GB, no expandable storage
Software
Android 12
Cameras
50MP wide camera, f/1.8 aperture
8MP ultra-wide camera, f/2.2 aperture
2MP macro camera
Battery Size
5000 mAh
Charging Speeds
Supports 18W wired charging
Price
starting from $247
Moto G42
Design & Colors
The Moto G42 comes with a rather boring and uninspiring design, but that does not necessarily mean it is a bad one. First of all, we have a flat-screen here, which many users prefer as it does not suffer from the same accidental touches and light flares that curved displays experience. The back, on the other hand, has a slight curve at the edges, making the G42 more pleasant to hold.
The bezels around the screen are acceptably small, even the one at the bottom, which is still thick, but that is normal at this price. The one gripe I do have with the front of the Moto G42, however, is the silver ring around the front-facing camera — why not make it black so it disappears with the rest of the display? It makes even more sense with this phone, given that it is equipped with an OLED display, and therefore can achieve true black.
But I digress, let's now focus on the back of the Moto G42. As expected for this price point, the back panel is made out of plastic, and so is the frame of the phone. That being said, it feels like good quality material, unlike the one found on the Moto G64 5G.
We have the Atlantic Green version here at PhoneArena, and we are really digging the way it looks, so kudos to Motorola for making this affordable phone look so stylish. The other color the Moto G42 comes in is called Metallic Rose.
On the right side of the phone, you will see a side-mounted fingerprint sensor embedded in the power button. It performs… alright, but does not always register my finger when I place it there.
The G42 features only water-repellent properties, which is different from being water resistant. Some light rain and splashes shouldn't affect it, though.
Moto G42
Display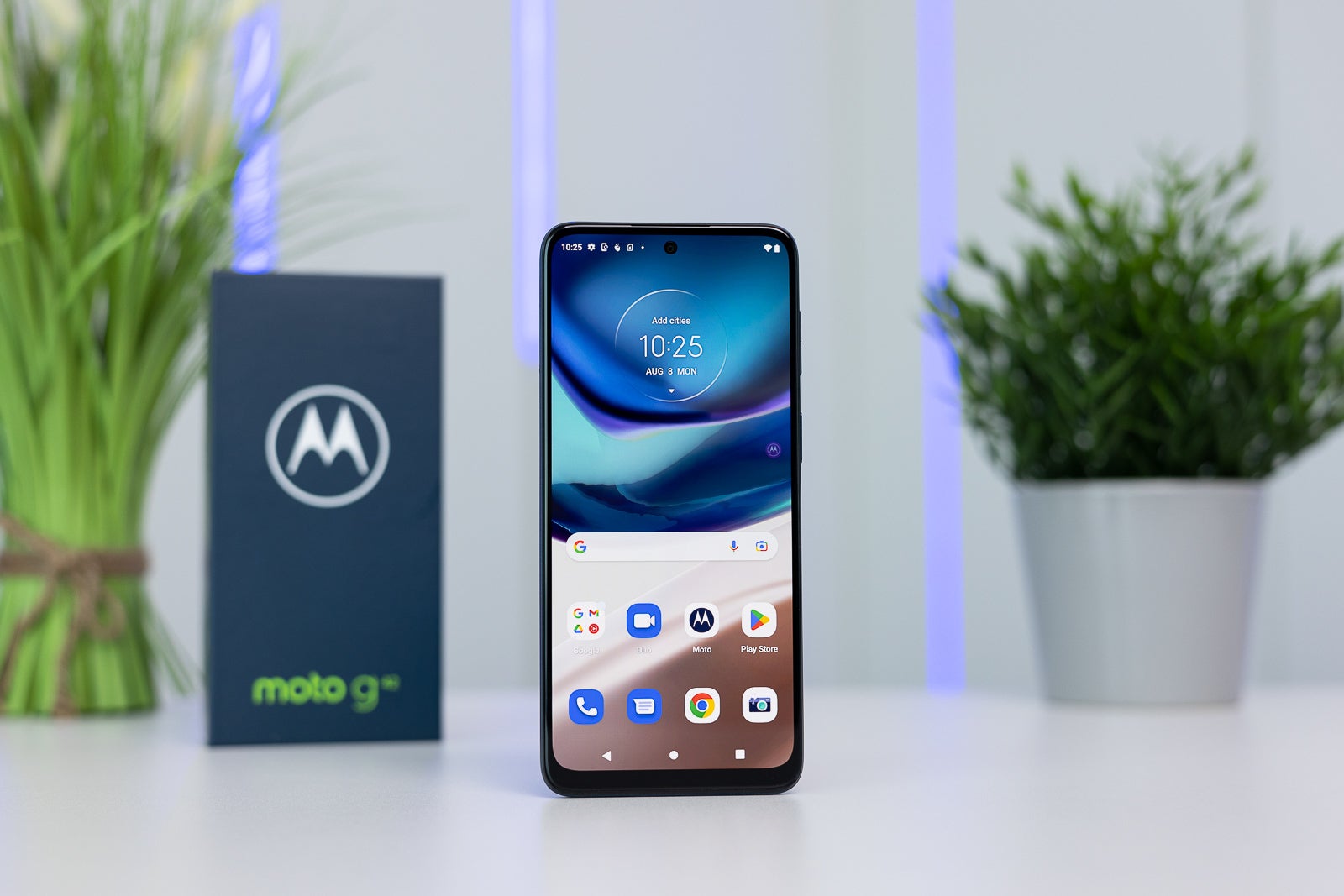 (Image credit - PhoneArena) Moto G42 display
The display on this budget Motorola is more or less what makes it special. As we already mentioned earlier, the Moto G42 comes with an OLED screen — not a feature that is seen very often with phones costing around £200. Thanks to this advantage, the G42 comes with a great contrast ratio, true blacks, and great color reproduction.

Unfortunately, adding a screen of this caliber to a budget phone means that other sacrifices had to be made. One of the biggest issues with the Moto G42 is that it doesn't get bright enough to be easily visible in brighter conditions, like a sunny day for example.

Additionally, you only get a 60Hz refresh rate here, so you sacrifice some smooth animations to get that better image quality when watching videos and other types of content.
Display Measurements:
Moto G42
Camera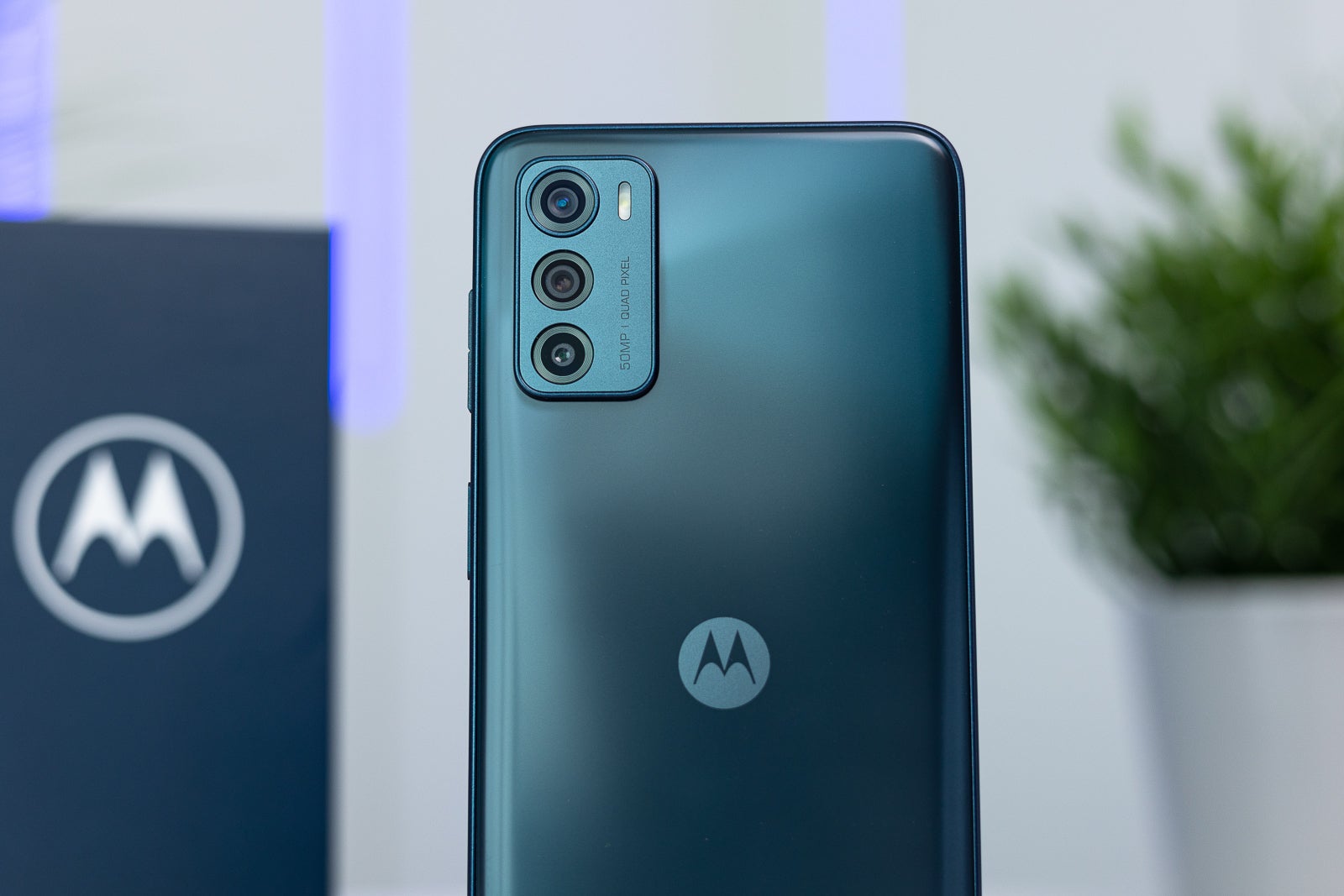 (Image credit - PhoneArena) Moto G42 camera system
The camera quality and experience of the Moto G42 can be easily described as average at best. You get a triple camera system on the back that consists of a 50MP main snapper, 8MP ultra-wide, and a 2MP macro. On the front, you have a 16MP selfie camera.
The main camera produces respectable images and video, as long as you don't need it to shoot in darker conditions where there isn't much light. The electronic image stabilization is also surprisingly good with the main camera, so there's that.
Moto g42 main camera video sample: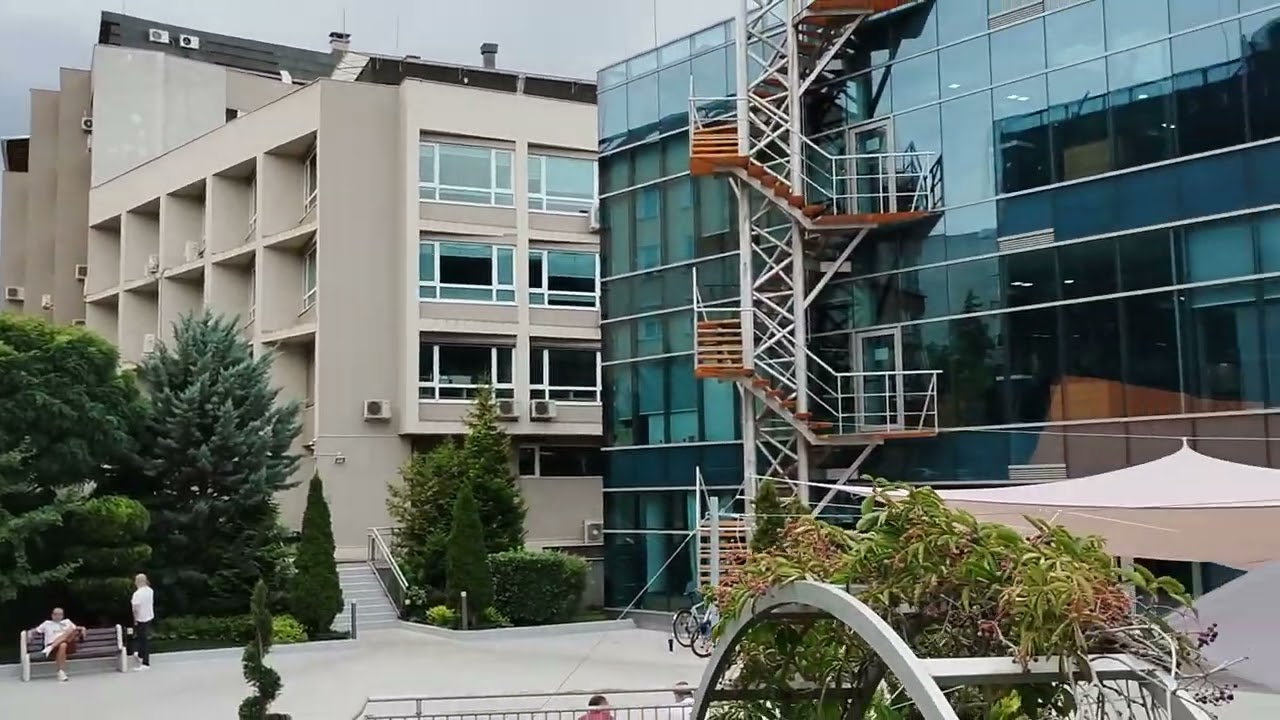 Moto G42 ultra-wide camera video sample: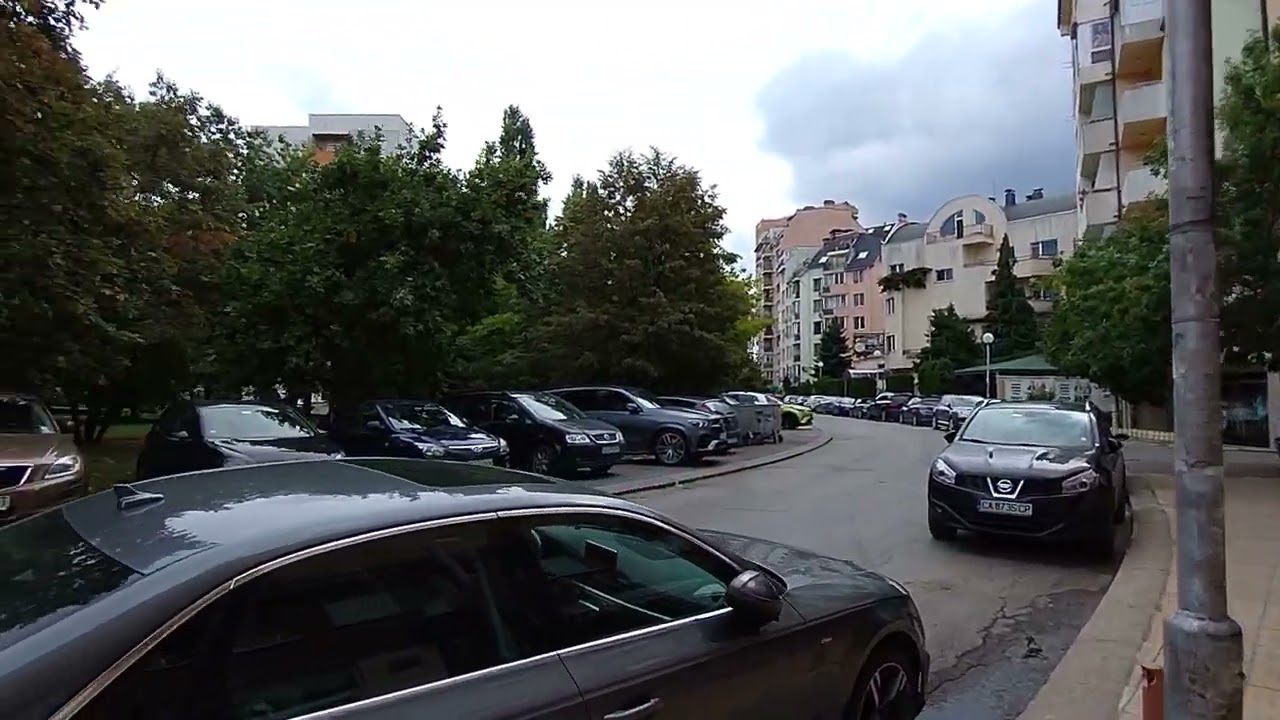 What was a bit surprising to me, though, was that you can only shoot in 1080p 30fps, while the Moto G64 5G which has the same camera hardware, can also shoot in 60fps with the main camera. This might be attributed to the different chips of the two models, but that is not clear.

On the other hand, the ultra-wide and macro shooters leave a lot of room for improvement. Of course, we don't expect much from a phone in this price bracket, but it is never a pleasant sight to see such detail-lacking images.
Moto G42
Performance & Benchmarks
Powering the Moto G42 is the Snapdragon 680 (6nm). You can get it in two RAM and storage combinations: 4/64GB and 6/128GB. This is a chip that is mainly focused on optimizing battery efficiency, and does not do much in the way of performance.

So, needless to say, the G42 is not a phone meant for gamers and multitasking. No, this is a phone that is meant for your average Joe, who likes to browse the web every now and then and wants their phone to last for multiple days before having to juice it up again.

In fact, this fits really well with the phone's great potential as a device for watching media. You will be able to enjoy YouTube videos and maybe even stream some Netflix and have the battery to last you throughout the whole season of a binge-worthy show.
Performance Benchmarks:
Moto G42 OS /
Android version
Just like the Moto G62 5G, the Moto G42 comes with a very light skin of Android 12. Motorola throws in some useful additional features like gestures to access certain features (turning on the flashlight).

That's all well and dandy, but what's not so reassuring is that Motorola tends to be less punctual and consistent with software updates than most people nowadays require. Android 13 will definitely get to the Moto G42 once it comes out, however, the same cannot be so certainly said about anything after. This also goes for security patches, although they usually continue for a decent amount of time.
Besides its great screen, the Moto G42 also sports a huge battery, which can last you for two days with regular, or even more than your usual usage. All that is to say that you shouldn't really worry about battery life with this endurance fighter here. But, frankly, that is a usual sight with budget phones.
PhoneArena Battery Test Results:
Unlike the Moto G62 5G, which comes with a measly 10W charging adapter, the Moto G42 comes with an acceptable charger that's capable of 20W output. Don't confuse those numbers for the maximum charging speeds of the phones, though — the G42 can charge at 18W while the G62 5G at 15W.
Moto G42
Audio Quality and Haptics
The speakers on this Motorola are above average for its class, which was somewhat a surprise for us. There is also support for Dolby Audio. Combine this with the impressive screen and you get a wombo combo, perfect for consuming any kind of visual media, for a really good price at that.

The haptics on the G42 feel slightly tighter and more precise than those on the G62. Still, we are talking about a cheaper model from Motorola here, so don't expect anything impressive. At best, at least the vibrations are bearable with the G42, although that really depends on your tolerance.
The budget phone market is a very saturated one, to say the least, so you have a few alternatives to consider if you are not really digging the Moto G42. Of course, there is the Moto G62 5G, which is one of the most affordable 5G-enabled phones at the moment, but as we found in our review it is not exactly a good trade-off considering how much was "dumbed down" to achieve that price.
Honestly, just like it is with the G62 5G, the
Galaxy A33 5G
is probably one of the best options to consider here. Admittedly, it does come at a slightly higher price. You get an even better display with a 90Hz refresh rate, faster charging, a superior camera, and a more capable chip inside. Not to mention it has a more reliable software update schedule of 4 years and security patch updates for 5 years.
Another worthy contender is the
Poco M4 Pro
, which offers a 90Hz refresh rate, better water resistance with a rating of IP53, and better performance.
Moto G42
Summary and final verdict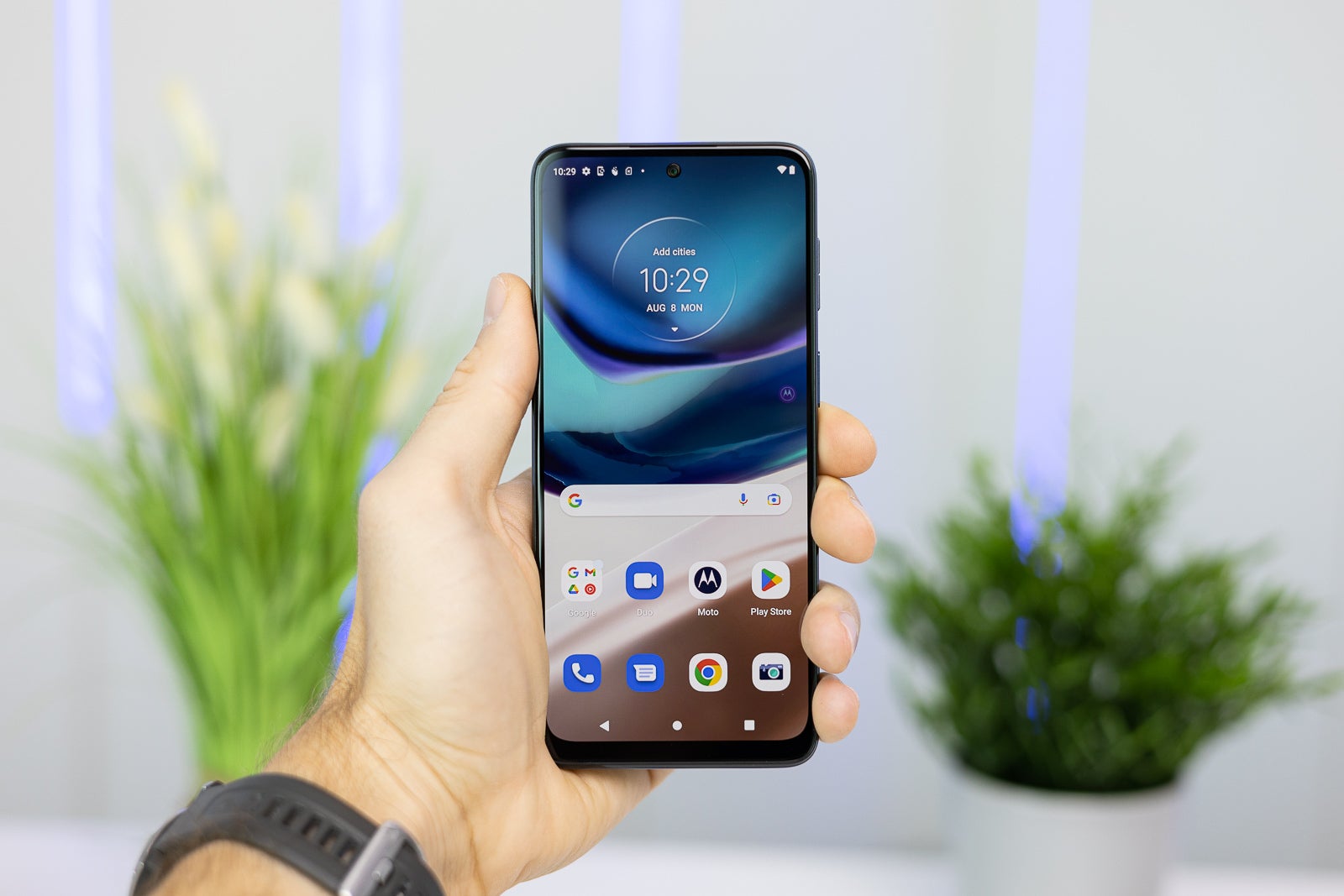 (Image credit - PhoneArena) Moto G
it's alright.
Motorola's Moto G42 without a doubt lacks in more than one department. Its cameras produce generally underwhelming results both with videos and photos, it comes with a very chipset inside that affects the overall user experience, and it doesn't help that the display is only capable of a 60Hz refresh rate.
That being said, this budget phone knows what it wants to be (unlike its sibling, the Moto G62 5G) — a great device for consuming any kind of visual media for an affordable price. Even though you don't get that much maximum brightness and a higher refresh rate, the OLED display featured here pairs perfectly with the surprisingly good stereo speakers to offer the user an above-average experience.
We also can't forget how power efficient the Moto G42 is, which when combined with the massive battery onboard makes this phone an endurance champion.
Recommended Stories