Motorola Edge review
13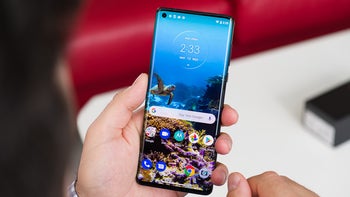 Determined to put a lid on the ever-increasing 5G phone prices, Motorola opted for the next best alternative to Snapdragon 865 with its new Edge phone, and equipped it with the more cost-efficient Snapdragon 765 instead, Qualcomm's first integrated 5G chipset. It also added a huge battery, 64MP camera, and... a headphone jack, for one of the most complete $700 packages you can find on a 5G-capable phone.
Snapdragon 765 is the only integrated, shovel-ready 5G solution that can be used on US carriers right now, and we took the Motorola Edge for a spin to determine if this chipset delivers in speed and frugality as well. It does, as the Edge performs well, and lasts a ton under our grueling array of battery tests, so much so that it could serve you up to two days with normal usage.
The OnePlus 8 that costs about as much, though, comes with a faster chipset, also lasts long on a charge, tops up quicker, and delivers a more polished and consistent interface. It lacks a bit in the zoom camera department compared to the Motorola, though, so it'd be curious to follow how these two direct competitors fare in the scarce midrange 5G marketplace. Hey, the Edge's got the jack, after all!
Motorola Edge design and display
Available in Midnight Magenta and Solar Black, the Motorola Edge looks pretty and feels solid but not too heavy in the palm. Love it or leave it, Motorola is going all-in with the display curves, too, which aid in keeping the phone narrower than the screen diagonal number suggests.
The 6.7-inch OLED display slopes sharply on both sides, enhancing the aesthetics of the phone, and making the back interface gesture a breeze. The tall 21:9 aspect ratio of the display makes the large phone rather comfortable to hold and operate with one hand. The ridged power/lock key helps you feel it without looking, and, overall, the Moto Edge design, while not winning any contests in originality, is rather ergonomic.
One thing that is missing, however, is an IP68 rating. The phone has "water repellent design," as Motorola calls it, and it does say they were tested according to IP68 standards, but without the official certificate, you should always be extra careful.
The extreme curve of the display is not only for appearances. Motorola is adding some software features that will make use of that extra space, the most exciting of which is the option to put trigger buttons that you can press with your index fingers while gaming. Sounds good in theory, and works as advertised in practice.
With the Edge, Motorola is proving that if there is a will, a space for both a headphone jack and a large battery can be found in 2020. The phone also comes with an official case in the box that serves as a bumper on the sides that leaves the curved display sides exposed for operation, and protects everything else which is a nice touch, saving you extra money and time needed to look for and choose a wrapper.
The 6.7" 1080p screen is sufficiently bright for outdoor usage, though far from the best out there, and delivers rather cold-looking colors, with the blue and green spectrum slightly off the mark. You can change the display saturation from the settings, with the "Boosted" color setting the best tradeoff between lively and gaudy hues.
Display measurements and quality
Motorola Edge camera specs and sample image quality
With the Edge, Motorola is introducing the trendy high-res sensor with pixel-binning technology, providing a 64MP main camera on the back of the phone that merges four physical into one virtual pixel for a detailed 16MP shot. Here are the full specs of the quad-camera kit on the back in comparison with its larger Edge+ sibling:
| Spec | Motorola Edge | Motorola Edge+ |
| --- | --- | --- |
| Main camera | 64MP, F1.8 | 108MP, F1.8 |
| Second camera | 16MP, F2.2, Ultra-wide and Macro | 16MP, F2.2, Ultra-wide and Macro |
| Third camera | 8MP F2.4 2x telephoto | 8MP, F2.2, 3x telephoto |
| Fourth sensor | Time of flight | Time of flight |
| Front camera | 25MP, F2.0 | 25MP, F2.0 |
Motorola is using the ultra-wide-angle camera for macro shots as well, allowing you to focus on objects from a very close distance and we found the approach to work as advertised. There is a manual camera mode, too, that allows you to set your own camera settings, and overlays a helpful histogram to show you how the distribution changes. Needless to say, the obligatory nowadays Night Vision mode that seamlessly stitches a long exposure shot making night look like dusk if you need it.
The Motorola Edge delivers good, mostly sharp and clean photos, with decent dynamic range and a good amount of detail. We'd like to see a bit more punch in the colors, though, which leer to the cold side of the spectrum, and a tad more saturation for more eye-pleasing looks off the bat.
The Edge is capable of 4K video recording at up to 60 fps, and can do high-res slow motion as well. The 4K footage came out pretty well, with no visible artifacts, excellent continuous autofocus speeds, and great stereo sound recording. Just like with the still shots, though, you could play around with a saturation boost for a bit more colorful pizzazz.
Motorola Edge software and performance
The new MyUX feels half-baked
Smooth but inconsistent interface
Good call quality
Powerful, somewhat flat-sounding speakers
Perhaps the most interesting thing about the Edge is its Snapdragon 765 processor. That is Qualcomm's first and only chipset where the 5G modem is integrated, lowering costs and leaving more space for manufacturers to play with. As for the rest of the specs, here is an Edge vs Edge+ comparison:
Spec
Motorola Edge
Motorola Edge+

Display

6.7" FHD+ OLED, 90Hz,
6.7" FHD+ OLED, 90Hz, 10bit

SoC

Snapdragon 765
Snapdragon 865

5G

Sub-6GHz
Sub-6GHz, mmWave

RAM

4GB (NA), 6GB (ROW), DDR4
12GB DDR5

Storage

128GB, expandable
256GB UFS 3.0, not expandable

Battery

4,500mAh
5,000mAh

Charging

18W fast charging
18W fast charging, 15W wireless charging,
reverse wireless charging
As you can see, the Edge has all the bells and whistles you might expect from an upper midranger these days, and then some. From the high-refresh-rate screen, to 5G connectivity and a big battery with fast charging to back them up. The only thing that's lacking are crazy RAM amounts, but the phone performs well as it is due to the near-stock Android experience.
With the Edge and Edge+, Motorola introduced a new version of its Android skin, called My UX. It knows people aren't fans of bloated skins with apps that duplicate the functionality that Google already offers, though, so it still kept it simple, with only a few extra features on top of the "stock" Android. Some would call this approach lazy, some minimalist, but the perception depends on the execution.
In addition, there is custom software to make the most of that curved-edge display. Custom menus you can pull from the side, in-game triggers, battery indicators and notification lights are all part of the edge experience. Тhe good things about the new MyUX edition, however, end here.
For instance,while you can now choose your own themes with a variety of colors, fonts, icon shapes and even fingerprint-reader animations, the default settings look like we are back in Android Gingerbread days. The smallish white font of the app icon titles gets literally washed away by the stock live wallpaper that is depicting wave movements. When you swipe down to unfurl the notification shade, the brightness slider is up top, so you have to prop the phone with the other hand to adjust it. In dark interface mode, enter the status bar editing regime, and the background immediately switches from black to stock Android's annoying gray, and there are numerous other half-baked details like that.
In addition, for a "light" stock Android overlay, MyUX bombards you with warnings and tutorials from the get-go, no matter if you fire the camera app, the settings, or try to set the trigger buttons. It's one "next" after another for rather self-explanatory scenarios which on top of that aren't very consistent in their appearance. Entering the camera interface for the first time you may be greeted by a belated full-screen notification to transfer your data from an older phone, then a gesture tutorial prompt gets overlayed on top, as an endless barrage of little annoyances. Said gesture tutorial appears out of nowhere rather often, but it's not very helpful to begin with - when we were trying to set the game trigger buttons, for instance, there was no way to tell where and how to move the sliders for the prompted action in the setup.
When using the curved edges to place game controller triggers, though, you quickly realize that the phone is on the comparatively smallish side, so if you have larger hands, your index fingers tire too quickly being bent out of regular shape. A PS4 controller replacement this is not, but it's fine for casual gaming when you don't want to cover parts of the screen with your fat digits.
Lest we forget, the vibration patterns of the phone add to the general list of annoyances, be prepared for it to keep shaking intermittently when you connect it to a computer to offload files for some reason. In the end, Motorola's new take on an Android overlay, while functional, needs more polish and consistency throughout.
Motorola Edge battery life and charging speeds
Adaptive refresh rules, but 'fast' charging is slow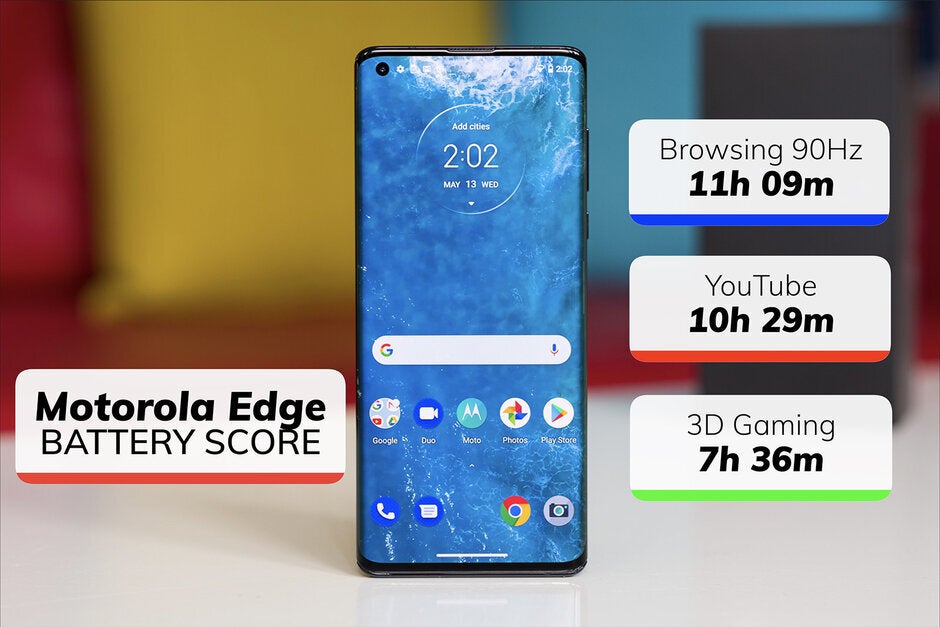 With a 4500mAh battery pack powering a 1080p display, this phone should easily last you two days, but what about if you leave the screen on the default 90Hz refresh rate option Ditto, as we clocked more than 11 hours of screen-on time in our browsing benchmark, and YouTube-ing endurance commensurate with what the Galaxy S20 Ultra manages to pull off with its 5000mah battery.
Unlike the Galaxy S20 series, the refresh rate of the Edge is adaptive, and changes depending on the content to take it easier on the battery, so it could be 90Hz in the browser to make scrolling smooth, and 60Hz or less while watching videos that are mostly shot in half the frame rate.
The Motorola Edge charging breakdown, however, is way less convincing than its battery life:
15 minutes: 20%
30 minutes: 38%
1 hour: 70%
2 hours and 23 minutes: 100%
At 18W, the fast charging is not the most powerful, and Motorola says it prioritized battery capacity over charging speed, pointing out that you won't be charging the device that often anyway. This may seem like a fair trade, but the OnePlus 8, which is the Motorola Edge main price and specs competitor, charges fully in a tad over an hour. Granted, it has a slightly smaller battery, but a full charge taking more than two hours is not acceptable in this day and age, at least not on an Android phone at this price.