Motorola ATRIX 2 Review
40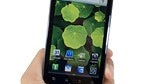 Introduction:
Can you believe that it has been only 9 months since our eyes first feasted upon the
Motorola ATRIX 4G
and its innovative qualities back at CES? Adding to its mesmerizing capacity, the handset was attached with the moniker of being the "world's most powerful smartphone" at the time of its announcement – plus, it helped that it was one serious contenders in the Android space. Fortunately for all of us, Motorola is quick to pump out its successor in a timely manner as the
Motorola ATRIX 2
is happily finding its niche on AT&T's lineup right now. Certainly we're not fans of seeing higher prices attached to some quality smartphones of late, but what's especially enticing about the ATRIX 2, unlike some of its rivals, is the simple fact that it's only sporting a manageable $99.99 on-contract price point.
The package contains:
Motorola ATRIX 2
microUSB cable
Wall Charger
Quick Start Guide
Safety, Regulatory & Legal Information
Design:
Considering that it's packing a larger display, the overall size and weight (5.18 oz) of the handset has been increased – albeit, it's not bulky at all and manages to be thinner than its predecessor at 0.4" thick. Rather than utilizing the most premium of materials for its construction, the ATRIX 2 is still one plastic device that's complemented by its gunmetal-like bezel and patterned rubbery back cover. And since its edges are curved, it's very comfortable to hold without coming off as being unwieldy. Clearly, there is very little resemblance with its predecessor, which isn't a bad thing at all, but its overall solid build is appreciable to keep it good light with the competition – still, we've seen better designs from Moto.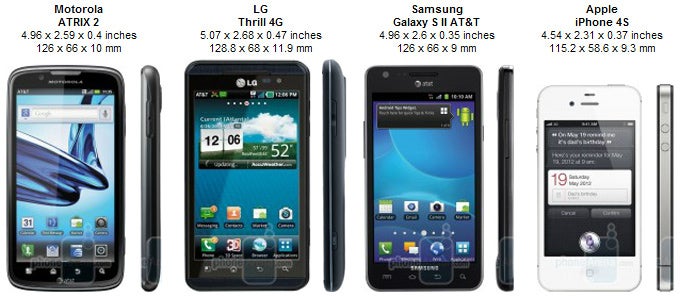 You can compare the Motorola ATRIX 2 with many other phones using our
Size Visualization Tool
.
Maintaining the same qHD (540 x 960) resolution as before, it's undoubtedly potent enough to spread out evenly on its larger
4.3" LCD display
. Naturally, details are sharp looking to enable our eyes to distinguish fine text from a good distance away. However, what entrances us the most about it all, is that its color production is deep and vivid with its output – albeit, it's not as saturated looking as Super AMOLED Plus. Nevertheless, our eyes are attracted to it, but after meticulously looking at it more, there's clearly a yellowish hue to it. Throw in its awesome viewing angles and high-contrast, it's quite usable in outdoor conditions with the sun present.
Flaunting the usual cast of
capacitive Android buttons
beneath its display, we're able to activate them with minimal accidental presses. Furthermore, a
front-facing camera
is found perched next to its earpiece grill.
Gone is the fingerprint reader incorporated into the original's dedicated power button, and now, we're essentially presented with a lonesome typical power button that's flush to the surface – still, it has a springy feel to it. Clinging
onto its sides
, we also find a noise cancellation microphone, 3.5mm headset jack, distinguishable volume rocker, shutter key, regular microphone, microHDMI-out port, and microUSB port. With the latter two, they're combined to work handsomely with the handset's optional accessories – like the laptop dock or HD station dock for access to Motorola's Webtop service.
One of the handset's upgrades is found in the
rear
as its boasts a larger 8-megapixel auto-focus camera with LED flash, which is able to shoot high-definition 1080p videos as well. On the opposite side, there's a slit found in the back cover for the handset's speakerphone grill. Lastly, yanking off the rubbery-coated plastic cover provides us access to its 1,785 mAh battery, SIM card slot, and microSD card slot. Unfortunately, it's now packed with a 2GB microSD card, plus 8GB of internal storage – as opposed to the 16GB of memory from before.
Recommended Stories