Microsoft Lumia 640 XL Review
20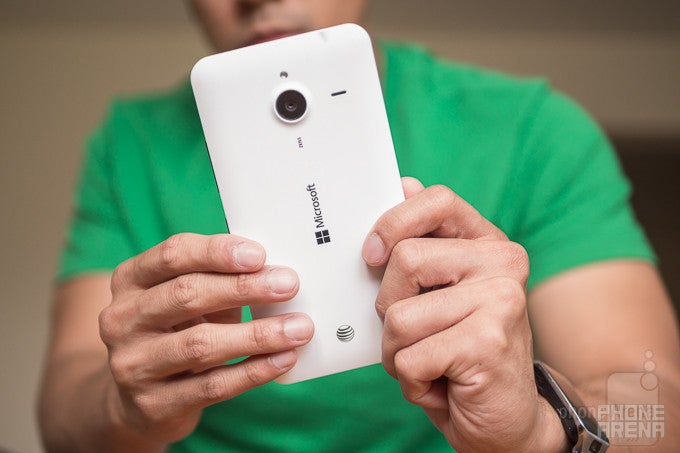 Introduction
Just last month, we got to experience the
Microsoft Lumia 640
, a budget-priced Windows Phone first introduced back during Mobile World Congress 2015. As a complement, now, its bigger sized twin is now available for the taking – bringing together a phablet-sized smartphone on the cheap. Yes folks, it's an easy $250 to snag the
Microsoft Lumia 640 XL
, which is a perfect timing considering Windows 10 is on the horizon!
The package contains:
Microsoft Lumia 640 XL
microUSB cable
Wall charger
Quick start guide
Product and safety information
Design
True to its name, it's an extra-large sized version of the Lumia 640.
Extra-large, that's undeniably the first notion we get when looking at the design of the Microsoft Lumia 640 XL. The name alone alludes to what's expected, a Lumia 640 look-alike that's just bigger in terms of its size. Although it's not entirely an original design per se, the larger footprint of the handset means it's something that requires two-handed operation more than one. Despite that, we need to point out that it's exceptionally light weight given its huge footprint, a mere 6.03 oz, which is lighter than the
Note 4
. Sadly, though, there's not as much color variety with its exchangeable back plastic covers – you only have matte white or black to choose from.
Not surprisingly, all the buttons and ports are found in the same exact locations too! That means the power button and volume controls along the right edge (practical placements naturally), the microUSB port and microphone on the bottom side, and finally the 3.5mm headphone jack on the top. Removing the rear cover is pretty simple, which then grants us access to its removable 3000 mAh battery, SIM slot, and microSD slot.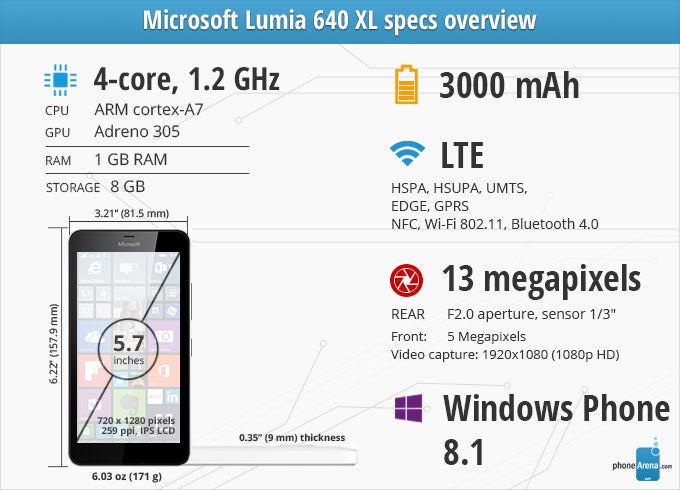 Display
It's bigger in size and brighter in tone, but it sticks with 720p resolution.
Its larger footprint is primarily attributed to the 5.7-inch 720 x 1280 ClearBlack IPS-LCD display it's flaunting, giving it that connotation of being a phablet. Indeed, the generous amount of real estate presented to us makes it great for watching videos and whatnot, but its 720p resolution results in a pixel density count of 259 ppi – a tally that's hardly astounding, though still tolerable.
Diving deeper into its other characteristics, it exhibits the same color reproduction as the Lumia 640 screen – one that isn't always spot-on with all color gradients, but it's neither obnoxiously inaccurate at the same time. There are some improvements at play here, such as its stronger brightness output of 569 nits, making it more readable under bright lighting. However, its color temperature is significantly colder in tone at ~7400K, making it less ideal than the Lumia 640's mark of 6390K.
At the end of the day, though, the screen here boasts qualities that we find to be more favorable – with the exception of its resolution, obviously. Even though it lacks the intense sharpness and detail of other screens, the whole package still comes off better than its sibling's screen.
Display measurements and quality
Recommended Stories