Meizu MX Review
23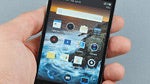 This review is based on a quad-core Meizu MX unit, with an Exynos 4412 processor, 32GB of storage, and 1,700mAh battery. The dual-core Meizu MX version has an Exynos 4210 processor, 16GB of storage, and a 1,600mAh battery.

Introduction:
Can a Chinese smartphone manufacturer deliver a product that is not your run-of-the-mill slab of plastic, but a decent Android handset really worth getting? That is quite possible, it seems. The
Meizu MX
Android 4.0 smartphone is equipped with a high resolution display and inside it runs the
powerful Exynos 4412 processor
with four cores of awesome. Care to learn more about the device? Then let's check it out in detail.
The box contains:
Wall charger
microUSB cable
Micro SIM adapter and cutout template
Doohickey for removing the back cover
User manual and other papers
Design:
So, we open up the fancy box that the Meizu MX comes in and we find an okay-looking smartphone that, strangely, yet not all that surprisingly, resembles a somewhat bigger
iPhone
. That is only when looking at its front, however, as the back is made out of glossy plastic – probably one of the glossiest kinds you will ever see on a cell phone.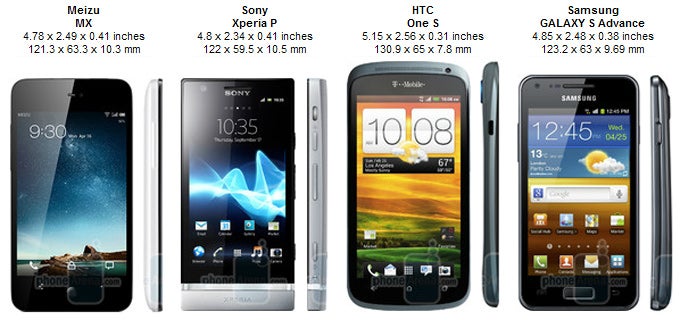 You can compare the Meizu MX with many other phones using our
Size Visualization Tool
.
Overall, the Meizu MX looks acceptable and fits well in the palm, but more than a few things could have been executed better. For example, the volume rocker is uncomfortable to use and the awkwardly protruding home button spoils the device's feng shui. Besides, the device has a predominant plasticky feel and a back cover that squeaks as it bends even under light pressure. On the other hand, we think the dynamic capacitive buttons that change their orientation depending on how you are holding the device are a nice little design touch.
Display:
One of the nicer things about the Meizu MX is its
4-inch display
, which is made using
ASV LCD technology
. It has a resolution of 640 by 960 pixels (288 ppi) so it is really hard to spot an individual pixel. The only imperfections that we can spot is that whites look slightly yellowish, but other than that, there is nothing we can complain about. The screen has a neutral color reproduction and can be used outdoors without too much of an effort.
Meizu MX 360-degrees View: