LG Viewty Review

Introduction:


The Viewty is LG's flagship model, targeted as an all-in-one multimedia phone, stressing on the advanced camera features, camcorder and video playback options. It isn't a direct rival of any device, but tries to target a consumers group as large as possible. It comes with the touch-screen and key-less navigation, similar to the iPhone but has a 5-megapixel camera with Xenon flash, which puts it next to the N95, K850 and other camera-dedicated phones. It isn't a smartphone but comes with a bag full of surprises, including manual focus, 120fps video capture and DivX playback.
LG Viewty comes in a very well looking box, reminding us of the high class of the phone itself. All accessories are inside, including stereo headset (adapter and headphones), USB cable, charger, manuals, CD with software, and small Stylus. The latter can be attached to the phone in its hole for cord, and is retractable stylus with a cap. However, considering the finger-friendly interface, most will not use it.
Design: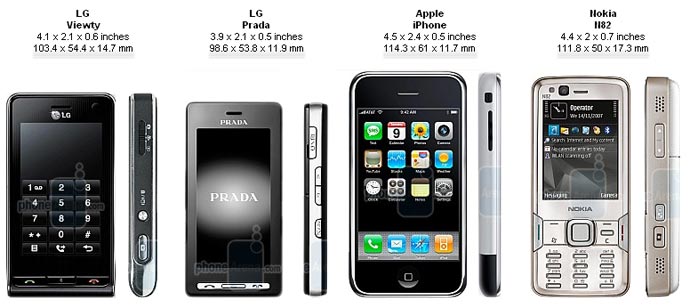 You can compare the LG Viewty to many other phones, using PhoneArena's Visual Size Compare tool.


3-inch widescreen
with 240x400 pixels resolution and up to 262'144 colors. While it is very bright and with a very good image, we would have liked to see a sensor for controlling its brightness level, to help reducing the battery consumption. It is touch sensitive and can be pressed with any object, not only with finger as in phones like the Prada or the Armani. The sensitivity is ok but scrolling needs some getting used to – you don't have to just sweep your finger but do as if you grab the screen and then move it up or down.
On the front there are only three
hardware keys
, as in the Prada and Voyager phones: Send, Clear and End. They are in the same glossy black and while inactive merge with the front panel, but when the display is operational they are illuminated in respectively green, white and red.
The other buttons are situated on the right side of the device, reminding us of the camera functionality of the phone. Here you will find a three-position switch for the camera functions (camera/camcorder/playback), anti-shake/locking key and the camera shutter/shortcut button. They feel and press just right and it will be rare to have any problems with them. As in the K850, the large number of camera-dedicated keys aims to achieve a camera-like experience when taking pictures.
The design of the back side also imitates a camera, with the large circular bump around the lens on the right and the
Xenon flash
just above it. The bump around the lens is actually slidable and acts as a scrolling wheel – to navigate through the menus and zoom in the camera interface. If the manual focus is selected, it will be used to adjust the focusing distance.