LG Tone+ Infinim Review
7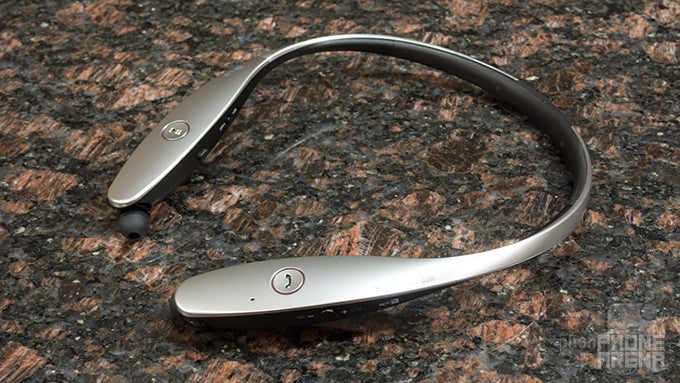 Introduction
A couple of year ago, we got the chance to review the
LG Tone+
, a different looking pair of Bluetooth headphones that delighted us with its performance. After waiting quite some time, the latest model in LG's popular Bluetooth headphones line is seeing a considerable update in the form of the LG Tone+ Infinim – one that's most notable for its new Harman Kardon signature sound. Not only that, it also manages to be greeted with some other new features and a sleeker design, which will all hopefully drive this to be the perfect package for audio purists.
Packaging contains:
microUSB charging cable
Ear gel replacements
Owner's manual
Design
Sporting a sleeker and more stylish design, the evolutionary design improvements also extend in the way it retracts the earbuds.
Right from the get-go, it's quite obvious that LG takes fancy in the distinct design of its previous Bluetooth headphones in the line, so it's no surprise that the LG Tone+ Infinim follows in the same manner. Naturally, it's sporting an evolutionary design that makes it look more stylish and sleeker in size. Employing the same wrap-around-the-neck style of its siblings, the Tone+ Infinim flaunts a more stylized look than previous models.
Going with a two-tone color scheme, one that features gunmetal and black, it's a sharp contrast that helps to accentuate its sleeker design. It's still constructed out of plastic, but it's honestly on the cheap side – so it gives the frame a little bit of hollowness. Overall, LG doesn't deviate from the design language the series is known for, but they've made one major improvement to its design that we really appreciate.
And that's the way the earbuds are retracted back into their nooks, whereas before, they simply dangled or were held on lightly by a magnetic connection. This time around, we can adjust the length to our liking, which then locks in place. Once we're done using them, however, all that's needed is to push on the buttons on the inner side of the frame to have the LG Tone+ Infinim automatically retract them into their resting positions – it's simple, yet effective. As for the earbuds themselves, we opt to go with the ones that are slightly oversized to stay firmly in place in our ear.
Along the right side of the frame, we find its pause/play button, physical power switch, and a jog button for track forward and reverse. Meanwhile, the left side of the frame is home to the unit's microUSB port, multi-function talk button, volume up/down job button, LED light, and microphone.
Based on its appearance, one would speculate that the LG Tone+ Infinim is a sporty styled pair of headphones. Indeed, we can agree to an extent to that, just because it's not the kind that's ideal for heavy motion or activity. For example, as it's resting around our neck, the frame can juggle abruptly in different direction while jogging – something that becomes annoying very quickly. At the same time, it's not weather treated to protect it against sweat, moisture, or water. Therefore, it's a pair that works ideally while we're resting or doing little motion.
Recommended Stories