LG Shine Review
3

Introduction:
LG had a smash hit when they came out with the Chocolate. To continue upon that success, another stylish line was released, the LG Shine.
Unfortunately for the US, this happened only in European and Asian markets. A few months later, everyone here finally gets a chance to get their hands on the Shine as AT&T has added the handset to its lineup. To make the most of the network, it was upgraded from a tri-band model to a quad-band one, 3G capabilities were added to top things off, and the annoying 3-way scroll navigation was replaced by a joystick. Not much else was changed, however, and we are left with a Shine that resembles the original one. Well, enough of this back story, let's get to the review to see how well it does.
Design:


After using the handset, the most shining thing, no pun intended, is the design itself. It's finished off in brushed metal, feels solid, and isn't overly heavy. It is somewhat thick when compared to most handsets from other companies but it feels very comfortable when held. The display only adds to the great look. Glare was never an issue for us and we were able to make out everything even in bright environments. Colors are very realistic without being over saturated or too dark.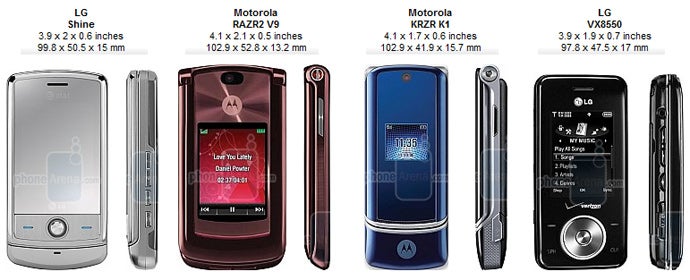 You can compare the LG Shine with many other phones, using PhoneArena's Visual Size Compare tool.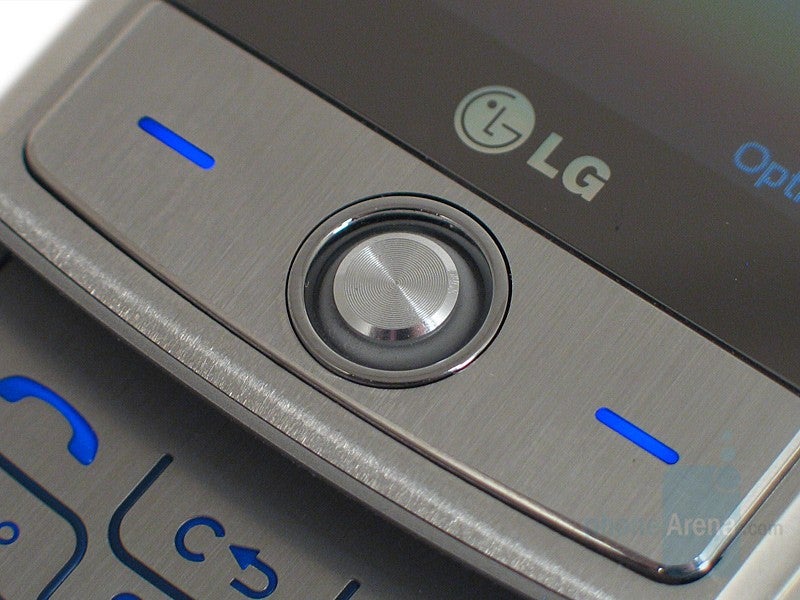 Joystick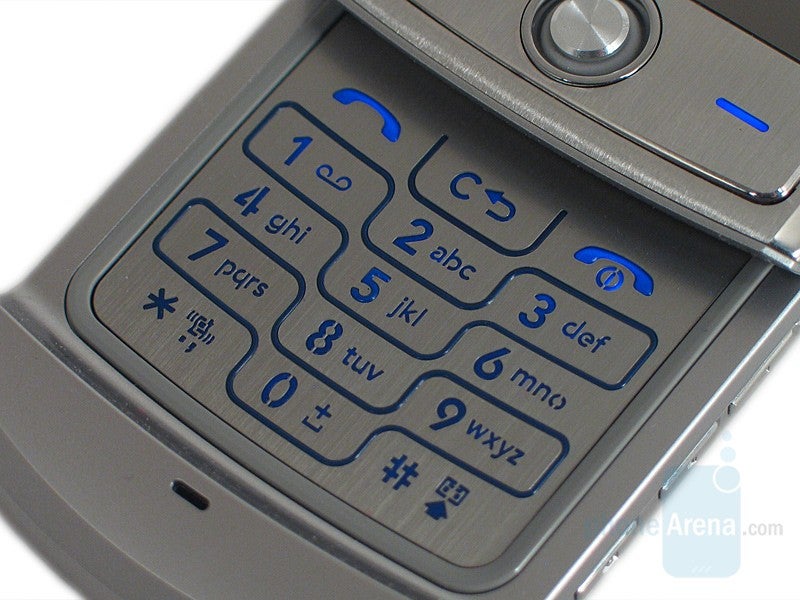 Numeric Keyboard
Navigation is provided thanks to a joystick stuck between two soft touch buttons. While it does the job nicely, it tends to be overly sensitive, sometimes sending us two or three items over when we really just want to go over to the next one. Once we got accustomed to it, things seemed to go much more smoothly.
The greatest oddity is that the call and hang-up buttons aren't located on the front but are actually grouped with the numeric keypad on the bottom slider. While it doesn't make navigation impossible with the handset closed, it prolongs it especially once you're in a few menus deep.
Sliding it open or closed is easy thanks to a spring mechanism that takes over once the slider is half-way opened or closed. Once open, the keypad is revealed which has a strong resemblance to the RAZR minus the reflection. All the buttons are crammed together in this tight space and are a bit small. The design separating each key is slightly raised and easily felt even when not looking at the handset. The biggest annoyance is that the call, hang-up, and back keys are all the way at the top of the keypad. With small fingers, it isn't a problem to press them but for those who have bigger ones, the top of the finger has to be used. Despite their crammed design and small size, the keypad isn't as uncomfortable to use as one might think. Each button is easy to press and gives back strong feedback in both feel and sound.
PhoneArena's Video Review of LG Shine:


Software:
Once you're done staring at the handset and actually move onto using it, you'll find that there isn't anything striking about the interface. The home screen shows what is expected, date & time, reception, battery life, while the main menu shows everything else in a 3x3 grid layout. While it is very easy to use, 4 of the 9 icons deal with online services and we feel this could have been placed under one folder leaving room for items such as music player, camera, and organizer tools.

Contacts are listed in alphabetic order with the number being displayed at the bottom once someone is highlighted. Fields are a bit lacking, you are limited to name, number, email address, group, picture, ringtone, and memo, but there is enough present to store the most important information.
The camera was kept as a 2MP one instead of upgrading it and picture quality is great with strong outlines, and great colors. It took about 3 seconds to focus, take the photo, and then save it.




Apart from the regular features, there are plenty of online applications that come with the phone. XM radio, music videos, The Buzz, and online videos are just some of those programs that you find available.

The internet browser was a disappoint to us. When viewing our website, some of the graphics came out blue and some text overlapped other text or graphics.