LG Optimus Sol Preview
10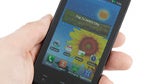 Introduction:
Unveiled back in August, the
LG Optimus Sol
is tailored for those in search of an eye-pleasing smartphone that does not cost an arm and a leg. And by using the term eye-pleasing, we are not referring to exotic, high-end materials here; it is the phone's display we are talking about. Packing 3.8 inches of "Ultra AMOLED" goodness, the Optimus Sol was announced as the most affordable Android smartphone with an AMOLED display and 1GHz processor.
With its fair hardware specs and slim waistline, the Sol has the potential to be a decent mid-range offering. Well, we have a prototype unit on our hands today so let's fire it up and see how good of a smartphone the device is shaping up to be.
Design:
The LG Optimus Sol looks and feels like a run-of-the-mill piece of plastic, just like the ones the smartphone market has more than enough of already. However, that shouldn't come as much of a surprise as the Sol is meant to be a cheap handset, so we will have to accept the fact that its body is made out of boring, flimsy plastic.
On the good side, the choice of materials makes the smartphone lightweight. Because if its dimensions, the Sol can be easily used with a single hand, and its waistline of 9.8 millimeters or 0.39 inches gives it a slim profile.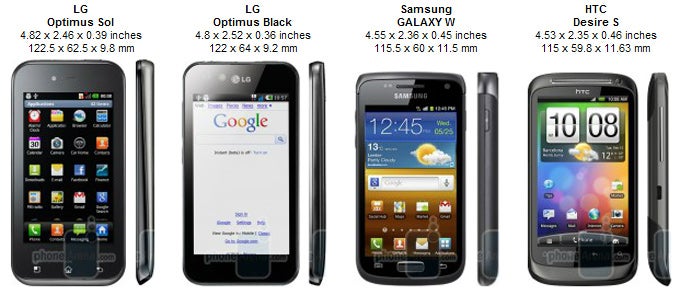 You can compare the LG Optimus Sol with many other phones using our
Size Visualization Tool
.
There are three
capacitive buttons
underneath the smartphone's display. Accidental presses are absent since there is a good distance between them and the bottom bezel of the device. The
top side
of the smartphone is populated by a 3.5-millimeter headphone jack, a microUSB port protected by a removable cover and a lock button. There is also a secondary microphone for noise cancellation, which you do not get to see too often on handsets of this caliber. However, the volume rocker on the
phone's side
could have been exposed better.
The LG Optimus Sol is the first in the company's portfolio to boast an AMOLED display. Bearing the "Ultra AMOLED" moniker, LG's panels have yet to make a name for themselves, but we can say that we are pleased with what we see on our unit here. The
Sol's display
delivers intense, saturated colors and deep blacks, which together bring images to life and make watching videos a pleasant experience. We were also satisfied with the display's outdoor visibility as it glows bright enough to be used easily on a sunny day. Still, there are a couple of things that we need to point out with the first being the display panel's viewing angles. Not too big of a tilt to the side is required for the colors to start looking distorted. Besides, even though the display on the Optimus Sol has a high for its physical size resolution of 480x800 pixels, fine text lacks sharpness and is somewhat difficult to read. Nevertheless, bear in mind that what we have here is just a prototype, so both of these imperfections might get ironed out in the smartphone's finalized version.
Overall, the LG Optimus Sol packs an eye-catching display, its body is slim and lightweight, but that is pretty much all that would really grab anyone's attention. Perhaps, the device can leave a better impression with its functionality? Let's move along and find out.