LG GW620 Review
5

This is a global GSM phone. It can be used with AT&T and T-Mobile USA, but without 3G.

Introduction and Design:
Android is an operating system that failed to bring about the eagerly anticipated revolution in the cell phone world, but has managed to become overwhelmingly popular. At this time, probably the only cell phone manufacturers that are not heavily preoccupied working on Android-based devices are Apple, Nokia and Palm. Many studies prove the platform is getting more widespread and influential by the day and most of them also indicate that Android will rank second to Symbian in just a few years.
Android and LG. These are words that we don't typically use in one and the same sentence. So far, the Korean manufacturer has introduced two Android-based handsets to be sold globally – the
LG GW620
(also known as the Eve) and the
GT540
. What the company seems to be trying to accomplish with them is get a proper feel of the market and showcase its personalized S-CLASS interface on a brand new platform. Neither of these two comes with powerful hardware or contemporary software. LG GW620 hit the shelves equipped with somewhat obsolete software, because is runs Android version 1.5, while the current OS edition as the time of this review is 2.1.
Now, let´s focus on what LG´s first Android-based handset has to offer. The LG GW620 is a potbellied and hefty device equipped with side-sliding QWERTY keyboard. As a whole, we are fairly satisfied with the build quality, plus the glossy edging and cool color scheme of blending black and blue are quite eye-pleasing. Still, you will clearly feel the presence of the LG GW620 while carrying it around in your pocket and that´s that, we are certainly not going to spring trite quip lines on you, say, "wow, is this the LG GW620 or you´re just blissfully happy to see me?"... Oops, we did it.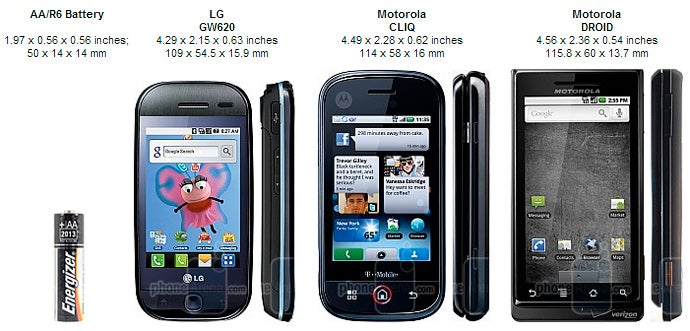 You can compare the LG GW620 with many other phones using our
Size Visualization Tool
.
One of the disadvantages here is that the
3-inch screen
with HVGA resolution utilizes resistive technology. You know the drill – it is usable even if you put your gloves on, but feels quite less comfortable than its capacitive counterparts. On the other hand, the image quality is good and thanks to the light sensitivity sensor display remains relatively usable in direct sunlight. Well, you cannot expect anything like the HTC Nexus One obviously, but it will do.
The
touch-sensitive keys
to get to the home screen or take a step back in menus are not among our favourites either. Perhaps it was just us, but we ended up pressing them involuntarily and exiting applications on random way too often (which can give you a nervous breakdown, say, if this happens while you capture snapshots). We would have like them better if they were normal, hardware buttons like the one that calls up the main menu or the other on either side of the handset. The latter are not particularly large, but are raised enough, clearly felt when pressed and feature great travel.
Whatever way you look at it, the
QWERTY keyboard
that consists of 5 rows is top notch. The key layout is similar to that of normal computer keyboards and the presence of dedicated numeric buttons gives you the opportunity to type away really fast. There are arrow keys that come in handy when you scroll and (eventually) will help you to play games. Fortunately, all buttons are large enough and properly separated, so you won´t have any troubles with them. We would have liked the "space" better if it was a tad larger, but still, its current size is something you can live with. All told, the keyboard is certainly not the best we have seen, but does provide above average comfort of use.
The LG GW620 is equipped with
standard ports only
– microUSB for charging, 3.5mm headphone jack and microSD slot that takes expansion cards of up to 16GB.
As a whole, the LG GW620 has its charm, although no one would be caught dead calling it irresistibly attractive. Its affinity for fingerprints gets slightly annoying at times, because you will have to wipe them constantly and not last, you do need to look after your handset, because its rubber-coated back can get scratched in an instant.
LG GW620 360 Degrees View: