LG GD330 Preview
2

This is a global GSM phone
. It can be used with AT&T and T-Mobile USA.

Introduction:
About a year ago we reviewed the
LG Secret
that features interesting design elements. Now the Korean manufacturer seems intent on launching a lower-end handset that slightly resembles the Secret. Let us introduce you the good-looking and affordable
LG GD330
.
Design:
The LG GD330
looks quite stylish
, although we won´t go as far as to say the manufacturer has gone off the deep end and overspent on materials, which given the price tag of the phone is pretty understandable. Its shiny face side doesn't house anything out of the ordinary. The phone sports a 2.2-inch QVGA display and the navigational buttons are right below, along with the multitasking menu key. The soft keys here aren't standard, but touch-sensitive ones. We didn't encounter any issues using all phone buttons, including those located on its either side. They are handy to press with both your right and left hand, plus the numeric keypad is fairly large, so we don´t think anyone would have troubles with it either.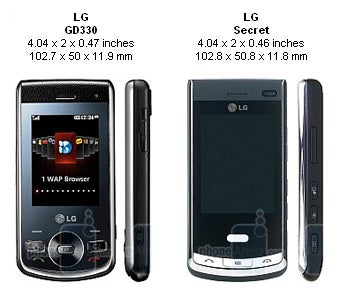 You can compare the LG

GD330

with many other phones using our
Size Visualization Tool
.
Do you remember what the most unique feature of the LG Secret is? The carbon
battery cover
. Instead, the GD330 is equipped with a black plastic panel with a leather-like pattern on it. Certainly, it helps towards a lower price, but it also lends some color to the phone design, so we think it hits the mark. The 2-megapixel camera, which is far from the Secret's 5MP sensor, is located in the upper left corner of the back.
The software
running on the LG GD330 won´t catch you off-guard with ground-breaking novelties or apps. On the other hand, you won´t have to get used to new menus or waste time finding where, say, the notes app is, since the interface is virtually identical to the one on the LG Secret. If you need to know more, please take a look at our review of the
LG Secret KF750
.
Expectations:
The LG GD330 isn´t brimming with extra features and neither has it been made of expensive materials, but then again, it comes with an affordable price-tag and stylish design. We think the handset has got what it takes to appeal to people on the lookout for a nicely-looking device they won´t have to break the bank over. The aging
LG Shine KE970
can be had for about as much, sports all the features the GD330 does (except for the Radio), but adds autofocus to the camera and offers a different style when it comes to design.
LG GD330 360 degrees view: LG GD330 Video Preview: