Jabra WAVE Review
1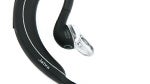 Introduction:
The
Jabra WAVE
is the Bluetooth headset that might be your savior on a windy day, or that is what its manufacturer is reassuring us. Retailing at around $60, the headset's main selling point is its ability to work exceptionally well in windy environments thanks to the shape of its boom microphone and the DSP (digital signal processing) algorithms that it incorporates. Needless to say, we couldn't leave the Jabra WAVE untested so we gave it a chance to impress us, but did it succeed? That will become apparent at the end of our review. Now, lets start by taking a closer look at the unit itself.
Design:
The crescent-shaped Jabra WAVE has been designed to remain mostly hidden behind your ear while a
boom microphone
extends forward towards the user's mouth. We do agree that the headset is relatively big when compared to other models, but in reality, that isn't that much of a drawback because the WAVE feels much lighter than one would expect. At 0.46 ounces or 13 grams, it may be heavier than many other headsets out there, but thanks to proper weight distribution and a wise choice of materials, the WAVE does not put a strain on your ear. Unfortunately, we cannot quite say that you will stop noticing it entirely. The headset can be felt at most times because of the large contact area with your ear.
The Jabra WAVE's
plastic body
has a soft touch finish added to it, and the side, which is supposed to firmly hug your ear, has been
rubberized
in order to provide a tight grip. These rubberized areas may be prone to collecting dirt and dust, but thanks to that extra bit of friction that they provide, the headset would barely move no matter how much you turn and twist. However, the wobbly earphone, which is supposed to lay on top of your ear canal, simply feels like it is going to come off any moment. Luckily, the second eargel that has been included in the set has a longer tip and feels a bit more comfortable. Once you get used to the headset, you should have no troubles wearing it for long periods of time.
On top of the Jabra WAVE we find a dedicated
on/off switch
, which is something that we do not get to see quite often on Bluetooth headsets. Right underneath it is a
microUSB port
that is used for charging the internal battery, but its cover is so flimsy that it falls off by itself most of the time. We are also treated to a well exposed 2-button volume rocker and a couple of LED lights that indicate the device's battery level and status. So how do you answer calls you might ask. Well, something that we were quite happy to find is that the boom microphone also has a button on its tip – pressing it picks up and hangs up calls. We can gladly say that finding the button with your finger could not be any easier.
Now that we know that the Jabra WAVE is not something that you might be embarrassed to wear in public, let's find out if it really delivers the superior audio quality that it should.