HTC Windows Phone 8S Review
20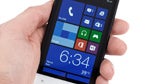 Introduction
HTC Windows Phone 8S
is the company's WP8 midranger, carrying the naming scheme over from the company's One line of Android handsets. Executed in a two-tone body painted in a variety of colors, it is evidently aiming to attract the attention of the younger crowd, whose urge to stand out is pretty strong.
The phone is a compact and well-rounded offering, with a handy 4" display, dual-core processor, and a 5 MP camera on the back. It does skimp on a few features to reach its price tag, though, like Full HD video recording, and the amount of internal memory, so how does it stack up? Read on the full review to discover...
In the box
In-ear headphones
Wall charger
MicroUSB cable
Design
A compact, well-designed phone is what many people are missing in this day and age of gigantic displays, and that's precisely what the HTC 8S is offering. It provides the now typical for HTC unibody chassis with tapered back and soft-touch cover, aiding the grip. The handset is thus comfortable to hold and very easy to operate with one hand without thumb-stretching exercises.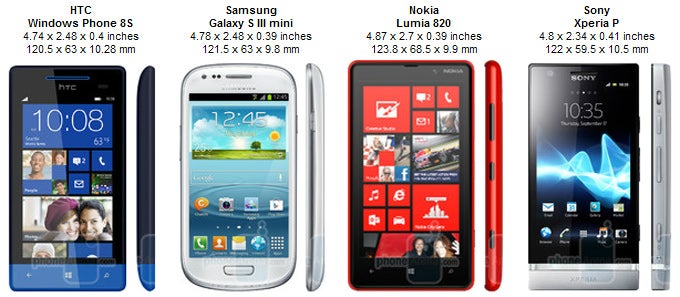 You can compare the HTC Windows Phone 8S with many other phones using our Size Visualization Tool.
The
two-tone body
, which paints the lower section in a different color, including the front part, is catchy, and the combination of hues will make you stand out in the sea of black or white phones out there - you have a choice of Domino, like in our unit, Fiesta Red, Atlantic Blue, and High-Rise Gray. The
bottom panel cap
is removable, hiding the microSD and SIM card slots underneath, so you can theoretically make the color combos even more versatile with another panel.
HTC has placed the power/lock key at the
top
, which is usually a nuisance on larger screen phones, but here it is pretty easy to reach, and provides good tactile feedback, just like the volume rocker on the side. The capacitive keys below the screen are responsive, too, though we noticed erratic behavior a few times, with them staying off when they should be lit, or going on and off for no apparent reason. The front is also provided with an LED notification light in the earpiece slot.
Display
A run-of-the-mill 4"
480x800 display
is what HTC graced the 8S with, and the 233ppi pixel density, while nothing exemplary, is still decent for your everyday tasks.
The display sports good
color presentation
, and is sufficiently bright for comfortable outside viewing, with nice viewing angles, both horizontally and vertically.
The only gripe with it is that it it smudges very quickly, and needs to be wiped often, be it just for aesthetic purposes.