HTC One X+ vs iPhone 5
41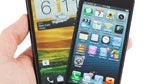 The
HTC One X+
is shaping to be one of Android's battleships this season, thanks to its sped-up quad-core procesor and 64 GB of storage, so as always we are pitting it against the iOS flagship,
Apple's iPhone 5
.
Both handsets have sealed chassis,
great LCD screens, and 8 MP cameras
, but they target different categories of users from the onset with the size gap. What other differences are there between the two? Read on our comparison to find out...
Actually the sealed chassis and rounded corners are the only things in common between the designs of the two phones. The
OneX+ rocks a slightly convex polycarbonate body
that fits very well in the palm, aiding the grip with its soft-touch finish, just like its chassis twin, the One X before it.
The
iPhone 5 is much smaller and easier to operate with one hand
, so it dares to be edgier, with clean cut lines, made of metal and glass. It is incredibly light for the premium materials that build it, and also very thin.
Both companies have made a name for themselves in designing their handsets, but these days the shapes of the chassis and choice of materials are dictated by the obligatory huge screen any self-respecting Android high-end has to rock, and you can't really slap much premium material around a 4.7" screen without making the phone pretty heavy.
The HTC
One X+ S-LCD 2 display is with 1280x720 pixels of resolution
, netting 312ppi density. At 4" size, the iPhone 5's in-cell touch IPS-LCD screen is much smaller than the 4.7-incher, and its 1136x640 pixels grace it with the pretty high 326ppi. Pixel density is therefore not an issue for both screens, text appears crisp everywhere, and there are no icon jaggies.
When it comes to color representation, the i
Phone 5 has one of the most accurate display of all phones
, while the One X+ panel seems to go a tad on the undersaturated side. The iPhone's display is also brighter and with a very low reflectance, ensuring a win in the outdoor visibility department. The One X+ screen is sufficiently bright and very good outside, too, so you won't have trouble with both handsets, even under direct sunlight. The viewing angles seem equally good, and the contrast ratios are pretty high for the LCD screens, so overall we have two great displays on both devices.
HTC One X+ 360-Degrees View

Apple iPhone 5 360-Degrees View