HTC One E8 Review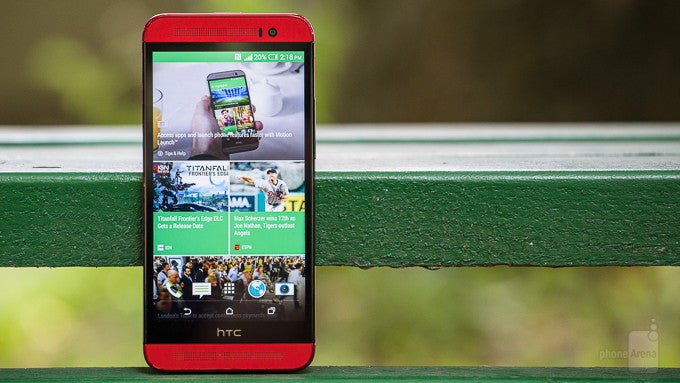 Introduction

Not long after HTC made the aluminum-clad

HTC One M8

public, we started hearing about a lookalike One device that would copy the M8's look and internals, but forgo metal altogether, and instead opt for a cheaper, polycarbonate shell. Subsequently released as the

One E8

, it seems to us that HTC's plastic flagship likely has one purpose: to allow the company to experiment with a different approach towards the flagship model, and perhaps even make a few new fans in the process.

Apart from the body, however, and the inclusion of a higher resolution, 13-megapixel camera, much everything else about the E8 mirrors the M8's spec sheet.

But is that a recipe for success or disaster? Time to find out.
Design
It is what it is: the One E8 is simply the One M8 re-done in polycarbonate. That's a pro, not a con.
The One E8 is the One M8, and vice versa. Truly, with the exception of the E8's polycarbonate shell, little else stands out, as it's simply identical. This holds true for the E8's shape, with its curved and comfortable-to-hold rear, along with HTC's signature, front-blasting BoomSound stereo speakers. Save for thickness (the E8 is chubbier, at 0.39 in / 9.85 mm), even the dimensions of the two devices are nearly identical (5.76 x 2.78 in / 146.42 x 70.67 mm), though the E8 is relatively lighter, at 5.11 oz / 145 g.
There are a few other minor differences, but those can be hard to spot. For example, if you look at the One E8 from the front, it's unlikely that you'll be able to tell it apart from the One M8 – the only difference is the E8's slightly smaller front-facing camera ring.
Looking at the back, there are some more differences, and apart from the plastic shell. HTC has done away with the M8's UltraPixel Duo camera and the E8 instead houses just one camera with a single LED flash sidekick.
At the sides, the One E8 is, again, very similar to the One M8, but not entirely. For one, the power/lock key is perfectly centered on the top, while the volume rocker on the left is inconspicuous, and more flush with the surface. Thankfully, the two are clicky (especially the power key) and provide decent travel and feedback when pressed.
Perhaps the area in which the two so similar devices differ greatly is the feel you get when you handle them. Instead of the cool touch of aluminum, you're met with the mundane plastic of the One E8, which is extremely successful at attracting greasy smudges. At least the red-colored version, with its glossy finish, so we suggest going for the gray or blue versions, as these have a matte one. And while that's a lot to swallow, it is only so in the context of this being compared to the One M8, and we're not sure it should. If looked at as a standalone product, we'd honestly have no gripes with the One E8, save for that unfortunate choice of glossy plastic. Otherwise, the construction's build is very rigid and reassuring.
Display
No, this isn't a perfectly color-accurate panel, but it is acceptable, and its maximum brightness allows for a great outdoor viewing experience.
With a large, 5-inch, 1080 x 1920
pixel
resolution IPS display, the One E8 is well-positioned to deliver a great user experience, as image reproduction is crisp thanks to those excellent 441 pixels per inch. But is it true to life?
In one word: no. At least not completely. For example, at nearly 8000 K (with the reference value being 6500 K), the One E8's display is overly cold, and this issue is especially noticeable when looking at whites and greys, which exhibit a visible bluish tinge. Gamma, at 1.98, is also noticeably off the reference value of 2.2. As for color reproduction, we again have a mixed bag. On average, color inaccuracy is acceptable, though it should be noted that lower intensities of red are severely under saturated, while blues are consistently over saturated throughout. Lastly, magenta is messed up, with each intensity level having an entirely incorrect hue. With all that said, do keep in mind that this is still a comparatively color-correct panel, especially if you use the Galaxy S5 as a benchmark.
On a more positive note, the E8's screen is very bright, and can reach the excellent 524 nits. This figure translates into an equally excellent outdoors viewing experience – you're guaranteed to make out the screen even under direct sunlight. Our only complaint here is the screen's minimum brightness, which sits at 16 nits. This basically means that you'll experience some discomfort when viewing the screen in complete darkness, as that's just too bright and strains the eyes.
Display measurements and quality