HTC Inspire 4G Review
14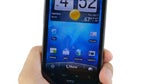 Introduction:
Well hello there you larger than life HTC handset! But what do we have here? It's none other than a re-branded
HTC Desire HD
we've seen already overseas which is making its way onto AT&T's lineup featuring support for the carrier's HSPA+ network. Plus, we're greeted with all the fanfare that comes along with the release of any other high-end Android smartphone out there. Rather than encompassing users with desirable feelings, instead, the
HTC Inspire 4G
aims to win people over with its straight out of the gate value. Priced at $99.99 with a contract, it sets the bar in terms of subsidized pricing for a high-end device that we haven't seen before, but will it be enough to woo over consumers before the rise of dual-core packing handsets are set to arrive?
The package contains:
HTC Inspire 4G
microUSB cable
Wall Charger
8GB microSD card
Quickstart Guide
Design:
Interestingly enough, it might be new to US consumers, but the design of the HTC Inspire 4G is an exact facsimile to the HTC Desire HD in Europe. Definitely not a bad thing by any means, since it boasts some fantastic premium materials combined with that solid HTC construction, but it doesn't particularly attempt to differentiate itself in any away aside from the AT&T branding we're presented with. Regardless, its unibody aluminum exterior is still exciting to hold which is complemented nicely with its spotted soft touch surfaces. Not only is it sleek (0.46") enough to hide away in a pocket, but its weight (5.78 oz.) is more than accepting enough considering its overall metallic feel. Comparing it to devices like the HD2, EVO 4G, and HD7, the Inspire 4G is unequivocally the summation of HTC's design evolution.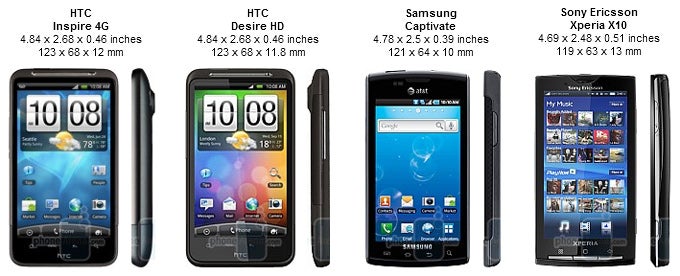 You can compare the HTC Inspire 4G with many other phones using our
Size Visualization Tool
.
Similar to some of its previous brothers and sisters, the first thing to instantly get your attention is none other than its polarizing 4
.3" Super LCD display
, which employs the usual WVGA (480 x 800) resolution we'd come to expect to see nowadays. Naturally, the sharp visuals and high details that it radiates contrasts perfectly with its iridescent looking colors to make your eyes glow with awe. At the same time, it offers some accepting
viewing angles
, but still requires a good shielding from the sun outdoors. Furthermore, we are more than happy with its level of responsiveness as it manages to register all the intricate motions of our fingers.
Continuing to see
capacitive touch buttons
beneath its touchscreen, they're more than visible thanks to their brilliant backlighting, but in some instances, we still experience an occasional accidental press with them.
On the
left edge
, we're presented with a thin looking volume rocker than barely sticks out to offer a reasonable amount of distinguishability. Sadly though, not only did we have difficulty in feeling it out, but we're not too thrilled by its stiff feel when pressed. Moreover, the same can be said about its dedicated power button on the
top side
of the phone.
Meanwhile, we find the 3.5mm headset jack, microphone, and microUSB port all located on the
bottom portion
of the handset. Unfortunately, we're somewhat bummed by the fact that the Inspire 4G lacks a front-facing camera – especially when it boasts "4G" in its name; indicating the faster than normal 3G data speeds we're all too accustomed to seeing at this point.
In the
rear
, we find its 8-megapixel auto-focus jutting out from the surrounding area – which does make you wonder it comes into contact with the surface when the device is resting on its back. However, the concern is lessened since the lens is actually recessed further down from the surrounding area. Additionally, we find its dual-LED flash and speakerphone notch perched close-by.
If there is one annoyance we find with the handset more than anything else, it has to be the difficulty we experienced in removing its battery cover. In fact, removing it will completely kill power to the handset since its basically completes the circuit. However, we can't say the same about the easy to slide off cover hiding the microSD and SIM card slots.
HTC Inspire 4G 360-degree View: Recommended Stories