HTC Desire 500 Review
12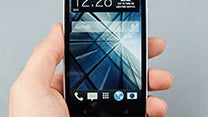 Introduction
HTC indicated it wants to go down market with its Android phones, risking to be crowded out of the exploding mid- and entry-level segments otherwise, and phones like the
Desire 500
are a good indication of its strategy.
The handset sports a youthful, catchy design, with internals that are a mixed bag of midrange to low-end components, all for a decent price. Will the Desire 500 succeed in its market-expansion mission the way it is built? Read on to find out...
Design
For the most part, HTC's designers have done their job very well. There is one bit that they have somehow managed to mess up, but we'll get to that later. Now onto the good stuff: the HTC Desire 500 looks great in white, complemented by contrasting color accents – a scheme that will surely attract the younger crowd. For those who prefer something a bit more conservative, a black variant is also available.
While the HTC Desire 500 is made of glossy plastic, it lacks the "cheapo" feel often associated with that material. In fact, the smartphone is well-built, has no squeaky or slippery parts, and fingerprints are barely noticeable on its shiny surface, at least with the white model. Most impressively, the Desire 500 does have a removable back cover even though its seamless construction implies that it doesn't. Lifting the lid off – a procedure that takes nerves and patience to execute – reveals the user-replaceable battery, the microSD card slot, and the micro SIM card slot.
The HTC Desire 500 fits nicely in the palm thanks to its curvy back side and its touchscreen can be operated single-handedly without much effort. Its buttons, however, are rather uncomfortable to feel and press. No, we're not talking about the capacitive ones below the screen; those work fine and are easy to reach, though not backlit. It is the smartphone's power key – situated on the top – that we're frustrated with. It is way too flush with the side rim, with little tactile feedback, and feeling it with a finger is close to impossible. The volume keys on the right are a bit better in the feedback aspect, but HTC has gone design-fancy, introducing them as parts of the blue side rim endings, so finding a key with your finger without looking takes quite a bit of getting used to.
Display
The HTC Desire 500 has a 4.3-inch LCD screen of acceptable quality. Its resolution is 480 by 800 pixels, which is okay given the smartphone's class, but the 217 ppi count is unimpressive when compared to something a bit more pixel-dense. Fuzzy edges in graphics are easy to spot with a naked eye, regardless of whether you're surfing the internet, reading an article, or just looking at the icons on your home screen.
Other than that, the screen on the Desire 500 is pretty decent, actually. The viewing angles are wide and colors are represented accurately. The display is sure bright enough to be usable outdoors, as long as the sun is not shining straight at it, of course.
Recommended Stories