Google Nexus 5 vs Apple iPhone 5s
99+

Introduction
Even though Samsung is usually seen as Apple's biggest rival on the mobile scene, it's probably Google we should really be looking at if we think about the 'iPhone versus Android' conflict in a deeper aspect. It's true that in terms of hardware, Google's own offerings have had a relatively light impact thus far, but it's getting increasingly clear that things are becoming more serious with each new Nexus device Google pushes out on the market. Last year's
Nexus 4
, in particular, caused quite a bit of buzz, mostly for being the absolute best value-for-money smartphone available. With this year's
Nexus 5
, though, Google is pushing things even further. The amazing starting price of $349 has been kept unchanged, but the hardware you're getting in exchange is absolutely top-notch, with no blatant compromises like the Nexus 4's lack of LTE, for example.
However, a great smartphone experience isn't exclusively defined by under-the-hood goodness and a cheap price-tag. The Nexus 5 is a very well-rounded, feature-packed product - that's something we can all agree on, but it definitely lacks a rather important quality – exquisiteness. Having said that, the
Apple iPhone 5s
is probably the biggest antipode to the Nexus 5 one can come across within the boundaries of the high-end phone market. It's expensive, it ignores some of the features a true geek would demand, and it puts more emphasis on external design than the whole Nexus line combined. (OK, that may have been a bit unfair towards HTC, but you get the point.)
So, how do we go about comparing these two gadgets? Obviously, it's going to take much more than a specs comparison to determine which one is better, especially having in mind that both are running on different platforms. Join us as we witness this epic clash between two of the finest smartphones money can buy!
Design
Stunning appearance has always been one of Apple's hallmark features when it comes to its products, and this observation is fully valid with the iPhone 5s. Indeed, Apple's finest is a piece of great computing power tucked inside an astonishing glass-and-metal body. It's an iconic design, one that can be easily recognized from miles away. It's thin, light and good-looking – premium in every sense of the word.
On the other hand, Google has gone for a decidedly humble design with its Nexus 5. The handset is build from plastic, with a soft-touch finish on the back panel. It's OK if you like this type of material, but we would have liked it much more if there was some effort gone into the appearance of the handset. Instead, it's looking rather ordinary, especially the all-black version, which is as generic as it gets. We do appreciate the fact that it's also quite thin and light for its size, but there is no question here – only one of these two handsets that can add something to the aesthetics of your surroundings, and that's not the Nexus 5.
In terms of comfort, it's evident that LG has tried to shrink those bezels down as much as possible, so that the Nexus 5 can have a decent footprint despite its massive, 5" display. They have definitely done a great job, but in the end, the Nexus 5 is still a rather big phone (5.43 x 2.72 x 0.34 inches) that's next to impossible to operate with one hand only. In contrast, the iPhone 5s is, naturally, much smaller, and easier to handle. It's not as cool when it comes multimedia consumption, due to its smaller display, but general usage of the smartphone does benefit vastly from the smaller form-factor (4.87 x 2.31 x 0.30 inches).
We wouldn't expect a low-quality build from a Google-influenced phone, and the Nexus 5 doesn't disappoint. Even though it isn't anything to write home about aesthetically, it's still well-made, with a sturdy-feeling body and good physical keys. Once again, it can't measure up to the excellence presented by the iPhone 5s in these areas, but it's a decent performer. It's charged using a standard microUSB port, while the iPhone 5s sports Apple's proprietary Lightning connector.
While we haven't moved too far from the topic of physical keys, we absolutely have to mention that the iPhone 5s features a fingerprint scanner, built right into its clicky home button. The so-called Touch ID sensor allows you to unlock your passcode-secured phone with just a touch of the home button, as well as to easily authorize iTunes and App Store purchases, removing the need to enter a lengthy password every once in a while. It's a much-appreciated feature, and one that is unapologetically missing from Google's Nexus 5.
Display
The 5-inch screen of the Nexus 5 is among the better ones around. It not only sports an impressive diagonal, but is also relatively accurate as far as color representation goes. Similarly to the iPhone 5s' 4" display, it uses a mature IPS LCD technology to bestow its eye-candy upon us.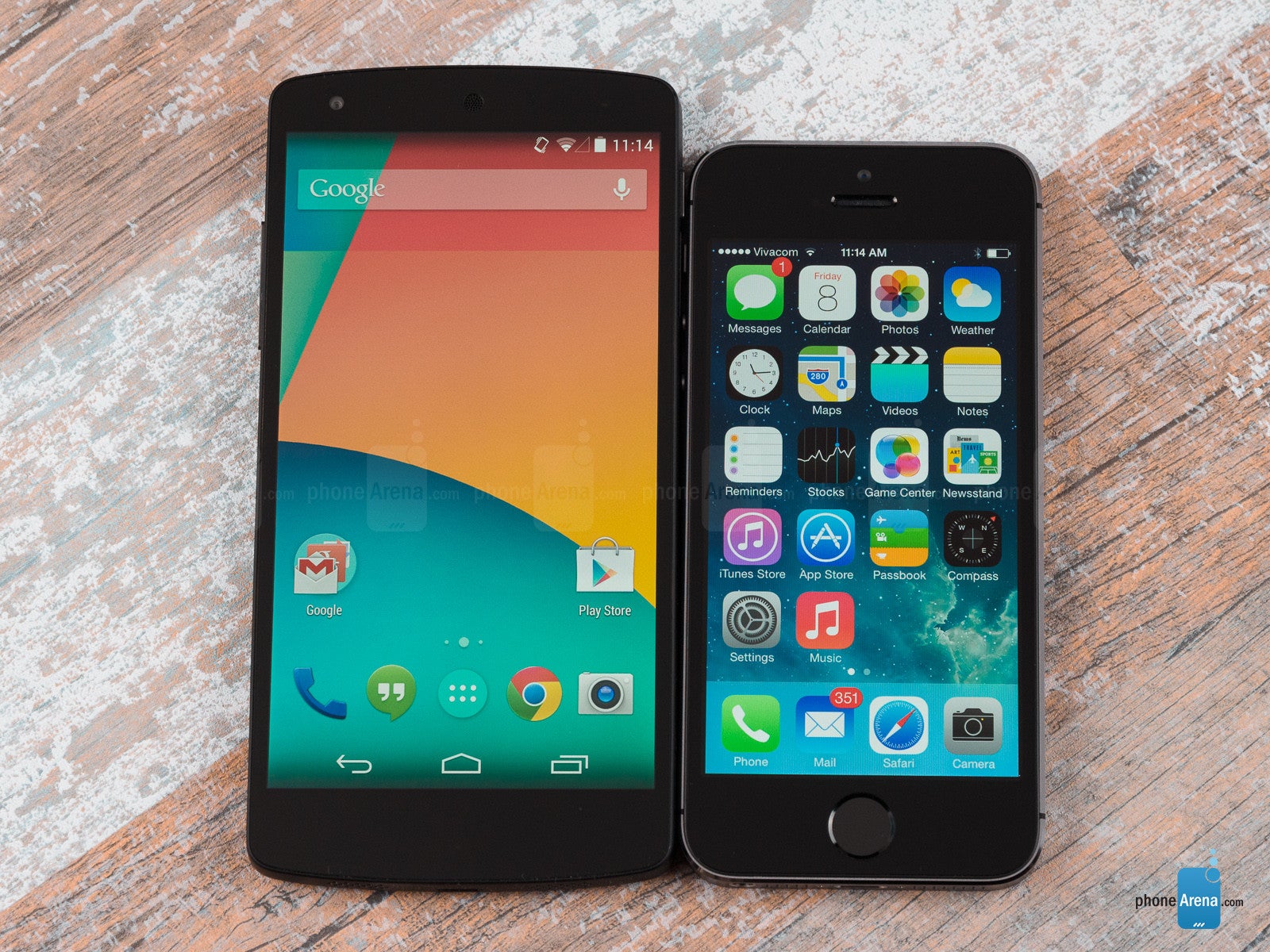 Turning our attention to the delicate matter of resolution and pixel density, let's elaborate a bit on what users are going to gain with each screen. The iPhone 5s has a resolution 640 x 1136 pixels. On paper, these numbers don't appear to be particularly threatening for the Nexus 5's 1080 x 1920 resolution, but we do have to take into account the iPhone's smaller screen size here. At 4 inches, its '640p' res makes for an above average pixel density of 326 ppi (pixels per inch). It's not as perfectly clean as the Nexus 5's breathtaking 445 ppi, but honestly, one would have to look really hard in order to notice any distortion in the iPhone 5s' display as well. Both are exceptionally detailed and good-looking, but the advantage goes to the Nexus 5 in this respect, due to its ultra clean and sharp visuals.
The iPhone 5s manages to be a bit easier to view outside than its opponent, which is enabled by its higher maximum brightness output of about 580 nits, compared to the Nexus 5's 480 nits. It's not a world of difference, but we do appreciate it when a handset makes it easier for us when we're trying to check on something while out and about.
Colors are nicely saturated and vibrant on the Nexus 5, however, one should not be fooled by its near-perfect color temperature of 6418 K (kelvin). What this means is that the primary blue and red colors are in almost perfect balance, but unfortunately, this metric doesn't take into account the third primary – green. The thing is that in this case, there's a bit of an excessive green-yellow color with the Nexus 5's display. It's not a really big problem, but should you compare it side-by-side with the display of the Apple iPhone 5s, it immediately becomes evident that there's something not quite right with LG's LCD panel, where everything seems a tad yellowish.
That's also reflected by the grayscale Delta E (indicates color inaccuracy) measurement of 4.54 for the Nexus 5, and 2.66 (lower is better) for the iPhone 5s. It has to be pointed out that a Delta E of 4.54 isn't too high/problematic, but it does get close to the 'caution' mark. Delta E, measured with a grayscale, concerns the balance between the three primary colors, or in other words, white balance.
If we take a look at both its primary and secondary colors (red, green, blue, cyan, magenta, yellow), though, the Nexus 5 is doing a rather good job with regards to accuracy, indicated by its Delta E rgbcmy value of 3.29. The performance of the iPhone 5s is just as excellent in this respect with a value of 3.36 (Delta E differences lower than 1 are considered imperceptible to the human eye).
Overall gamma is better with the iPhone 5s. It stands at 2.21, which is perfect, while the Nexus 5 shifts things to the brighter side with its gamma of 2.05, resulting in slightly more visible detail in darker areas of images, at the expense of detail in brighter areas.
Viewing angles seem to be just slightly better with the iPhone 5s, as it manages to retain a good brightness at a slightly wider angle, but all in all, the difference is negligible.
Display measurements and quality