GIGA-BYTE GSmart S1200 Review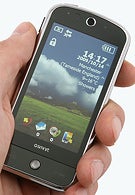 This is a global GSM phone. It can be used with AT&T and T-Mobile USA, but without 3G.
*UPDATE:
We received a unit of the GIGABYTE GSmart S1200 with final software and conducted the necessary tests. The device performed the same, so the information provided in this review is completely trustworthy.
Microsoft´s OS is rather outdated alongside of iPhone OS, Android and webOS. Without proper personalization packs, it looks unappealing and most people have troubles handling it. Windows Mobile 6.5 is the latest attempt to change this, but the newest version continues to be finger unfriendly. And that´s exactly the problem that many manufacturers face when releasing a Windows phone without or with perfunctory customizations. Acer has made a step in the right direction with the Acer Shell - looks spectacular and makes certain functions way easier to use. Until now, we have reviewed two GIGA-BYTE cell phones – the Gsmart T600 and Gsmart MS820, with the latter coming with a slightly changed interface and a host of shortcuts. What we have in our hands today, however, is the
GIGA-BYTE GSmart S1200
, that looks promising and different. It´s more compact, sports a larger display and increased amount of RAM and ROM as compared to the MS820. Moreover, the device runs Windows Mobile 6.5 and allows access to all extra features of Windows Mobile 6.5 – Windows Marketplace for Mobile, Microsoft MyPhone etc. It also comes with several Flash-based personalization packs that look quite well indeed.
So, what´s in the box of the GIGA-BYTE GSmart S1200?
- Wall charger and four cable tips
- Spare stylus
- 2 software CDs
- miniUSB cable
- miniUSB headset
Providing extra power cord tips is a neat solution and you can be certain that if you go to a country where a different power socket standard has been adopted, you will still be able to charge your device. We are somewhat disappointed at the lack of a protective case, because you really need one if you are intent on keeping your GIGA-BYTE GSmart S1200 shiny. Now, let´s take a closer look.
Design:
The GIGA-BYTE GSmart S1200 is both compact and good looking. Actually, this is one of the thinnest handsets running Windows Mobile we have seen to date. With its chrome-plated framing onto its front side, it reminds us of the
LG ARENA KM900
and
iPhone
. The phone body is well balanced and feels great, both in your hand and pocket.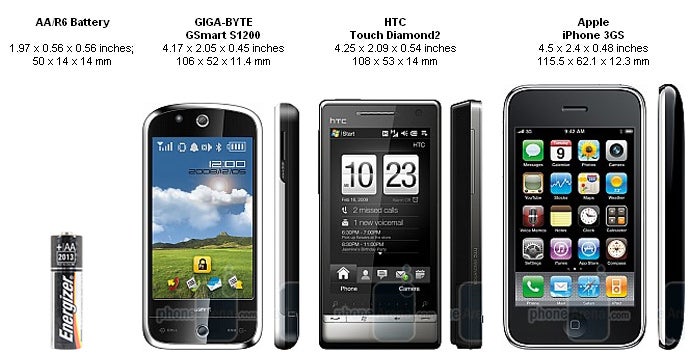 You can compare the
GIGA-BYTE GSmart S1200
with many other phones using our Size Visualization Tool.
The size of any device determines how big its
display
is and in this case, it measures
3.1
inches. This is not bad, although when it comes to screens, the bigger is better we believe. Well, it must be reasonably large, of course, since we can´t say devices with 4-inch displays are really handy to use with one hand. The GIGA-BYTE GSmart S1200 sports a display with high resolution (WVGA) that delivers really detailed images. Unfortunately it supports only 65k colors, which ruins the experience, because they just don't gradate smoothly. The display sensitivity is great for a resistive screen, but certain interface elements prevent you from putting it to good use, so we came to rely on the stylus that gets into its compartment on the bottom left part of the device. The screen is usable in direct sunlight, but the shiny chrome framing can get you blinded if sun gets reflected against it and into your eyes.
keys
are below the screen and feel easy to press on their sides. Generally speaking, the button in between is used for confirming screen selection (something similar to the Enter button on computer keyboards), but sometimes gets assigned other functions as well. It feels really rigid, but not to the extent of being troublesome.
The
back
of the phone and most of the buttons (except for the camera shutter) are made of hard plastic that is in stark contrast with the front side - if you first take a look the back of the handset, you will hardly feel impressed by it. Still, the material means it´s highly unlikely that the GIGA-BYTE GSmart S1200 slips out of your hand accidentally and makes the phone scratch-resistant. Unfortunately, the power on button (located
on the top
) is really stiff and hard to press, which is annoying since it´s the one you need to use to unlock the screen. The metal camera shutter feels great to press, because it has a soft, smooth travel.
We are somewhat disappointed at the
microSD slot
. There is no protective flap, so you can press the card and have it released accidentally. Not that this is really easy to do, but it is possible to happen anyway. The miniUSB port is
on the bottom
and is not protected from the environment either. Finally, the list of disadvantages has to be expanded with the lack of 3.5mm jack.
As a whole
, we do like the overall look of the GIGA-BYTE GSmart S1200, despite the fact some of the hardware buttons are slightly annoying. We would recommend that you get a protective case, because the front side gets dirty really easy, which ruins the all round appeal of the handset. Now, we would advise you to keep reading, because we are about to tell you about the interface that is equally shiny.
GIGA-BYTE GSmart S1200 360 Degrees View: