Fitbit Surge Review
2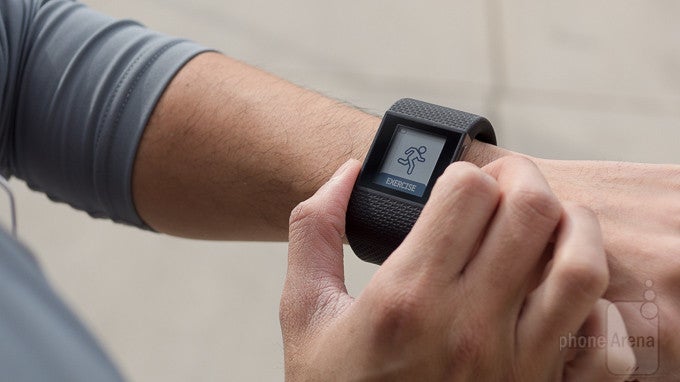 Introduction
If you haven't noticed, Fitbit has been somewhat busy of late, evident by the trio of new products they've recently announced. First up was their most affordable new offering in the Fitbit Charge, then followed by the heart rate sensor packing Fitbit Charge HR, which now leads us to its latest product – the Fitbit Surge, aka the "fitness super watch." That's a peculiar attachment, considering there have been a handful of smartwatches saturating the market, but what makes the Surge befitting of that reputation? At its core, naturally, it's a fitness tracker, but one that's on steroids.
Packaging contains:
Fitbit Surge
Proprietary charger
Wireless sync dongle
Users manual
Design
This is one seriously hulky sized fitness tracker, it doesn't want to be discrete looking.
Unlike the discrete style of its other fitness bands, the Fitbit Surge is a giant sized looking that screams for attention when it's worn. No doubt, it's hulkier in size than anything else the company has designed before, but it's somewhat necessary to give it that substantial reputation. Hardly a surprise to us, its design is influenced by the company's other recent bands, the Fitbit Charge namely, as the strap features the same textured and flexible elastomer material – giving it that rubbery feel and sporty look.
Aesthetically, it's a hard-lined, edgy design that favors a contemporary look. We won't say it's downright ugly or incredibly gorgeous, but rather, it's a safe approach for them to take. At the very least, it's pretty comfortable to wear for long periods of time, as it contours our wrist perfectly and feels smooth over our skin. Available in three colors and three sizes, its similarity to a watch is evident by the surgical-grade stainless steel buckle it uses, which allows us to adjust it accordingly.
On the underside of the unit, we have the unit's proprietary charging port and heart rate sensor. Meanwhile, the display is flanked by a total of three physical buttons – one on the left to switch between its menus, and another two on the right that are also used for navigation around the interface.
Display
Even though it's a monochrome LCD display, it's highly effective in all sorts of conditions.
In being attached as a "fitness super watch," the Fitbit Surge features a monochrome square-shaped LCD touchscreen. Even though some might find it blah in appearance, it's actually quite viewable in all sorts of conditions – both day and night time, as the backlighting helps to illuminate it. Indeed, it's light on the pixels, but at the very least, it's able to display relevant data without having us to squint a whole lot, or move in very closely to inspect.
Having an LCD screen is pretty beneficial, seeing that we can view data directly on the Surge – whereas with other fitness trackers that lack a screen, we have to rely on their companion mobile apps to view data. From being able to tell the time, to viewing how many steps we've taken, the screen offers us some level of independence. However, it's only the daily results that we have access through the Surge's display. To view previous days, we're still required to check them out through the app.
Oh yeah, we can even view text message notifications through the display as well, which we can proclaim to be a "smart" function for this fitness tracker. Unless it's passages of text, we can pretty much read the entire body directly on the screen. Additionally, we can use the display to control various music controls as well.