Asus VivoTab RT Review
11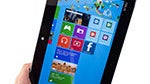 Introduction:
Microsoft might be leading the cavalry at the moment when it comes to spreading the word about its new tablet-optimized platform in Windows RT, but that doesn't mean they're necessarily going to be the class leading contender when it comes to hardware. Certainly, the
Surface RT
is garnering plenty of attention for the moment, however, we're now seeing a steady stream of alternative Windows RT tablets coming to market. Case in point, the
Asus VivoTab RT
, which takes the best design aspects of what we see from their Android slates, but with the backing of the Windows RT experience instead. Knowing its bait and switch routine, will it be enough to make it a complete and compelling offer?
The package contains:
Proprietary USB cable
Wall Charger
USB port adapter
Microfiber cleaning cloth
User's Manual
Design:
Although it's not entirely new in terms of design, there are still so many lovable elements that make it an appreciated offering. Taking some of it design cues from Asus' various Android slates, like the
Transformer Pad 300
and
Transformer Pad Infinity
, everything comes together in a neat package with the VivoTab RT. With its brushed metallic casing, which is complemented by a rigid plastic strip, it maintains one very clean appearance that does wonders in repelling smudges and fingerprints. At the same time, this is both razor sleek at 0.33" thin and boasts one balanced figure as it feels so light at 18.87 oz. Overall, it clearly has the attractive package to reel us in from afar.

Naturally, since this is a Windows RT tablet we're dealing with, the VivoTab RT is sporting the recognizable Start capacitive button below its display, which is unlikely to be accidentally pressed. Who knows why, but its 2-megapixel front-facing camera is positioned just a bit offset from the center area above the display.
Along the left
trim
, we spot a switch that dislodges the tablet from its optional keyboard dock, a useful microSD slot, and a microHDMI port that's hidden behind a plastic flap. Meanwhile, the right edge is home to its raised and tactile volume control, and 3.5mm headset jack. Rounding things out, the power button and microphone are positioned on the top trim – while its proprietary charging/data port and docking connectors are laid along the bottom. Although it lacks a full-sized USB port, the VivoTab RT is packaged along with an adapter that connects via its proprietary port.
Turning it over to its
rear
, the VivoTab RT is packing a higher-than-normal 8-megapixel auto-focus camera, which is complemented by an LED flash and the ability to shoot 1080p videos. Located towards the left and right edges of the rear, microdots come together to make out its left and right speaker grills.
Keyboard dock:
Without question, you'll want to invest in picking up the optional keyboard dock for the VivoTab RT, mainly due to cool convertible style it has to offer. Aside from the transformation into a versatile netbook-like device, the keyboard dock packs along some useful additions – like its full sized keyboard, multi-touch trackpad, and full sized USB port (you won't need to lug around the adapter anymore). Indeed, the keyboard layout is a bit cramped, but luckily, the keys are raised and have good travel. However, our palms get in the way with the trackpad, which then causes some annoying jumps with the cursor. Then again, manually shutting it off remedies the problem. Most importantly, it's tucking along its own separate battery, which is reported to provide up to 16 hours of total battery life to the tablet.
Display:
Although it's not breaking any new ground per se, it's still flaunting one attractive display that proves useful in all lighting situations. Donning a 10.1-inch 1366 x 768 Super IPS+ LCD display, it's quite obvious that it doesn't deliver the sharpest details upon a close inspection with its 155 ppi pixel density, but nevertheless, it's sufficient enough to make it more than effective for most things. At the same time, there's a hint of saturation with its color production, which sprinkles a dose of vibrancy to the entire package. And finally, it simply works outdoors with the sun present, seeing that it's able to maintain its visibility thanks its strong brightness output and wide viewing angles.
Recommended Stories