Apple iPhone 6 Plus vs LG G3
30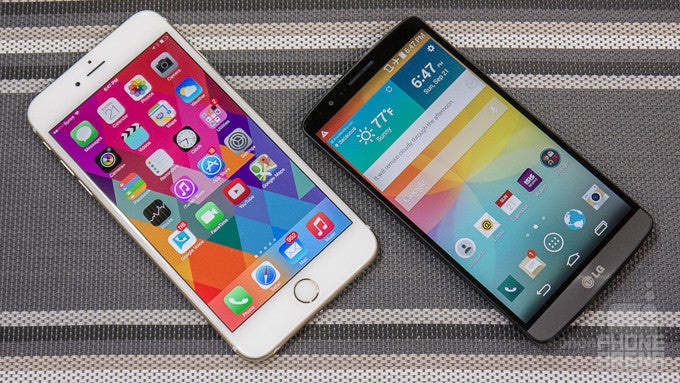 Introduction
Thanks to an extensive rumor phase preceding the release of the new iPhones, we knew that Apple is likely on path to embracing a bigger screen for its devices. The 4.7-inch
iPhone 6
, for example, felt almost certain at multiple points during that time window. But the rumored 5.5-inch iPhone 6 – what we came to know as the
iPhone 6 Plus
– now that didn't feel like anything close to a sure thing. Could Apple really break away from its narrative so drastically in just one generation? As we now know, the answer is: yes, it can, and it did.
There's a lot about the iPhone 6 Plus to love – a massive, phablet category-worthy display, a speedy new processor, an excellent camera with optical image stabilization (OIS), and a hearty battery, all packed within a slender, 0.28 in (7.1 mm) body. But you know who else checks all those off the list, as well? LG's latest
G3
flagship, which has an even more detailed, Quad HD display, a great Snapdragon 801 processor, a 3000 mAh cell, and an impressive, 13-megapixel camera with OIS. In other words, one would think that it all comes down to a good, old-fashioned Android versus iOS bout more than anything else. Is that all there is to it, though? Let's find out!
Design
Despite their identically-sized 5.5" screens, the iPhone 6 Plus is a significantly larger device than the G3.
When it comes to style, few can make a case against Apple's taste. The iPhone 6 Plus definitely contains very large doses of the Apple design DNA, but what we have with the company's first phablet is an evolution over previous generations. Perhaps the most noticeable difference is seen at the sides – those are now nicely-rounded (instead of rectangular) and the back plate has seen a different approach that is not entirely Apple-like. By that we mean those two horizontal stripes on the bottom and top of the iPhone 6 Plus's rear, where the antennas reside, and, of course, the protruding camera. In any case, we're glad to see that the iPhone 6 Plus retains the glass-and-aluminum exterior that has become characteristic of the iPhone, and it definitely justifies the expectations of a high-end, premium smartphone.
Turning to the LG G3, we're looking at the pinnacle of both the company's design and engineering capabilities. This is the most attractive LG device to date, and we obviously like it a lot. Unlike its predecessor, which sported straighter lines on all sides, the G3's top and bottom lines are arced, giving the phone a familiar, but somewhat unique look. Speaking of unique, the rear of the G3 is anything but typical, for it houses the volume rocker and power key, along with an opening for a novel laser beam that is used by the camera to focus pretty quickly. Unfortunately, despite the decidedly-metallic look of the G3 (especially the dark gray model), we're still talking about a polycarbonate plastic shell – it's just a really, really good imitation.
Putting the two devices side-by-side may be a little shocker for some – despite their identically-sized 5.5" screens, the iPhone 6 Plus is a significantly larger device than the G3. The reason behind this discrepancy in physical footprint is simple: LG continues to outdo itself when it comes to fitting large screens in extremely-thin frames, all the while Apple's large, Touch ID home button at the front still takes quite a bit of space. In result, the iPhone 6 Plus is taller, wider, and heavier. On the plus side, it's considerably slimmer – 0.28 in (7.1 mm) versus 0.35 in (8.9 mm).
All of the above has very concrete consequences for ergonomics – or the overall experience handling either device – and the winner here is fairly clear: the G3. For the iPhone 6 Plus, you'll mostly need two hands to operate it efficiently. The same is not necessarily true with the G3, whose more compact body often allows you to go for it with just one hand, but that doesn't mean it's a small device by any means.
Thankfully, Apple has moved the power key to the right, within a thumb's distance, while the volume rocker and the silencer switch are both on the left. All of these are made out of aluminum and are really among the very best when it comes to travel time and tactile feedback. In comparison, the rear-placed, plastic keys on the G3 take some getting used to, and while excellent on the whole, can't quite compare with what the iPhone 6 Plus has going on.
Display
The iPhone 6 Plus scores better outdoor visibility while the G3 touts its high resolution.
The 5.5-incher on the 6 Plus is of the IPS LCD type, has a resolution of 1080 x 1920 pixels (or an excellent density of 401 ppi), and an ion-strengthened glass (alike to Gorilla Glass) with an oleophobic coating, which does a very decent job keeping nasty smudges from overtaking the panel. The LG G3 has a somewhat similar panel – a 5.5-incher, again of the IPS LCD type, but we're looking at a considerably higher resolution of 1440 x 2560 pixels, or a density of an astounding 534 ppi, which is more than your eyes can perceive, actually. Unlike the iPhone 6 Plus, LG has gone for Corning's Gorilla Glass 3 for protection, and has, of course, also applied a comparable oleophobic coating.
So far, so good, but what about the qualities of those panels? Starting with the iPhone 6 Plus, we're looking at a very bright screen, capable of cranking up the brightness to up to 574 nits, which is excellent. The minimum brightness, at 4 nits, is also great, and will allow for a comfortable viewing in dark environments. As for the LG G3, the maximum brightness the phone could achieve in our tests was 450 nits, while the minimum was 9 nits (which is a bit too high). The screen on the G3 can be seen when outdoors, but direct sunlight will pose some difficulty, even though it won't render it unusable.
Moving onto color accuracy, our color error measurements show Delta E RGBMCY of 4.38 for the iPhone 6 Plus. This suggests an average adherence, or, in other words, the display is not perfect, but still pretty accurate on the whole. In terms of color reproduction, LG has gone for an overstated calibration, meaning that hues on average are more saturated for the majority of intensity levels than optimal. Thankfully, this isn't overdone, so colors are punchy, but not ridiculous (color error is 3.60). In terms of color temperature – the optimal is 6500 K, and at 7300 K, the screen on the 6 Plus has a slight bluish overcast, and that skews color reproduction slightly. LG G3 is slightly better in this aspect, with a temperature of 7100 K.
Display measurements and quality
Recommended Stories