Acer neoTouch S200 Review
1

This is a global GSM phone. It can be used with AT&T and T-Mobile USA.

Introduction:
Acer neoTouch S200
(known as the
newTouch S200
in France and the US).
Codenamed the F1
when initially announced at MWC2009, this is the second WM smartphone on the market that features 1GHz Qualcomm Snapdragon processor (the
Toshiba TG01
is the first). The neoTouch S200 runs
Windows Mobile 6.5
, enhanced with additional applications that provide access to popular social networks. Moreover, it comes with large 3.8-inch resistive touchscreen, 5-megapixel camera, GPS, Wi-Fi, accelerometer and 3.5mm jack. All these features mean but one thing – the Acer neoTouch S200 caters for the most exigent and exacting customers.
Here is what´s in the box:
• Acer neoTouch S200 (newTouch S200)
• Wall charger
• miniUSB cable
•
Screen protector
• Stereo headset with 3.5mm jack
• User guide
• CD with user manual
Design:
The combination of black color and gray framing on either side of the Acer neoTouch S200 makes the phone look conservative and austere, while the sharp edges hint at a covert, aggressive trait. It´s made entirely of plastic, but doesn't feel cheap. Unfortunately, it simply loves fingerprints and you will have to clean it on regular if you want it to retain its good look.
The
overall size
is acceptable, given the huge resistive touchscreen
display
that measures 3.8 inches, comes with native resolution of 480x800 pixels and 65k color support. It delivers bright and crisp images, but you need to hold it at an angle in direct sunlight in order to use it. Even then, you might have certain troubles discerning what´s on screen. The loudspeaker, proximity and light sensitivity sensors are above the screen, along with the LED indicator, but they are all well hidden and hard to spot right away.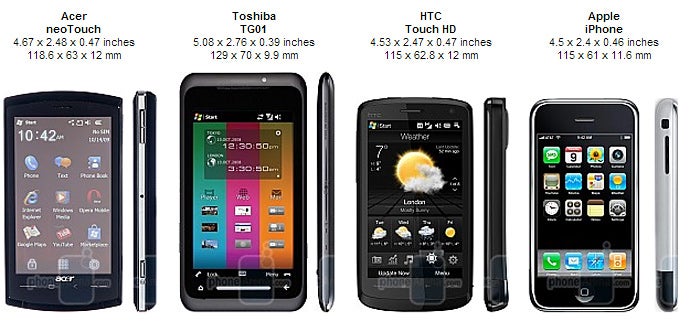 You can compare the Acer neoTouch S200 with many other phones using our
Size Visualization Tool
.
All
buttons below the display
(all in all 4) are touch-sensitive and utilize the resistive technology. They come with non-standard designations and left to right you have send key, Home, Back (step back in the menus) and end key. Our only gripe relates to the implementation of the "step back in the menus" function, because way too often we found ourselves not in the menu we expected.
On either side
you will find the power on/off button, 3.5mm jack, stylus, volume rocker, reset key and camera shutter. We don't have any gripes about any of them and we believe you will find the buttons easy and handy to use. There is a miniUSB port at the bottom and we don't like that, because the new microUSB standard is becoming more and more popular.
The microSD and SIM card
slots
are under the plastic back panel and this is something that people who change their memory cards often are certainly not going to like. The 5-megapixel camera is at the top, in the company of a LED flash and loudspeaker.
Acer neoTouch S200 360 Degrees View: