WhatsApp adds new features to your status updates
1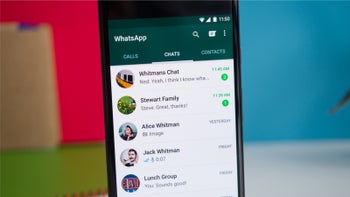 Although an app with a very large and broad user base, WhatsApp can still leave a lot to be desired when it comes to its features. Competing apps such as Signal and Telegram have, for years, outshined the Meta-owned application in that respect; However, WhatsApp is now stepping things up and adding a set of new features to the status section.
WhatsApp
announced via a blog post
that the company will be adding more options to the status section of the app, which is often used to convey fleeting information with friends and close contacts. These statuses are available for 24 hours and can contain a variety of media, including photos, videos, animated GIFs, etc. Here's a summary of the new features you can expect: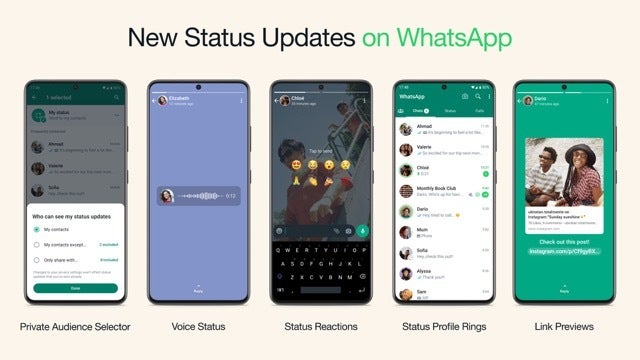 Private Audience Selector: Every status update you post might not be appropriate for all of your contacts all of the time, so WhatsApp will now have the ability to update your privacy settings on a per-status basis so that you can choose who sees each new version of the status that you post. The audience that you most recently selected will be remembered and used as the default for your subsequent status update.
Voice Status: You will soon be able to record and share voice messages on WhatsApp status that are up to 30 seconds long. Voice status allows for the sending of more personal updates, which is especially useful if you find that expressing yourself verbally rather than through typing is more comfortable for you.
Status Reactions: You can now respond to any status in a flash by swiping up and selecting one of eight different emojis from the menu that appears. It goes without saying that you can still respond to a status update with a text message, voice message, stickers, or any number of other options. Status reactions have been one of the most requested features since the debut of Reactions a year ago.
Status Profile Rings for New Updates: When a contact of yours shares an update to their status, a ring will appear around their profile picture. This will be viewable in the chat lists, the participant lists for groups, as well as the contact information, thus making it easier to never miss a status update from a friend or family member again.
Link Previews on Status: When you send a message or post a link on your status, you will now see an automatic visual preview of the message or link's content, just as you do when you send a message. Visual previews not only improve the appearance of your status updates but also provide your contacts with a clearer picture of the content of the link before they choose to click on it.
These updates have begun to be made available to users all over the world, and they will be accessible to absolutely everyone in the coming weeks. As usual, just like your personal chats and calls, your WhatsApp status is protected by end-to-end encryption so that you can share in a private manner without compromising your safety.