webOS 1.4 to bring video recording, Flash support coming, 3D gaming now possible!
6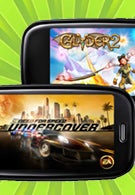 It became clear now that in addition to releasing versions of the Pre and Pixi through Verizon, Palm will also be outing version 1.4 of its still young operating system. What this will bring to the users is the much-wanted
video recording
and editing capabilities that were up to this point, missing.
Hey, any gamers out there? If you've thought simple web-based entertainment is all webOS can offer on the gaming front, well you've been wrong. Thanks to a new Plug-in Development Kit, Palm's App Catalog is now offering seven
3D games
, including NFS: Undercover, The Sims 3 and Asphalt 5: Elite Racing. So, why don't you go check them out and report how your device handles them?
Another important update on its way to Palm's is
Flash 10.1 support
for the browser. Now, that's what we're talking about, Palm, keep them coming! Still, bear in mind that it isn't known exactly when Flash will be available. Expect it in the coming months as a free plug-in in the App Catalog.
Don't leave this page just yet, as there is another thing that might appeal to future Pre Plus and Pixi Plus users. Palm and Verizon have unveiled an app, called
Mobile Hotspot
, which will basically allow your smartphone to turn into a Wi-Fi router for up to 5 devices simultaneously. Sounds cool to us!
Do you find these new additions to Palm's webOS platform intriguing enough? Sound off in the comments!
*Update:
You can watch the full Palm presentation at CES below!

The first 3D games for webOS are now available