Only one manufacturer grew shipments in the wearable band market last year
7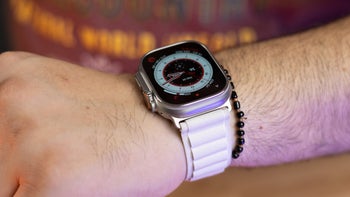 Analysis firm Canalys has released data on shipments in the wearable band market for both the fourth quarter of 2022 and the entire year. The market suffered through an 18% decline in shipments on a year-over-year basis resulting in the shipment of 50 million units for the quarter. This was the first double-digit decline in shipments during what is usually a strong fourth quarter that includes the holiday shopping season.

Fourth quarter wearable band shipments declined 18% year-over-year

During October-December, smartwatch shipments declined 17% and basic bands reported its 9th consecutive decline with a 43% plunge in deliveries. Shipments of basic bands rose only 3% today mostly due to a slowdown in demand for these devices in India.

Apple continued to lead the wearable band market in shipments during Q4
Apple
led the way in Q4 with 13.8 million timepieces delivered. That was down 17% keeping pace with the overall smartwatch market. As a result, Apple's market share actually rose from 27.1% to 27.5% for the quarter. Google rose to second place for the quarter with an 8% share of the market despite a sharp 25% decline in year-over-year shipments. But that decline was for Fitbit trackers. Google's smartwatch shipments rose 16% thanks to the Pixel Watch. The latter had 880,000 units shipped in its inaugural quarter,
Google
was also helped by huge annual declines in Q4 shipments by Xiaomi, Huawei, and
Samsung
which saw shipments drop 46%, 42%, and 35% respectively. Xiaomi delivered 3.6 million units to grab 7.2% of the market. Huawei delivered 3.2 million wearable band devices during the fourth quarter representing a 6.4% market share. Samsung's market share was 5.9% after shipping 2.9 million wearable band units during the final three months of the year.
For 2022, Apple was the only manufacturer to show an annual gain in wearable band shipments, albeit just a 5% increase. The company had three new smartwatches last year with the Apple Watch series 8, the second-generation Apple Watch SE, and the premium Apple Watch Ultra. Shipments for 2022 came to 41.4 million watches giving Apple a 22.6% share of the market compared with 20.4% for 2021.
Smartwatch shipments rose 3% during 2022

Xiaomi
was a distant second with 17.1 million units shipped for the year resulting in a market share of 9.3%. Year-over-year, the company saw the number of units shipped decline by a whopping 42%. Registering a 21% decline in deliveries during the year, Huawei was third having shipped 15.2 million units in 2022. The company had an 8.3% slice of the wearable band market last year.

Apple was the only manufacture to show growth in the wearable band market last year
Samsung's deliveries declined only 4% on an annual basis dropping to 14 million units giving it a 7.7% market share. Google, which includes Fitbit, saw shipments for 2022 decline 22% for the year to 11.8 million units giving the company a 6.4% share of the market.
For all of 2022, 182.8 million wearable bands were shipped, a 5% decline from 2021. Smartwatch shipments rose 3% from 2021 to 2022. Basic watch shipments were up 21%, and basic band shipments were down 39%.
Canalys Analyst Cynthia Chen said, "The wearable band market is expected to grow at a modest 2% in 2023. While we expect basic bands to continue declining, basic watches and smartwatches will grow, but growth will be capped below 10%. Vendors remain vigilant and will emphasize quality rather than quantity given some recovery in consumer spending."
Canalys expects to see smartwatch shipments rise 8% in 2023 which will top the 6% growth in basic watch deliveries estimated for this year. Canalys says that "Further development will center on smartwatch OS, with more chances of connectivity and tracking features supported by pragmatic use-cases to debut on smartwatches, backed by consumers' rising interest in advanced watches."