Verizon leaks Google Pixel 3 pricing ahead of launch
17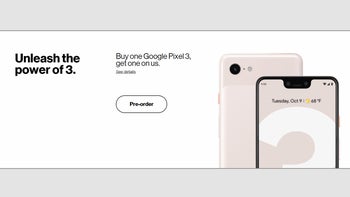 We are mere hours away from the unveiling of the Google Pixel 3 and Pixel 3 XL, yet the leaks just
won't stop.
They won't!
After Canadian carrier Freedom Mobile inadvertently listed both Pixel 3 models on its official website — revealing their
Canadian prices
, color variants, and specs — now comes Verizon's turn.
A new promotional page on Verizon's website suggests that the Google Pixel 3 will start at $799.99 for the 64GB version, which would make it $150 more expensive than the Pixel 2. Verizon's new deal, if it is
the real deal
, also suggests that users will be able to nab a second 64GB Pixel 3 for free with their purchase. As is the case with BoGo deals, however, you'll have to pay the full price of the second unit up front and it will be refunded to you over the 24-month period of the contract.
The page on Verizon's website also has a "Pre-Order" button, though as you can imagine, it doesn't do anything yet.
Eagle-eyed Reddit users have also spotted a promotional page in the My Verizon app, which suggests that early birds will also get a free
Pixel wireless charging stand
upon pre-ordering one of the Pixel 3 models through Verizon's mobile app.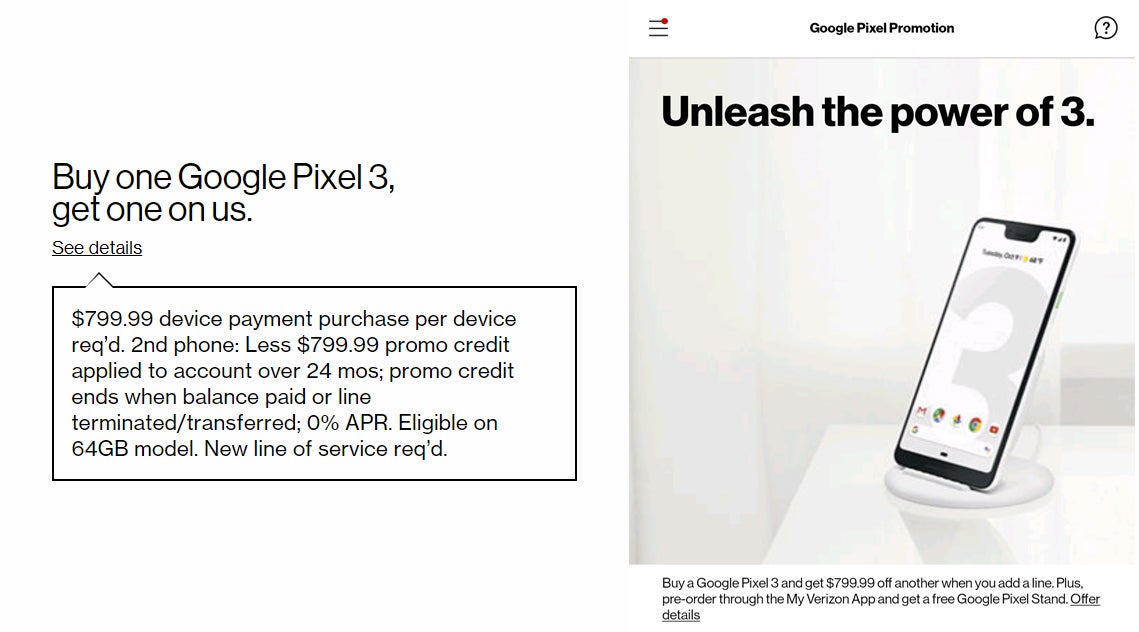 Left – disclaimer for the Pixel 3 BoGo deal from Verizon's website. Right – screenshot from the My Verizon showing a promotion for a free wireless charging stand when pre-ordering the Pixel 3
What's strange about these promotions, however, is the fact that both pages reference the Google Pixel 3 in text form, while all the images are of the Pixel 3 XL (and its
glorious notch
). This has caused some speculation online as to whether the $800 price tag isn't actually for the XL model. However, since that would make the Pixel 3 XL $50 cheaper than its predecessor, we're more inclined to believe that the images on Verizon's website are simply placeholders and that the non-XL model will be the one to start at $800.
source:
Verizon
(page may be taken down soon)
ALSO READ: