T-Mobile offers the Motorola Edge 2022 for free with budget trade-ins
2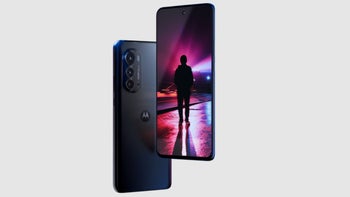 T-Mobile has quietly launched a new promotion that has one of
Motorola
's best mid-range smartphones, the
Edge 2022
, available for free with trade-ins. What makes this a good deal is that the carrier accepts budget trade-ins, so you'll be able to change your oldest, cheapest devices for the Edge 2022.
Well, there's a limit to that, but first let's see what the new deal requires. According to internal documents
leaked by The T-Mo Report
, the promotion has started on January 12 and it's marketed as "Get the Motorola Edge 2022 free with trade-in."
If the document is accurate, then
T-Mobile
customers should be able to get the Motorola Edge 2022 for free (via one-time trade-in credit and RDC) when they purchase on EIP, and trade-in a qualifying phone on most plans.
Thankfully, the leaked documents also include a list of eligible trade-in devices that will allow T-Mobile customers to get a free Motorola Edge 2022:
Apple iPhone
: SE 2nd Gen, SE 3rd Gen, 7, 7 Plus, 8, 8 Plus, X, XR, XS, XS Max, 11, 11 Pro, 11 Pro Max, 12, 12 Mini, 12 Pro, 12 Pro Max, 13, 13 mini, 13 Pro, and 13 Pro Max.
Samsung Galaxy
: A23, A32, A51 5G, A70, A71, A71 5G, A52, A53, S7, S7 edge, S7 Active, S7 edge Duo, S8, S8+, S8 Active, S9, S9+, S10, S10e, S10+, S10 5G, S20, S20+, S20 Ultra, S20 FE, S21 FE, S21, S21+, S21 Ultra, S22, S22+, S22 Ultra, Note 8, Note 9, Note 10, Note 10+, Note 10 Lite, Note 20, Note 20 Ultra, Z Fold, Z Fold2, Z Fold3, Z Fold4, Z Flip, Z Flip3, and Z Flip4.
OnePlus
: 10 Pro, 10T, 9 Pro 5G, 9 5G, 8T+ 5G, 8T, 8 Pro 5G, 8 5G, 7T Pro, 7T Pro McLaren, 7T, 7 Pro, 7, N10 5G, N100, N200, and N20.
Google Pixel
: 3, 3XL, 3A, 3A XL, 4, 4 XL, 4A, 4A 5G, 5, 5a, 6, 6a, 6 Pro, 7, and 7 Pro.
LG
: Wing, Velvet, V50 ThinQ, and V60 ThinQ.
Moto
: Razr 4G, Razr 5G, G 5G, Stylus 5G, 5 Pure, 5G Ace, G Play, and G Pure.
REVVL
(aka Alcatel): REVVL 5G, REVVL 6 5G, REVVL 6 Pro 5G, REVVL V, REVVL V+ 5G, REVVLRY, and REVVLRY+.
Unfortunately, the document doesn't mention when exactly the promotion ends, so you'll want to hurry if want the free
Edge 2022
. What we do know is that customers have a limit of four redemptions per account.