T-Mobile has better unlimited 5G plan price offers than Verizon or AT&T, say analysts
4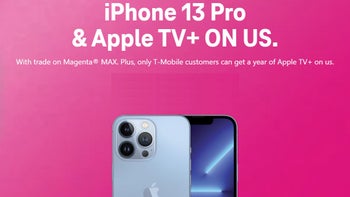 The Media and Communications research arm of
MoffettNathanson
has done a deep dive into the
T-Mobile, Verizon, and AT&T plan pricing schemes
, and the multi-page analysis shared with
Fierce Wireless
has awarded the Un-carrier a top spot in the category.
Explicable, given that T-Mobile endured low average revenue per user, and pale profit margins for years until it gobbled up market share from the other carriers, merged with Sprint, and turned its attention from expansion to sustainable operations. Verizon still laughs all the way to the bank, with $6.4 billion against AT&T's $5.9 billion in net income last quarter, while T-Mobile makes do with $0.7 billion and a single-digit of net profit margin. Someone has to pay the price for that breakneck 5G network expansion and generous plan or phone subsidies, after all.
T-Mobile has the best prices
T-Mobile used to be in a price war with all them big bad US carriers, but now it's gotten its prices more on par with its Verizon nemesis, yet it remains everyone's popular underdog. We recently compared the
new unlimited 5G plan prices
of the big four, and T-Mobile indeed comes cheaper especially for family plan prices. According to the analyst Craig Moffett, their US carrier pricing research paper confirms whose observations:
Our analysis underscores T-Mobile's price advantage. Notably, only T-Mobile can claim that its customers are better off to stay with T-Mobile than to switch to anyone else, even allowing for the high bounties and handset giveaways that are lavished on customers who are willing to switch. Our analysis also makes clear that AT&T's aggressive retention offers have helped narrow the usual switcher gap that would otherwise make leaving more attractive than staying for most carrier-pairs.


We do believe, however, that different elements of the carriers' offers will appeal to different segments. Some will be attracted by free streaming media offers. Others by aggressive headline rates. And almost everyone will consider handset promotions, even if they don't undertake a serious analysis of total cost over time.
For now, the fact that T-Mobile is the leader in 5G network coverage doesn't translate to higher profits margins for the Un-carrier, and the analysts don't think that the promise of IoT devices hooking up to the 5G network will change that any time soon, but they are optimistic about T-Mobile's 5G prospects. "
Even without buying into the more speculative fantasies about 5G services, we still believe the best network – fastest, with the best coverage – when coupled with competitive, or better still, lower prices, will win. And we still believe that will be T-Mobile
," says the report.
Mr. Moffett also writes that "
AT&T's iPhone exclusivity gave them a huge advantage on the dimension of handset selection. Verizon countered with an arguably inferior lineup of mostly Motorola phones, but, even then, they justifiably claimed to have the best network (in those early days of mobile data, network advantage was still mostly about coverage for voice service and Verizon's CDMA network was demonstrably better on that dimension.) T-Mobile and Sprint, both of which had inferior networks and offered even weaker lineups of devices, were left to compete on price... and for T-Mobile it was dog's breakfast of Nokia and the earliest Google devices
."
T-Mobile doesn't charge all that lower than Verizon on AT&T when it comes to individual plan prices, but it has has a free third line promo for a good while, making it extremely competitive on price in the more premium unlimited 5G plans where Verizon is the most expensive carrier. Big Red, together with AT&T, do offer much wider 4G LTE network coverage than T-Mobile, though, and for now this is the dominant type of connectivity users are on.
T-Mobile's CEO Mike Sievert, speaking during a UBS business conference in the beginning of the week, mentioned that no more than a third of the Un-carrier's customers have acquired a 5G phone so far, somewhat hinting why its 5G coverage advantage hasn't translated into more revenue and profits yet. T-Mobile's premium Magenta MAX plan which was launched just this year, costs $170 a month for a family of four, while Verizon charges $50 more for its top unlimited 5G plan. Mr. Sievert said that Max subscribers play mobile games eight times more than those on 4G LTE connections, to the tune of 35 GB of monthly data consumption on average. "
Magenta MAX customers on average have each watched the equivalent 2,100 more minutes of video and made 2,600 more posts on social media
,"
informed T-Mobile
back in September.


AT&T Elite
Verizon Get More
T-Mobile Magenta Max
1 line
$85
$90
$85
2 lines
$150
$160
$140
3 lines
$180
$195

$140 (3rd line free)

4 lines

$200

$220
$170
5 lines
$225
$250
$200
5G
Yes
Yes
Yes
Throttling
no
>50GB
no
Freebies
Free HBO Max
35+ channels of live TV
Stadia Pro - 6 months of gaming
Apple Music, Disney+, Hulu, ESPN+, discovery+ subscriptions included
600GB Verizon Cloud storage
50% off Unlimited connected device plans
Netflix 4K UHD streaming, 2 HD screens, basic on single, standard on family plans
T-Mobile Tuesdays
Unlimited in-flight Wi-fi
Video
UHD (4K)
HD (720p)
UHD (4K)
Hotspot per line
40GB
30GB
40GB
*All prices are after Auto Pay and w/ paperless billing, include unlimited talk&text in the US