Spotify launches new feature powered by AI to enhance music curation
2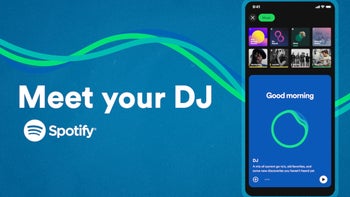 As more
companies adopt AI
(artificial intelligence), many services are getting new features that are now fully automated and less curated by human touch. Spotify's new AI DJ is meant to bring personalization to a new level.
In an
announcement
earlier today, the music streaming service explains that its new feature is a personalized AI guide that "
knows you and your music taste so well that it can choose what to play for you
." It might sound frightening at first glance, but it's exactly what many customers are looking for when using Spotify on a daily basis.
Granted, the new DJ feature powered by AI is only rolling out in beta, it promises to provide customers with a curated lineup of music, as well as commentary around the tracks and artists that it thinks the user likes "
in a realistic voice
:"
Among the many capabilities of the AI DJ, Spotify mentions the ability to sort through the latest music. Not to mention that it can also look back at some of the old favorites and serve more songs that the user might not have listened to for a long time.
The AI DJ assesses your actions all the time and after each review, it tries to deliver a stream of songs picked specifically for you. More importantly, it refreshes the lineup based on feedback on a regular basis.
If you don't like a song picked by the DJ, you can tap the dedicated button and it will skip to a new track. As with all these AI-powered features, the more you use the DJ, the faster it learns what you like, so the better your recommendations will be in the end.
The new DJ feature is available via the Music Feed on Home in the
Spotify mobile app
for iOS and Android devices. Simply tap Play on the DJ card and the app will do the rest. You'll be getting music and short commentary on the songs and artists specifically picked for you. Don't forget that you can skip a song by tapping the DJ button at the bottom right of the screen.